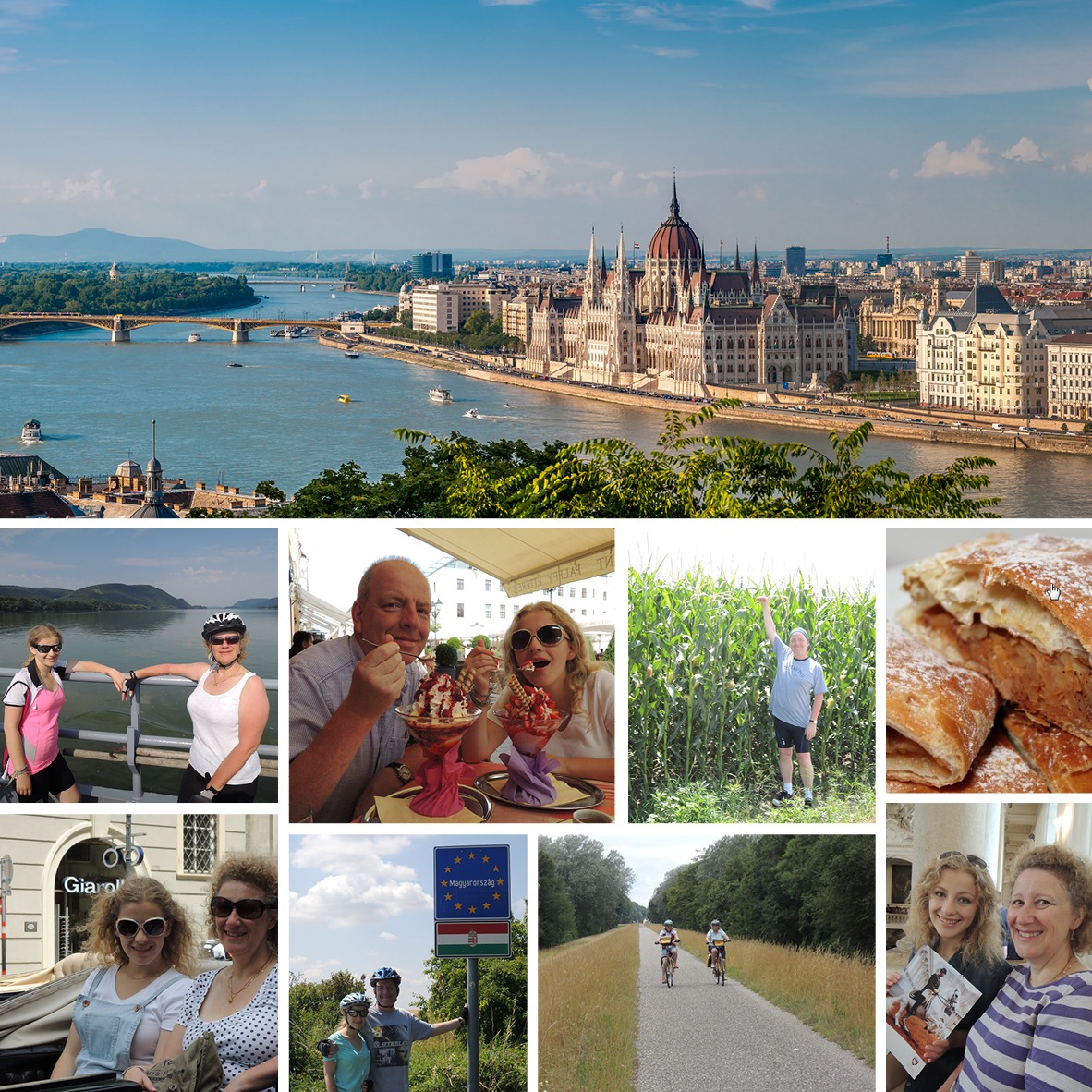 Andrew, Belinda and daughter Lucia decided to challenge each other and cycle the 200 miles that separate Vienna from Budapest. Here's their leisure cycling tale:
Before we begin let us introduce ourselves: There is me – Andrew – approaching 50, and an enthusiastic if occasional cyclist. I love watching the Tour on TV and reading magazines, but find it significantly harder to drag myself onto a bicycle and ride! Then there is Belinda – of a similar age and disposition to me, but Australian and therefore self-assured of her sporting superiority – we shall see!  And last, but by no means least, is Lucia, our daughter. She accompanied me on a previous tour 6 years ago, and has been encouraged to venture back out onto two wheels. Fond of rest stops and less fond of hills, the trip along the Danube should be perfect – again, we shall see!
Seasoned travellers all of us (by way of airport lounges and air conditioned comforts) and very part-time cyclists, we decided on this trip mainly because:
a) we fancied something different
b) we had already done a canoeing holiday
c) we wanted to say that we had covered three countries and three capital cities by bike.
So, we booked the trip via Skedaddle and were pretty eager to let our journey commence….
Our journey began in magnificent Vienna where we spent two days prior to the cycling holiday starting, exploring this fascinating city! Here we visited cultural attractions, including taking a ride on the famous ferris wheel and even took a trip to the superb Spanish riding school. Having enjoyed our two days here we finally got kitted up and began our cycling journey along the Danube towards Slovakia. We filled our panniers with various things – wet weather gear, maps, sun glasses, drinks etc, anything we felt would aid us along the way! We made good time at first, positively whizzing along the cycle paths, our speedometers even registering 20+ kph at certain points.
In Hungary we loved Győr's main square –  an elegant place brimming with beautiful fountains, historic buildings, open-air cafes and very, very large ice-creams. We biked to Bőny, Bana and Bábolna where we overtook the local post-lady on her bike.
After Ács we went through magical woods where we wobbled our way 'wound puddles' and nipped back to Slovakia over the Friendship bridge between Komárno and Komárom.
We enjoyed Esztergom, its welcomingly cooling lemonades, bracing swimming pool and chilled beers and cycled to Szob and the small ferry that crosses the Danube.
We then went round the bend ..the famous Danube Bend and to reach gorgeous Nagymaros, with another ferry getting us gracefully into Budapest, the most exotic and exciting of the capitals we visited.
Now home, the weather is wet and stormy, and we are already planning the next trip. We had a marvellous time, crossing many borders, the welcome in The Sheraton in Bratislava, the delight when we arrived in the lovely town of Győr and spinning around the Danube Bend. We owe a lot to random strangers who, without prompting, pointed us in the right direction; including the man who had no teeth, two milk churns and a lovely smile, the lady in Hungary who was pruning her garden and pointed us onwards and the chap who poked his head out of his garage, waved his hand in a big circle to show the way, then disappeared back inside..
The scenery was, at times, breath-taking and the weather was perfect and we enjoyed every minute of our travels. We saw three capital cities : Vienna was classy and elegant, Bratislava was new, vibrant and proud and Budapest was exotic, beautiful and exciting. We visited numerous towns, and stayed in a few – we loved them all; with Győr was the most perfect.
So, until the next time… Auf Wiedersehen, zbohom and búcsú!
Feeling inspired? Check out our leisure cycling holiday from Vienna to Budapest here