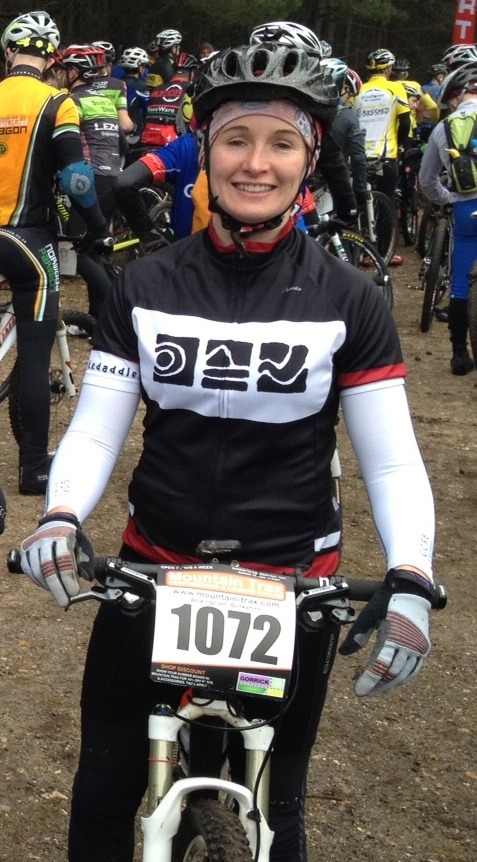 Regular Skedaddle/Gorrick rider Natasha Berry has had a pretty hectic year out on the bike, and we're pleased to hear that all her efforts are paying off and seeing higher placements than she's ever received before! We asked her to tell us about how the seasons gone so far and give us a little insight into the life of an mountain bike racer! Here's Natasha's tale of 2014:
2014 I started to get into the mix again. I did most of the Saddle Skedaddle/Gorrick series and managed to get placed higher and higher – all with just a bit more focus and exercise really.  I enjoyed the challenge of racing in the cold and the fantastic courses these events have always offered.
I started the season with a marathon at Builth Wells with a great friend and fellow teammate – Iwona Szmyd. It was hard and reminded me of how much endurance and stamina was needed for the goal of the summer – Beskidy Stage race in Poland.
Margam Madness was the start of a good year and podiums for me. Entered the 4 hour enduro and just loved that super climbs and technical fast descents and managed a my first podium – 3rd.
I also love chilling with my friends on long social rides and did a stunning Wiggle sportive ride on the north downs before my first Southern XC of the season. Entered the Crow Hill race the next day and it was MUDDDDDY! Wow  – it was a challenge to get round and finish but managed a filthy third.
Then did the Gorrick Kawasaki challenge doing 4 laps and had an awesome race with fellow Saddle Skedaddle teammate and fantastic friend Liz Gilmour and after 4 long hard laps I suddenly caught her in the last few minutes for a respectable second.
Did a super cool local low key race near Liz's hometown in Wareham forest. We rode to help each other in the first lap but Liz was way stronger and took the win with me in second. Super prizes too!
A very intense  SXC race was ridden at Porridge Pot with my super cool friend Steph chasing me all the way and resulting in a second for me with Steph literally seconds behind me – exhausting exhilaration.
A MUDDY weekend was experienced at Erlestoke where I entered the 6 hour race. I was feeling on good form but wow how did the mud stick to the wheels, on what is normally a super fast twisty course. I think I managed 4th but with a broken derailler by the end.
The last SXC was at my local  – Queen Elizabeth Country Park. I really enjoy the descents they have built there and a little local knowledge helped me into 5th place.
Two weeks before Beskidy me and my 5 closest cycling girls spent 3 days riding there and back on the South Downs Way. It was a super enjoyable and challenging long weekend and was a great build-up to the fabled Beskidy.
Beskidy was amazing and super hard. We were lucky enough to have a group of 11 Brit friends so it was great having such a big contingent – in every aspect. Poland was beautiful and the Beskidy mountains had a wealth of undocumented trails – brutal killer climbs, awesome technical downhill singletrack, crazily fast-as-you-have-ever-gone-downhill- fireroad, beautiful forests and ….yeah days of about 3000meters of climbing over about 65 kms. Ouch. It was an epic adventure and some days were spent riding with friends while other just testing your limits by yourself. It was awesome. Positions don't matter in this sort of adventure – it was epic.
Back to England and I gave a few triathlons a go – including the famous off-road version – Xterra. I was slow slow slow in the swim but overtook sooo many people on the mtb section. Conclusion – improve on the swim and I will do quite well – swimming lessons in progress.
It is always good to try something different – so I entered the QE park gravity downhill enduro with a couple of friends. Needless to say we were grinning from ear-to-ear after every run. 5 to 7 minutes of XC style race descending was adrenaline fuelled fun and I even managed 3rd position – but 2nd through to 5th were all VERY close.
To cap all races off for the year was the ultimate Brighton Big Dog. Always a highlight of the year for the festival-style atmosphere, fast racing and super singletrack fun. Another podium for me as a mixed pair in a hard –fought 3rd position.
The rest of the year I am looking forward to doing a few more road sportives and weekends away with the girls.
We don't know about you, but it sounds like Natasha's been pretty busy! An amazing effort and sounds like she's been making real progress on the bike this year. Feeling inspired by Natasha's blog? Why not check out Gorrick, which hold regular mountain biking events for a whole range of bikers to get involved in, from beginners to professional racers!