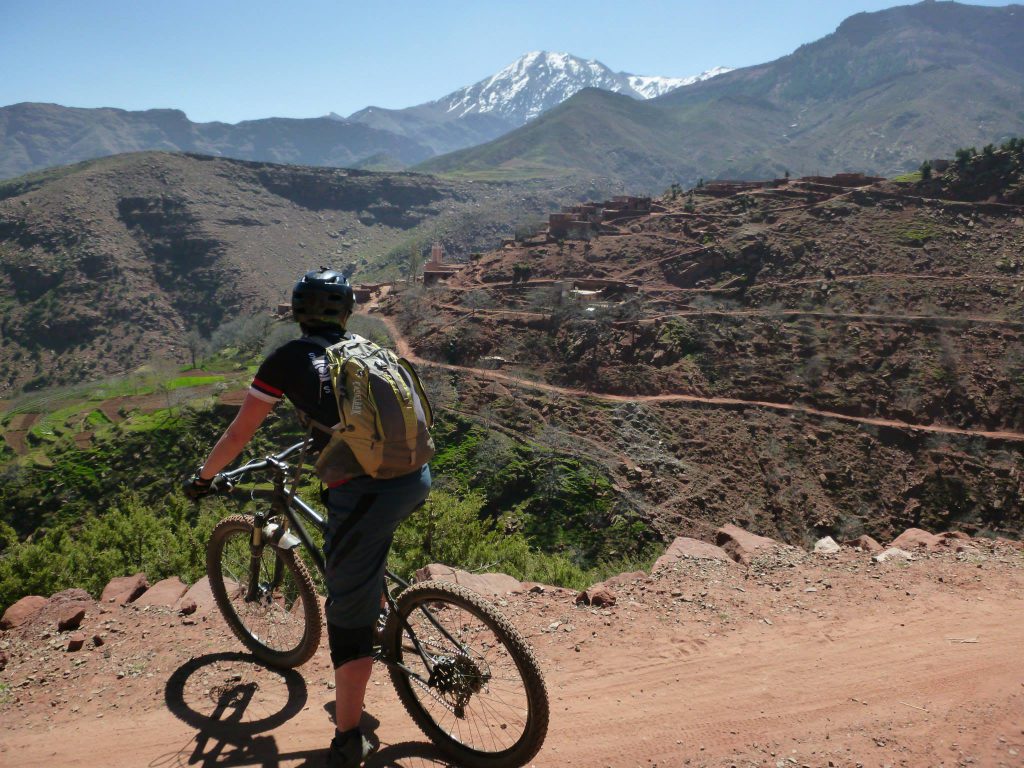 Returning Skedaddler Victoria Keeton recently sent us in this great write up of her mountain biking trip across the High Atlas Mountains in Morocco. Renowned for its awe inspiring scenery and exotic culture, it was always going to be a holiday to remember! So, with faithful companion adventure frog (see picture at end of article) in tow off Vic ventured, here's her account in full:
'I was pretty excited about the Trans-Atlas in Morocco (although the French influence gave my legs cause for concern) having read great things in Skedaddlin'!
Arriving in Marrakech we we're picked up and transported to our day one destination. Now transfers usually aren't my favourite but this time we visited the impressive Ouzoud waterfalls which were simply stunning. When the actual cycling began it was a great introduction to how the trip runs –attentive guiding, constant vehicle support and excellently timed stops. At one stop I decided to introduce myself. Unfortunately, soon after someone took a tumble (nothing to do with me) and chose to get in the 4×4 (away from me).
The next day was spent exploring in the surprisingly lush Happy Valley. Other than the sweeping singletracks, highlights included local market day, a scrumptious lunch of home cooked tagine, fossilised dinosaur footprints (I thought they were pulling my leg!)  and visiting a hill top granary traditionally housing grain and other precious goods. Realising that me and Adventure Frog didn't want to miss any biking opportunity, Saaid took us up to the granary and we enjoyed a first descent.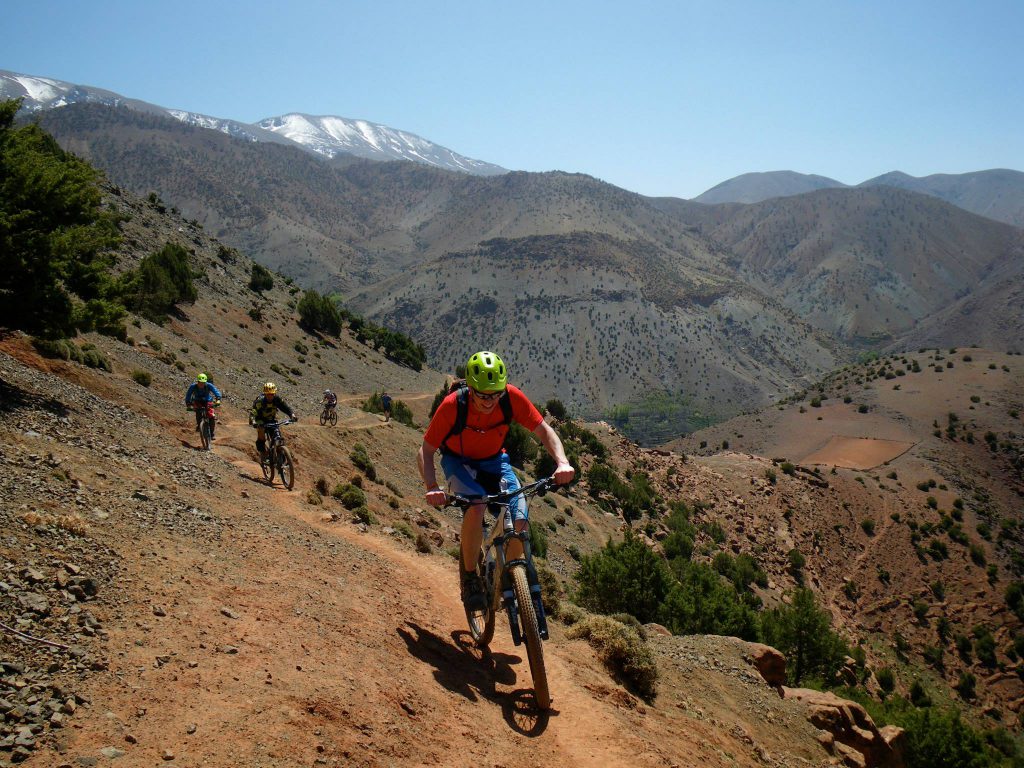 With sadness we left the flower filled valley to continue on travelling up, down and along dirt tracks, with options for singletrack; pausing to greet passing nomads returning with their camels from the Sahara. Saaid managed group expectations well – accurately describing the route; patiently explaining that "downhill" might require a bit of pedalling! It was after one such exhilarating descent that we arrived at our camping site – a beautiful green open valley. We soaked up the solitude with a beer being watched by bemused sheep and I felt at home with a chorus of frogs in the nearby stream. Dinner was a traditional Moroccan BBQ cooked on an open fire.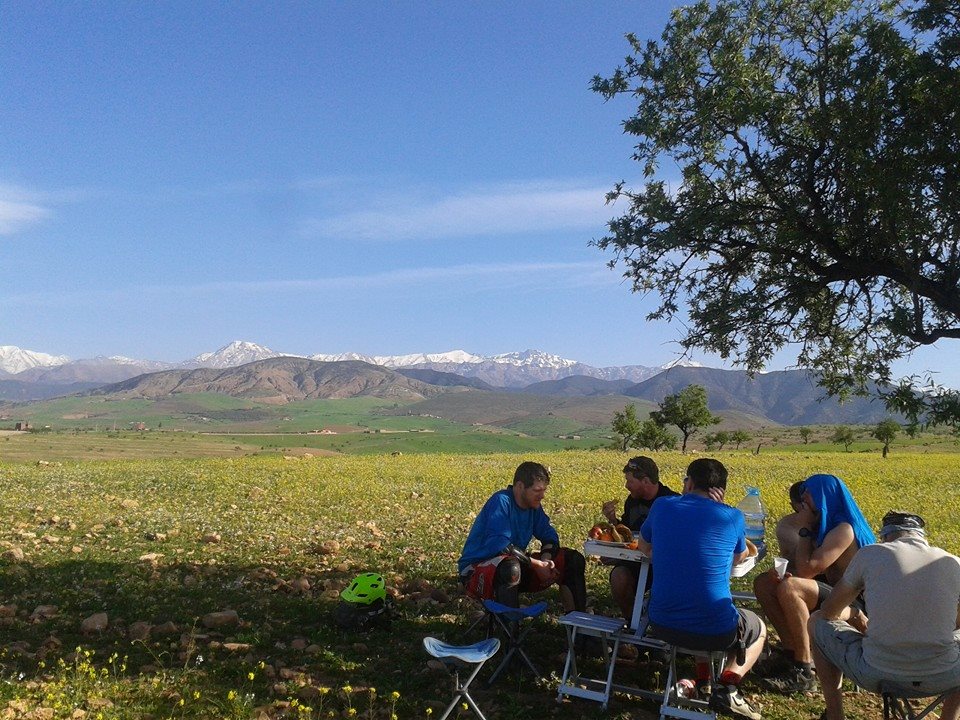 The next days were spent climbing high into the mountains on rocky tracks wondering how the 4×4 could possibly follow us and descending equally impressive routes. However, it wasn't just about the biking – with opportunities to trek up "La Cathedrale", a huge rock outcrop which towered over gite or riding to the river for a swim (I love swimming), exploring technical singletracks en route.
A trip highlight was the privilege of being invited to lunch by Saaid's family. Accounting for our previous enthusiasm to ride the granary, Saaid gave us a choice – 4×4 transfer to the Anergui plateau or an optional extra aka 23km of climbing. Despite being full with Saaid's Mum's chicken tagine most of us chose to cycle. After an hour of climbing in full sun we began to question our sanity but a bit of yoga and a lot of peddling later we arrived.
Another remote starry night camping followed; enjoying delicious food and Berber coffee – an interesting brew infused with thyme. The journey continued and around every corner and over each hilltop there was always a reward; be it a stunning view, a challenging climb, a steep descent or a donkey to negotiate. One such treat was sharing mint tea and delicious freshly baked bread with a local family.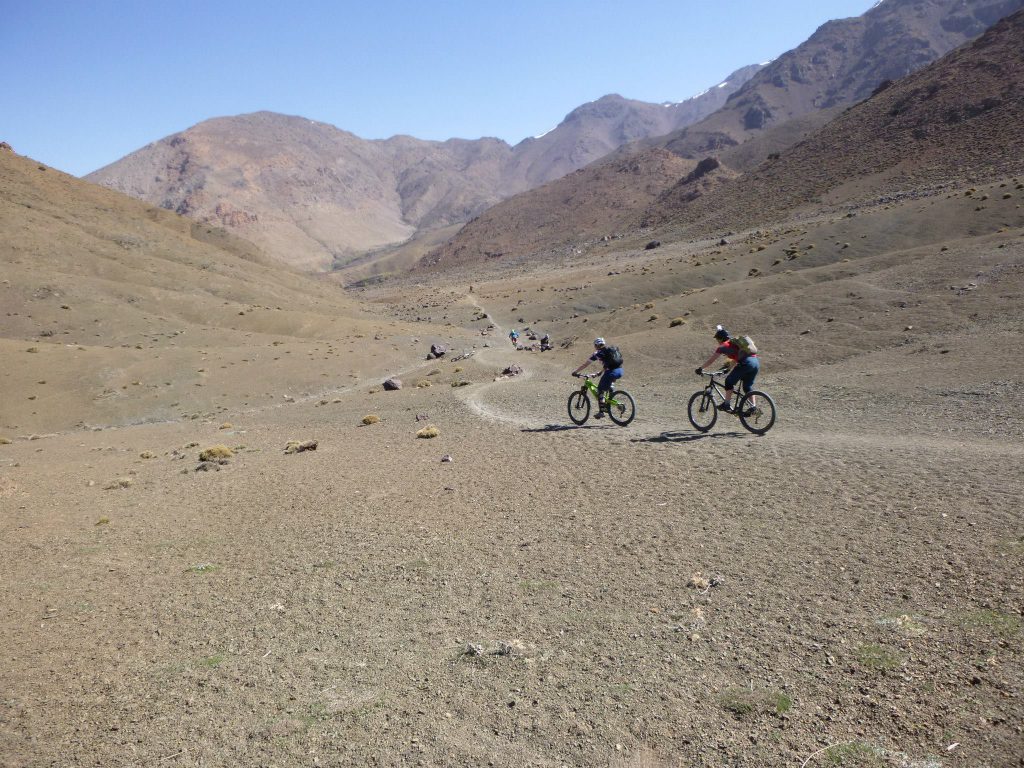 The final day arrived all too soon; with it a 100km and the highest point of the trip (~3000m absl). It should have been gruelling, but thanks to excellent guiding and 4×4 support  it turned out to be challenging but extremely enjoyable ride up to windsweep platauxs, down sweeping technical single track and into the impressive Dades Gorge. The final day was topped off with a zoom down steep switchbacks to the hotel where a swimming pool and cold beer awaited us.
In short I'd highly recommend this trip – a great cultural experience with friendly people, scummy food and excellent biking; all under bright blue skies.
Maybe see you on the next adventure – Cycle safe!'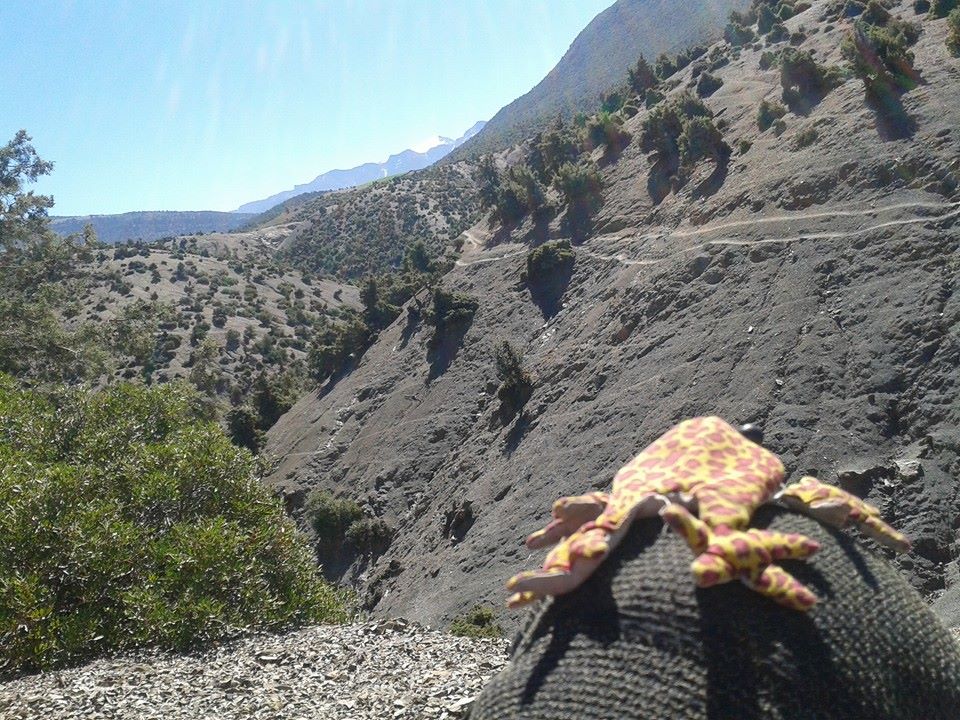 Vic's courageous adventure frog also explored the Atlas!
Sounds like a fantastic trip and we hope to see Vic on another very soon 🙂 If you are feeling inspired, you can take on the High Atlas Traverse yourself!
For more inspiration take a look at our latest Flickr gallery for this trip.