Our family trip to the Azores was featured this weekend in The Daily Mail by writer, David Williams, who took his family along for a fantastic trip to this small volcanic island located in the Atlantic (just off the coast of Portugal!)
Famed for its beautiful, lush landscape (with many a tropical feature,) The Azores is a very unique and memorable island that really packs a punch… With leisurely cycling, opportunities for whale watching and bubbling hot springs to bathe in, a trip to the Azores has lots of fun and exciting things to do, that will keep you and your family talking about this trip for a long while!
So, what did David think? Here's the article:
'The signposted warnings at the entrance to the park were stark and explicit: 'Caution – natural boiling water.'
But children will be children. Within minutes. Anna, one of our 13 year-old twins, had wandered off, walked backwards while framing the 'perfect' snapshot and slipped, plunging her leg into a bubbling hot spring, right up to her knee. She just had time for a loud scream before leaping clear again.
Luckily it wasn't the hottest of hot springs and apart from a soggy trainer, soaked jeans and a red-face, no harm was done.
It was Day One on our family activity holiday in the Portugese Azures.
You can do everything in the Azores: hiking, cycling, rock climbing, swimming, canoeing and even cooking. And you can do them all in a volcano if you want.
Thrust from the sea by violent eruptions ten million years ago, nature has only partially tamed this craggy mid-Atlantic outcrop of Portuguese owned islands, transforming them into a landscape of lakes, lush meadows, towering waterfalls, a blaze of colourful trees and shrubs.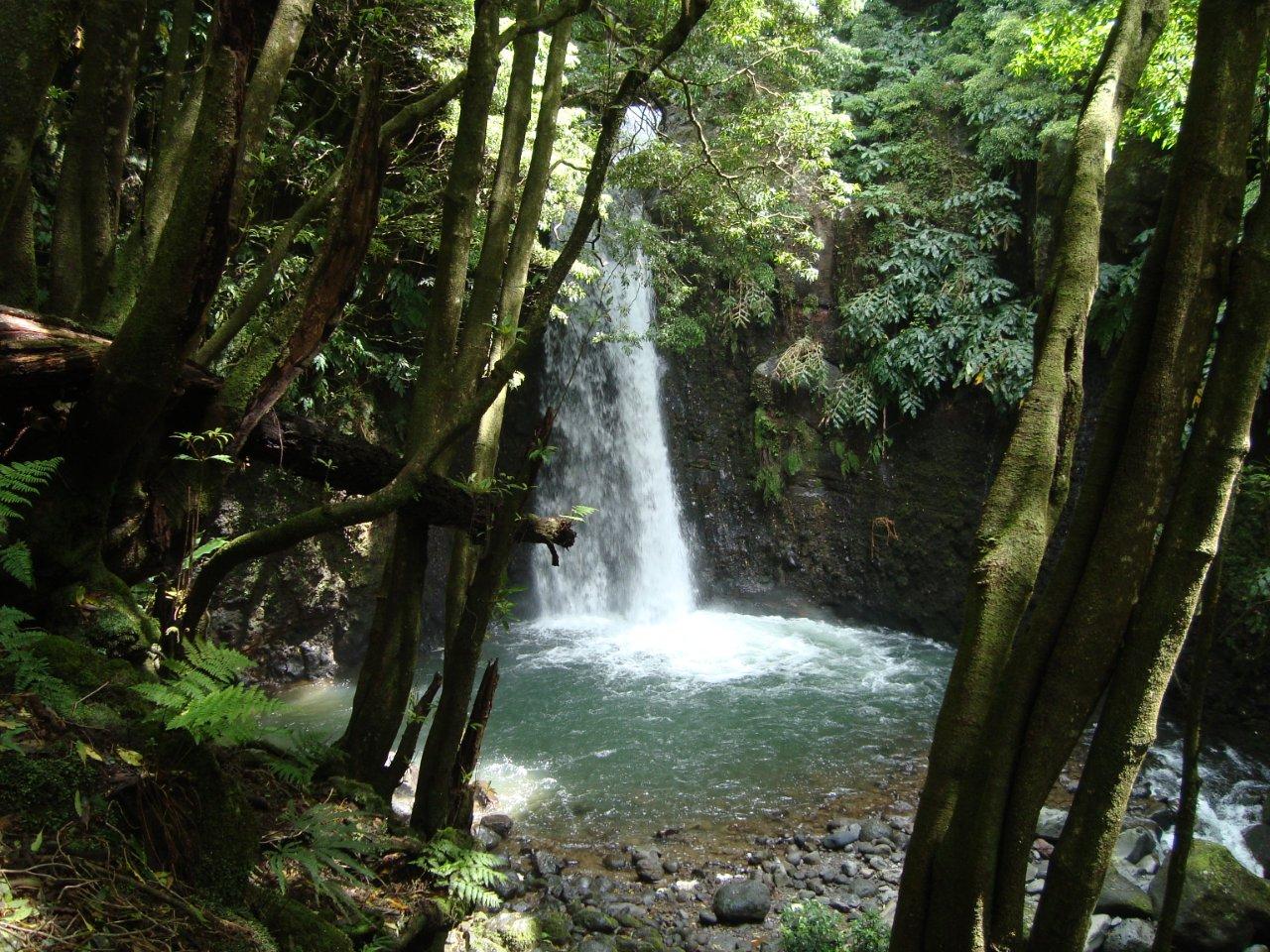 No wonder they call it the Green Island.
There's a year-round mild climate and countless hot-spring swimming pools where you can sit and soak away your cares.
The Azores — marooned 850 miles west of Portugal and 1,196 miles south-east of Newfoundland — feel deserted when you venture from the towns and villages, but they're home to 245,000 people who make a living from pineapples, tea and tourism.
For years, the island of Sao Miguel has been a magnet for cruise ships, disgorging passengers who head for the hilltop vistas and whale- watching tours.
But we were here to investigate another side of the island, which is reaching out to younger visitors with all-action holidays, sparking an explosion of local firms offering activities ranging from canyoning, diving and golfing to paragliding and horse riding.
We had arranged six days of guided cycling and hiking through the volcanic landscape on remote country tracks inaccessible to cars.
When we checked into the Sao Miguel Park hotel ten minutes' walk from the centre of the capital, Ponta Delgada, we locked our children's phones and iPods in the room safe.
Thirteen-year-old twins Joseph and Anna were unhappy about this, but as our shiny new mountain bikes were wheeled from the minibus that carried our backpacks and picnic lunches, they cheered up.
'The first ride's nice and easy and will show me how you get on,' said our guide Nuno. But it was still hilly.
By day two, we were cycling around remote hilltop lakes in extinct volcanoes (the last major eruption was in 1652).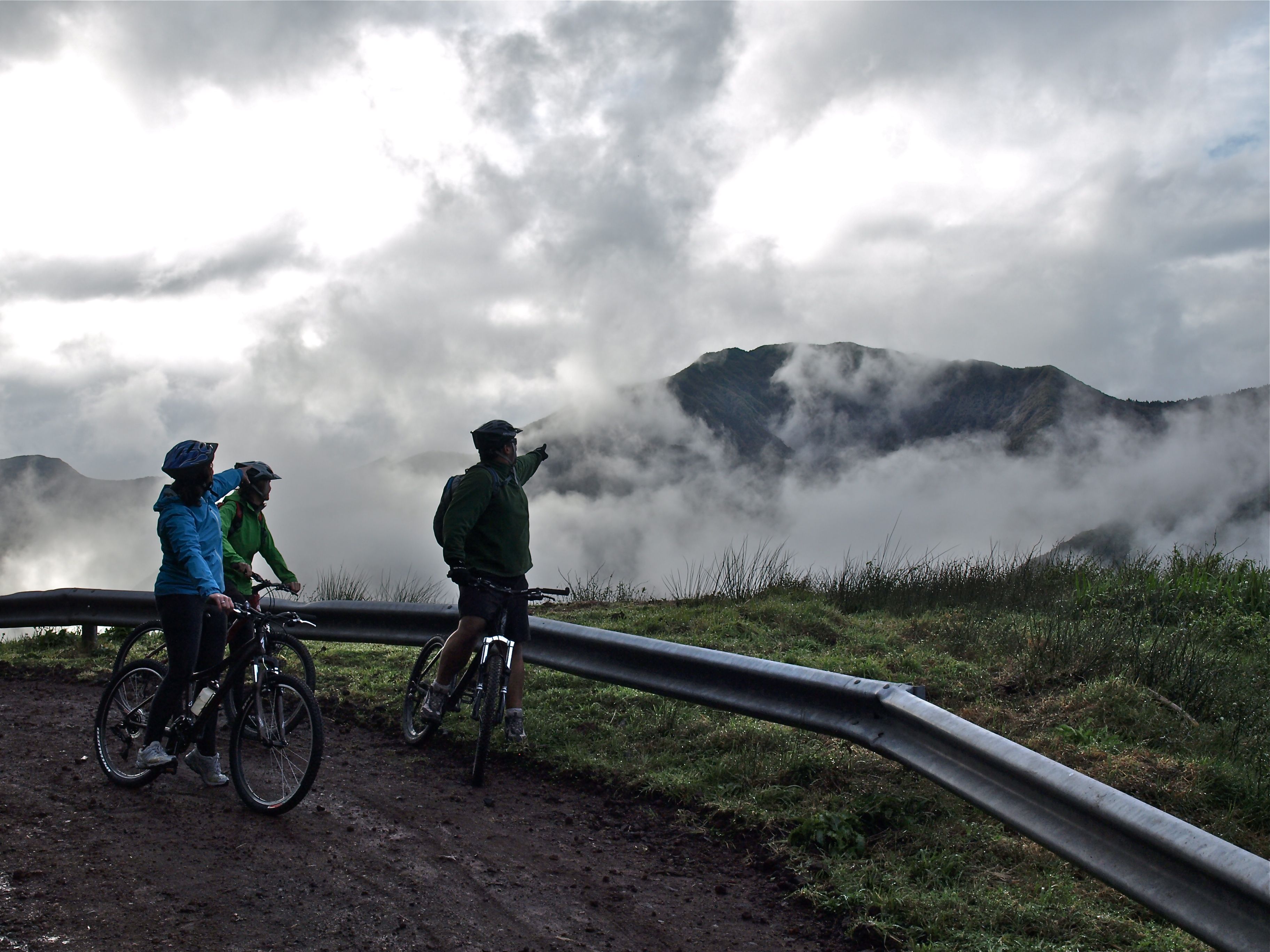 In the evenings we explored the narrow, criss-crossed historic streets of Ponta Delgada and winkled out family-run seafood restaurants with fine sea views.
With a coffee costing 50p, a beer £1.25 and three courses for four people plus wine costing around £54, it certainly wasn't an expensive holiday.
On day three we hiked alongside a frothing mountain river and canoed across the vast, clear blue waters at Lagoa das Sete Cidades.
Three miles across and 100 ft deep, it's cradled in a volcanic crater, its sloping sides jungle-like with dense foliage.
We CYCLED eight or nine miles in one go, constantly switching gears and standing on the pedals to reach the remote cliff-top viewing points once used as look-outs by the island's whalers.
In the afternoons we let the minibus take the strain as we toured tea and pineapple plantations ('Boring!' moaned the twins), hot springs and beach-side seawater-filled swimming pools ('Cool!' said the twins).
We dived into the sea off the ramparts of Ponta Delgada's glamorous new marina to go snorkelling.
Highlight of the trip? That would be discovering the locals' secret: antique, secluded Terra Nostra Gardens, a tropical Kew in a crater at Furnas where we swam in a sprawling ornamental lake heated to a skin- prickling 40C.
For our final expedition, we skimmed across the sea by catamaran in search of whales. They remained elusive, but pods of dolphins provided entertainment.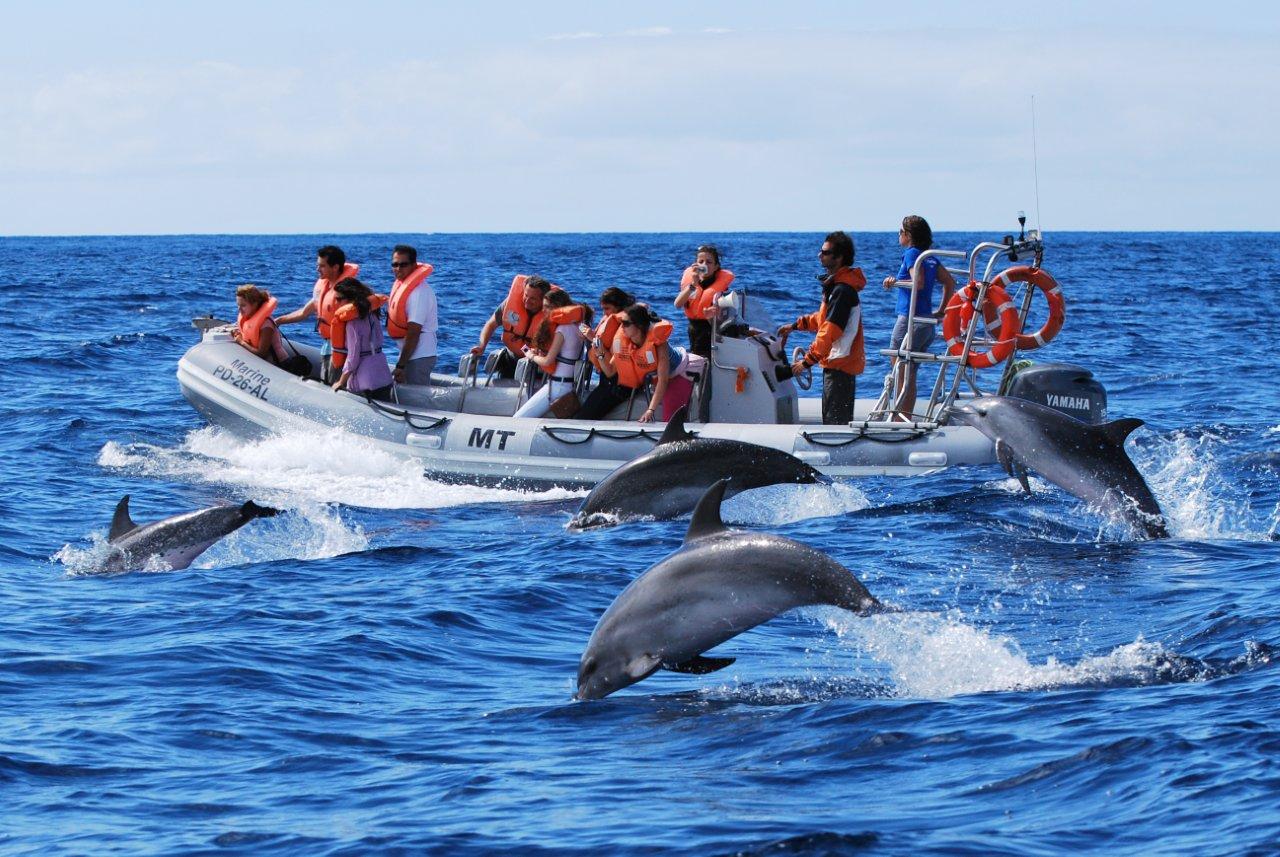 One treat we missed was snorkelling the mysterious waters inside the towering black walls of offshore volcano, Ilheu da Vila. 'Can we do it next time?' demanded the twins. And so we shall.'
Wow, sounds like David and his family had a blast! To see his full article 
click here
Or chat to Kay Skedaddle on +44(0)191 2651110