When it comes to days out, in the UK there really is something for every cyclist! But with such a huge range of things to do, it can be difficult to plan a day out on your bike that ticks all the boxes. So, if you've not had time to plan any days out on your bike and are looking for inspiration, look no further!
---
1. Newcastle Upon Tyne to Wylam, Tyne and Wear and Northumberland
Best for: Leisure and family cyclists
Distance: Approx. 24 Miles / 38 Km
Suggested by: Fran Wilson (Marketing Manager)
The Highlights: The ride starts (and ends) in Newcastle and takes in the impressive Quayside, home to some of the cities most iconic architecture. From modern marvels, such as the uniquely shaped Sage Gateshead international music centre, to historic gems like the brightly coloured swing bridge. As you make your way out of the city and head into the countryside, you'll notice the river quickly becomes more rural and scenic as you head towards the village of Wylam.
The Keelman Pub: Situated just off the river, the Keelman pub is a great little pit stop either en route to Wylam or for victory beers and wine when heading back to Newcastle. With a kid's playground on site, it is also right next to the Tyne Riverside Country Park which on a sunny day is the perfect place to grab an ice cream before setting back off on the bikes.
A route for all ages: At only 24 miles (approx.) and relatively flat, the ride provides a nice gentle way to stretch the legs and breathe in some fresh air. You can also make this ride more diverse by heading back to Newcastle on the other side of the river. This ride samples a snippet of our extended Hadrian's Cycleway holiday, which we recommend for anyone seeking something a little more challenging (also available in a variety of grades, depending on your ability).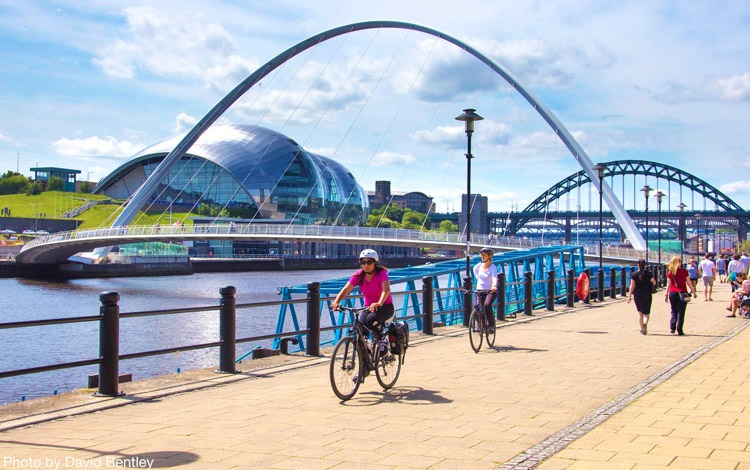 ---
2. Loughrigg Fell from Ambleside, Lake District, Cumbria
Best for: Mountain bikers
Distance: Approx. 19 Miles / 30 Km
Suggested by: Alex Heron (Cycling Guide)
Range of difficulty: This trail in the heart of the Lakes takes in some of the best trails in the North West without getting too crazily technical. Ranging from easy gravel and some tarmac, to some more adventurous climbs and descents. For those eager to explore more of this amazing region, this fell features on our Awesome Ambleside mountain biking tour, where you can experience even more amazing Cumbrian trails.
Amazing views: With stunning views over lakes and fells, you ride across open country and through lovely woodland, taking in some of the Lake District's most beautiful villages.
Local cafe stops: What's great about this route is that, unusually for a MTB ride, there are cafés (and pubs) along the way. A couple of my favourites include the cyclist friendly Elterwater Café and the café/bar in Ambleside YHA, which has very reasonably priced coffee and quality cake which you can enjoy on the lawn reaching down to the shore of Windermere. A great place to end the ride!
---
3. The Surrey Hills from Dorking, Surrey
Best for: Road cyclists
Distance: Approx. 42 mi / 67 Km
Suggested by: Adam Walker (Head of Customer Experience)
Cycling the famous Box Hill: Feature of the 2012 Olympics, Box Hill became a popular ride after the men's peloton climbed it 9 times during the race, and the women's cresting twice. Featuring continental-like hairpin bends, this is was the highlight of the route and has an average gradient of 5% – making it an achievable challenge for most road riders.
The Dabbling Duck Cafe: Crowned the winner of the Tea/Coffee Shop of the Year for the last 3 years running in the Surrey Life's Food and Drink Awards, the Dabbling Duck is a great pit stop en-route, just waiting for you to roll in for a recharging mid-ride drink.
Area of Outstanding Natural Beauty: What better way to experience a wonderful part of Britain than from the saddle? The Surrey Hills offer some of South East England's most picturesque countryside and is accessible to all. This popular route is ideal for cyclists based in London looking to escape to nature relatively quickly.
---

4. Glenmore to Nethy Bridge, Cairngorms, Scotland
Best for: Mountain bikers
Distance: Approx. 10 Miles / 16 Km
Suggested by: Eilidh Dennis (Operations Manager)
Majestic mountain views: This beautiful ride takes you through some of the UK's most unique and precious environments. From ancient Calendonian pine forest to the incredible tundra of the Cairngorm plateau, you're only a few miles from the main road and rail routes through the Scottish Highlands, but it feels otherworldly. Starting from Glenmore on the banks of Loch Morlich, just below Scotland's biggest ski station, your route takes you up and over Ryvoan pass (make sure you pop in to the bothy!) and down the river Nethy to Nethy Bridge, in the heart of Strathspey.
Nethy House café: A new arrival in Nethy Bridge, Nethy House café (which also has beautiful rooms if you are looking for somewhere to stay), the staff at Nethy House love to welcome outdoors adventurers. Stocked with all the must-haves for a hungry mountain biker (cracking cake, home-made soup and door stop sandwiches), this is the perfect place to reward yourself. Depending on how lucky you get – you can warm up by the log-burner or enjoy an ice cream on the terrace! There is also secure bike storage if you fancied exploring the village, and even a bike wash, if needed.
Something for all levels: This route is rideable for most cyclists with some off road experience. However, if you want something a bit more adventurous, you can delve deeper in the forest or head up higher for some truly wild experiences – watch out for capercaillie, pine marten or even wild cats! If you've got plenty of energy (or have refulled in Nethy Bridge), you can make your way back to Aviemore and then up to Aviemore via the Speyside Way and the Old Logging Way. If this has given you a taste of cycling in the Cairngorms, why not try out our week long Highlands Coast to Coast mountain biking adventure?
---
5. Ponteland to Rothbury, Elsdon and Kirkharle, Northumberland
Best for: Road cyclists
Distance: Approx. 70 Miles / 112 Km
Suggested by: Kerry Ashberry (Road Travel Consultant)
Spectacular, rugged scenery: North Northumberland's remote and rolling countryside is as beautiful as it is challenging, and it typifies British road riding – none more so than the Bilsmoor climb, which we also ride on our Northumberland Road Weekend! If you're lucky – you might see some roe deer from the saddle too. The Rothley Crags are also rugged and beautiful – enjoyable once you get over the short, sharp climb from Scots Gap.
Kirkharle Courtyard: A quaint and busy coffee house, Kirkharle Courtyard is home to a number of artisanal courtyard shops and workshops. It is also the birthplace of Lancelot 'Capability' Brown – the 'Shakespeare' of gardening – and as such the area boasts incredible landscapes and a recently refurbished lake which was designed by the man himself.
Winter's Gibbet: This lone snippet of history is about half-way through the route, and is a tall wooden gallow which hung William Winter in 1792 after the murder of local woman, Margaret Crozier. The original wood was destroyed by weather, but has been rebuilt several times since. It sits at the top of the Gibbet climb – itself a form of torture.
---
6. The Camel Trail, Padstow to Bodmin, Cornwall
Best for: Leisure and family cyclists
Distance: Approx. 18 Miles / 29 Km
Suggested by: Lizzie Cottier (Head of Product Development)
Brilliant for tandems and trailers: The Camel Trail is a largely traffic free, well surfaced and almost level multi-use trail which is perfect for getting out for a relaxed bike ride with your cycling buddy, or even the whole family. We hired a tandem bike in Padstow for double the fun, but they also had a variety of other options for all ages. The popularity of the route means you're likely to encounter a few other cyclists en route, making for a real sense of camaraderie.
Delicious fish and chips: Surely the best way to end a days pedallin'? The quaint town of Padstow is bursting with great eateries (as well as some of the best ice cream shops going!) but my vote goes to the fish and chip shop owned by celebrity chef and local legend Rick Stein, a relaxed restaurant and takeaway overlooking the Camel Estuary. Be careful of the towns hungry seagulls who are also partial to a battered fish too.
Beautiful views of the estuary: You'll cycle through beautiful Cornish countryside along a disused railway line between Wenfordbridge, Bodmin, Wadebridge and Padstow. This scenic route also dips into local towns and villages which means you can hop off the saddle to visit local shops and grab some goodies along the way. The Camel Trail is part of the Sustrans's National Cycle Network, just like many of the other holidays in our Family Cycling range.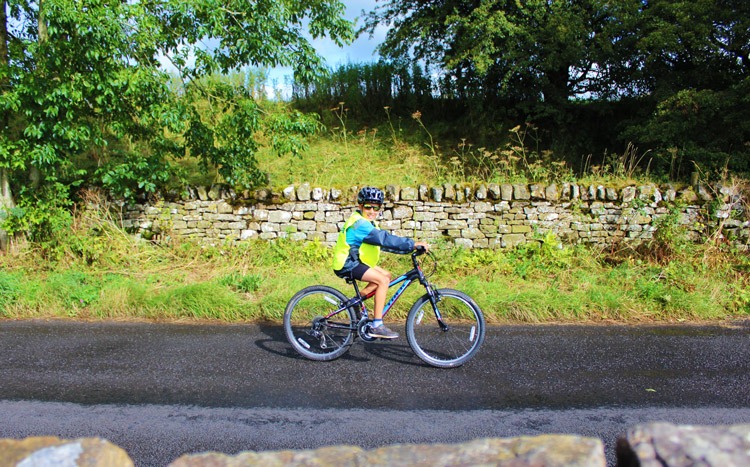 ---
7. Tissington and High Peak Triangle, Derbyshire
Best for: Leisure cyclists
Distance: Approx. 28 Miles / 45 Km
Suggested by: Alastair Clark (Cycling Guide)
Traffic free and quiet lanes: Two sides of the triangle are converted railway lines: the High Peak Trail and the Tissington Trail. The third side takes in quiet country lanes and a picturesque ford. This ride is best enjoyed riding anti clockwise round the route as the Tissington trail has a very slight but continuous gradient heading south. If you chose to start at Thorpe you could stay at Peveril of the Peak Country House run by Skedaddle's partner – HF Holidays.
Hartington Signal Box: This is popular spot to stop for a photo and to find the loos. For those who venture down to the village (you will have to ride back again) there are coffee shops on the green and locally made Stilton cheese.
Tissington Village: This has changed very little in the last few hundred years. The baronial hall is set on the village green which has a café selling very tasty cakes. We visit here and cycle this trail on the first day of our Dovedale cycling holiday.
---
8. Dartmoor National Park from Princetown, Devon
Best for: Road cyclists
Distance: Approx. 45 Miles / 72 Km
Suggested by: Phil Bristow (Cycling Guide)
Dramatic, remote countryside: Dartmoor is a wild open moorland with high granite tors and deep river valleys. The area is rich in history and rare wildlife. The roads are relatively traffic free, and even in high season Dartmoor is not as busy as other national parks. Venture away from main roads and tourist hot spots and one could go all day with out seeing a sole. If MTB is more your thing then nearby Exmoor has a great range of trails.
Widecombe Hill Climb: Widecombe Hill Climb, as found in Simon Warrens book, 100 Greatest Cycling Climbs. Starting from the picturesque moorland town of Widecombe-In-The-Moor, which is worth a stop, the climb leaves the village and continues for 1450 meters, the summit is in view almost all the way. Want a challenge? Chris Boardmen set a record of 4 minutes 10 seconds, at the 1990 National Hill Climb Championships. His record still stands.
Café 3 Sixty: Located in Bovey Tracey, Café 3 Sixty is a cycling friendly venue with an on-site repair shop. A light and airy open space with a unique feel, Café 3 Sixty is the perfect pit stop before attempting Haytor Vale climb.
Haytor Vale Climb: Haytor Vale has featured several times in The Tour of Britain and thus is an obvious choice when planning a trip to Dartmoor. Although the gradient is far kinder on the legs than most of Dartmoor's climbs, the length of the climb is not. A touch over 5 km, most will take around 22 to 25 minutes to reach the summit. The rewards are well worth the effort, with stunning views over the Teignmouth Valley and up to Haytor Rocks and the open moor.
---
9. Hardknott and Wrynose pass from Grasmere, Cumbria
Best for: Road cyclists
Distance: Approx. 42 Miles / 67 Km
Suggested by: Anne Woods (Cycling Guide)
A true test of your legs: Check out this route if your legs are up to it! Highlight of the Fred Whitton challenge (a sportive which takes in all six Lake Passes in one day covering 114 miles) is the famous Hardknott Pass. At over a 30% gradient it is savagely steep, so much so that some of the Skedaddle vans struggle to drive over it! The Lake District climbs might lack the length of their alpine equivalents but they can serve a very different type of challenge. After you roll over the top of Hardknott you have a short respite before taking on Wrynose, another classic Lakes pass. It's a great and very challenging route, not to be underestimated.
Views worth the climb: This route is a great way to see the best and hardest roads in the Lakes. Be prepared for fells, forests, remote lakeland villages and of course the lakes themselves, create a stunning backdrop for some of the best riding the UK has to offer. This is dramatic riding in a dramatic landscape and it really doesn't get much better. If this sounds good to you, why not join us on our Lake District Classic Passes road cycling weekend for three days of some superb and challenging riding with all the usual Skedaddle highlights (guides, legendary lunches and fab accommodation)!
Lakeland pubs: After (or during!) a challenging day in the saddle, there's no better place to relax than in one of the Lake District's numerous pubs and inns. Full of character, great food and drink – you will be spoilt for choice. Check out Newfield inn at Seathwaite, not too far from Wrynose Pass.
---
We can't wait for you to discover the best that Britain has to offer! Home to our incredible 61 cycling holidays, the UK is jam-packed with amazing experiences to enjoy by bike. There is something for every type of rider amongst our cycling holidays in the UK, whether it's a weekend away or something a little longer…