Set your sights on an exciting new 900-mile Iconic Journey in 2018! This cross-border challenge, takes you through not 1, but 2 countries and offers a totally unique insight into Belgium and France. Take a closer look at Bruges to Bordeaux:
The journey in a nutshell…
From the cobbled climbs near Bruges to the extinct volcanoes of Auvergne, we cross Belgium and France from east to west through the wine-growing regions of Champagne, Burgundy and Bordeaux. This journey of varied terrain and culture is a must-do!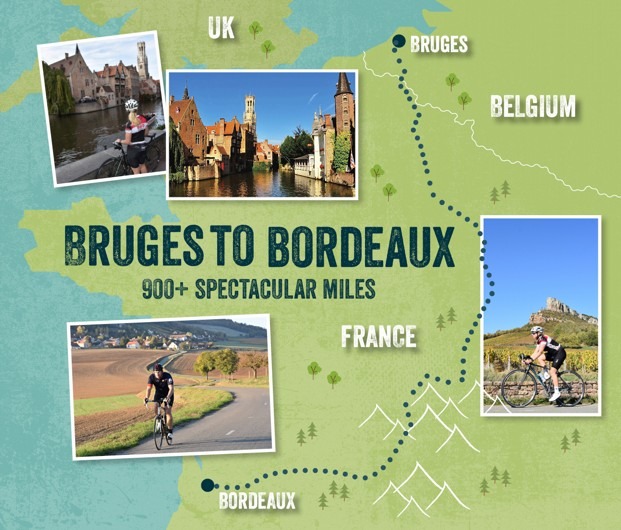 A note on the cycling…
The terrain varies dramatically with flatter days near to the start, a crescendo of climbing in the middle and more gentle rolling hills as we reach our conclusion. The mid-section of the route becomes increasingly hilly as we cross the Massif Central, before finishing with easier riding along the delightful Dordogne. 
A highlight to look out for…
Watch out for the climb of Le Puy Mary, a now extinct volcano with a cheeky 1600m ascent. Notably this featured on the Tour de France's 2016 edition!
Up for the challenge?
Don't miss our inagural tour in 2018, to find out more about our exciting new journey Bruges to Bordeaux click here. Or, for the full range of Iconic Journeys click here.