When we got an email from Robert Ellis about a cycling luggage system for touring bikes, so you get the most from your holidays,  we were happy to assist. Lot's of sleepless nights and notepads of scribblings later (from Robert!!) the project was complete and it's a cracker!! So, if anyone out there is looking for a budding designer, then he's you man.
Contact him on : rob-ellis@hotmail.co.uk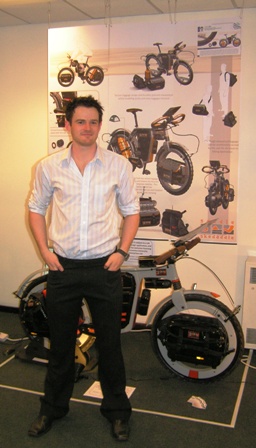 Check out the pictures below and also a few words of wisdom as to how it all began.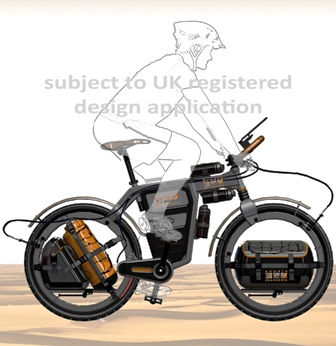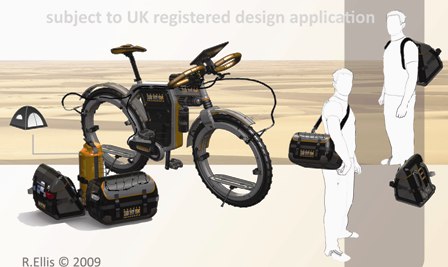 In the true spirit of the 'Skedaddler' I love cycling and I love exploring, but sometimes this combination can be problematic to say the least. My past cycling holiday explorations have largely been limited to a thread of weekend camping trips in the Peak district with my trusty tent and panniers strapped to my MTB. However I recently took the plunge and decided to stray away from home to that there France and Spain. Herein the problems began.
Have you ever tried dismantling a bike and cramming it into a tatty cardboard bike box, in the short stay car park outside terminal five, in the pouring rain, only to be rewarded with a £40 carriage fee and a snapped derailleur thanks to your trusty baggage handler?   This is all before you've laid down a single pedal stroke. On the bike, things only seem to get worse.   The humble bicycle and 25 kg of luggage and tent are not a healthy mix, as I soon found out on the twisty mountain roads of the Pyrenees.   Carrying everything you need for independent touring, including the kitchen sink, makes for a top heavy and unpredictable bike at the best of times and leaves you tottering about like a chimp on a unicycle.
My other big moan of the trip was detachable luggage, which usually I would view as a good thing. However it seemed that, in an attempt to save money I had accidentally bought the spontaneously detachable variety, which is impossible to remove when its dark and raining and you need to set up camp, yet pops off no problem (without any assistance in fact) when you're on a French dual carriageway doing 30mph.
I know, moan moan moan, but it's not just me. I've spoken to over a hundred touring cyclists over the past year, all of which had shared the same or similar issues.
After my ordeal, sorry, ˜adventure', I couldn't help thinking that there must be an easier and more enjoyable way to tour and explore by bike, and this is where Saddle Skedaddle came in.   The problem conveniently (too conveniently…) provided an ideal design opportunity to work on for my final year Product Design degree project, and who better to associate with the ultimate touring and adventure cycle than Saddle Skedaddle!
I've spent the past year working on an improved bicycle luggage carrying solution for adventure touring and came up with the following solution.
The characteristic wobble and unpredictable handling of a loaded touring bicycle is challenged through the use of an innovative hubless wheel luggage storage system.   The luggage and two man tent is held securely in the centre of the wheel (without rotating) and low down to lower the bikes centre of gravity and provide safer and more predictable riding. I've used a simple quick release strap system to hold the luggage in place, making it really easy to fit and remove.
The bike provides 60 litres of luggage space divided between two main waterproof bags which double as a ruck sack and hold all for ease of carrying, and within compartments inside the frame area itself (holding tools, first aid and personal items).   The bike is designed for minimum maintenance with a sealed belt drive and hub gearing, leaving the rider to focus on the fun and adventure of touring cycling.
The business model would be for Saddle Skedaddle to offer the bike (loaded with tent, equipment, maps and routes) as a rental system to be collected at the destination airport for group or solo touring.  The best bit is that the bike luggage bags will be posted to the Skedaddler's home address before departure to fill with their belongings and to act as both airport luggage and to be fitted straight onto the bike upon arrival.  No need for double handling!
Sadly the model is made out of foam, so it won't be taking me on any Alpine expeditions just yet.   Maybe next year…….For now I'll be sticking to my trusty (but a little rusty) bike.