Chopsticks at the ready! With Chinese New Year celebrations about to kick off for another year, we thought we'd take a closer look at this enthralling country and its fascinating customs.
Most of you at some point will have gorged on a lip-smacking Chinese takeaway and been left baffled by the trademark fortune cookie saying at the end of your meal. Some of our favourite 'wise words' over the years include, 'a very attractive person has a message for you' (oo-aa) as well as 'a good way to keep healthy, is to eat more Chinese food' (oh fortune cookie, why can't you be true?!) Little did we all know that this novel end to our Asian feast was but a cheap rip-off, conjured up on shores far from China (America to be precise) and never to be actually seen or served in a traditional Chinese restaurant. Well, we knew it was wishful thinking to believe that good-looking individual existed anyway!
Casting aside your newfound doubts as to the foundations of one of your favourite take-out options, it's safe to say China has so much more to offer us than their endless buffet dishes. Oh yes, alongside Babylon, India and Egypt, China is considered one of the four ancient civilisations of the world, according to the scholar Liang Qichao. Whilst we can't back up this claim outright, this is certainly a land where ancient history still radiates in everyday life. So, for those interested in learning more about the home of chopstick dining, here's our fast facts to get you up-to-speed with all things Chinese…
New Year Celebrations last for 15 days…
If you thought one night of celebrations was enough, the Chinese put us to shame by spending over two weeks rejoicing this special time of year. For westerners the classic Chinese New Year see's the streets bursting with noise and colour, and legend has it that this way of celebration was to keep the monster Nian, who would return at this time of year, at bay. With close ties to ancient tradition, many still like to honour their ancestors during this time too.

Red is the national colour of China…
Their flag may give this away a little, but red is also considered the countries luckiest colour! From lovely lanterns hanging in the streets to the top colour of choice for Chinese brides (there's no white frocks here!), you'll be greeted with a splash of red wherever you go in China. Believed to represent happiness, beauty, success and good fortune, we can see why the streets are literally bursting with this shade.
China has 52 national heritage landscapes…
The UNESCO World Heritage Site has awarded the country many worldwide treasures and comes second only to Italy. Sites of note include the impressive Great Wall of China, Protected Panda sanctuaries and the ethereal peaks and caves of the Bajiaozhai National Park (also explored during our cycling adventure to Guilin and Guangxi). With so many stunning gems to explore, this really is a photographers dream destination.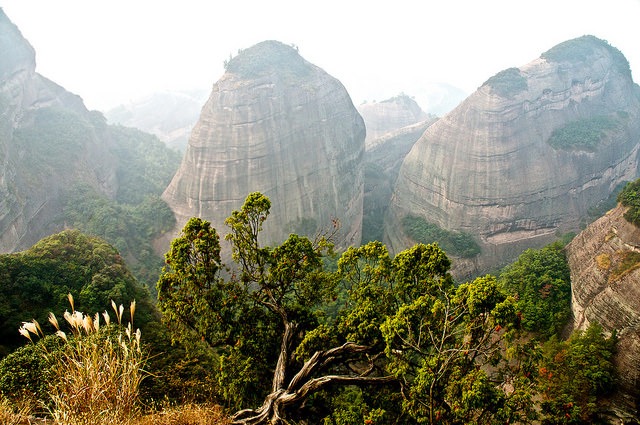 For the love of tea…
China is one of the biggest tea producers in the world and is considered one of the first countries to start drinking this now classic beverage. Chinese legend has it that Emperor Shennong (said to have lived 5,000 years ago) discovered this pick-me-up when leaves from a tea bush fell into the water his servants had been brewing for him. At first considered a purifying tonic, used for medicinal purposes only, it has since grown into one of the world's most favoured thirst quenchers.
The Great Firewall of China…
Don't panic, the iconic Great Wall of China hasn't gone up in flames! This fantastic pun plays on China's internet ban on the wests popular digital feeds. Blocked by the government since 2009, travellers here will have to manage without their daily newsfeed updates. Oh well, sounds like a fab reason to really disconnect from your everyday lives and get connected with the people and places that matter on your adventure.
Want to find out more fascinating Chinese facts? What better way to put your new found knowledge to the test than by heading to China for yourself. Our cycling adventure here takes place in Guilin and Guangxi and explores some of the countries most beautiful natural landscapes, including the stunning Li river and the rural communities that call this part of the world their home.