At 112 miles, the Fred Whitton Challenge is not for the faint hearted. Featuring some of the Lake District's most spectacular peaks, riders face everything from Honister, Newlands, Whinlatter, Hardknott and Wrynose! With Britain's premier cycle sportive fast approaching, we asked our guide Isobel Riley to share her experience taking on the UK's toughest road cycling challenge last year…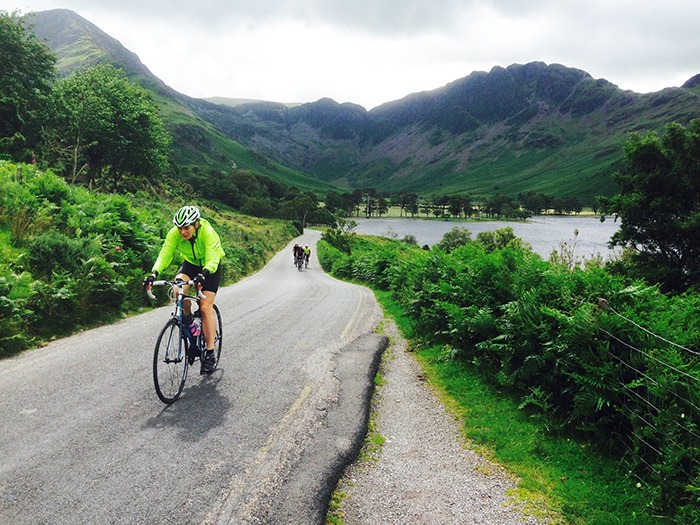 'Tackling the Fred Whitton route is a true personal challenge, each climb testing your legs and lungs in true Lake District fashion.  For me, a few special places en route stand out:
Kirkstone Pass, first of the big ones, sets you up for the day to come and even has a downhill section mid-climb. Once at the top it's 'one down, 5 to go…I can do this'
Ascending Honister Pass is the first real test maxing out at around 30% – try to hold on here – breathing also helps!  After this beast you are rewarded with a stunning, rolling road skirting Buttermere. This is my favourite valley in the Lakes, remote and picturesque.  Enjoy it while you can before being rudely launched up another biggy: Newlands Pass.
The final two bumps, Hardknott Pass and Wrynose Pass, are a true test of grit and determination.  Cycling down Eskdale valley, Hardknott looming ahead like a wall of windy tarmac, and with a mixed sense of excitement and trepidation, there is nowhere to hide. The only way is up as they say. The first time I conquered this 'nemesis' I actually shed a few tears, before jubilantly making my way down the technical, steep descents into the fast, rolling Little Langdale valley.
The Fred Whitton sportive is recognised as the most iconic cycling event in the country attracting riders from all over Europe. If you want stunning scenery, challenging climbs, sweeping descents and rolling valleys this trip is for you!'
Preparing for the Fred Whitton?
If you've signed up for this infamous Lake District route this year, fear not! For those seeking the perfect training plan, why not join our Classic Passes road cycling tour in Lake District, which follows pretty much the same route, takes place just before the big event and also conveniently splits up the challenge over two days, enabling you to really get to know the climbs and glean some knowledge from our expert guides, to help you on the big day.
Hey, even if you've not signed up for Fred Whitton, our road cycling tour is a great opportunity to test yourself on the iconic route, albeit in a more manageable (and hopefully enjoyable!) way.
For more information about our Classic Passes holiday click here.