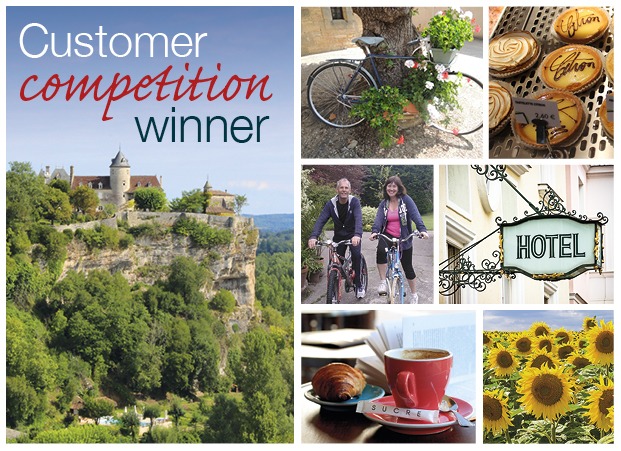 Stop the clocks! After a frantic two weeks of liking and sharing on Facebook our annual Customer Competition has now closed.  The votes have been counted and we are chuffed to announce that our 2014 Customer Competition Winner goes to the very witty Michelle and Peter Owens. The couple sent us in an account of their leisure cycling trip in the Dordogne last Spring, fondly known in the office as Dordogne Duet, which stormed into the lead and was a clear overall winner.
Peter and Michelle will receive an additional £1000 for winning the competition which will be put towards a future Skedaddle holiday of their choosing. We caught up with the pair, who had this to say on their win:
'Thank you so much.  That's fabulous news especially as we were up against such excellent competition.  We already know what we will spend our Skedaddle vouchers on.  For those people who have read our blog from our holiday in the Dordogne, it will come as no surprise that we are going back to France – what with our excellent franglais and sense of adventure with a food menu!  This time we are going to try out the Loire valley and  have managed to persuade 2 friends to come along with us.  We are really looking forward to more adventures!'
Great to see our winners are eager for more French adventures and we look forward to hearing about their tales from the Loire! To read their winning article in full click here.
For more information about our french leisure cycling holidays and/or to see our full range click here
Feeling inspired? Our Customer Competition for 2015 is now well underway and we want to hear more about your time away with us. If you think you've got what it takes please send your entries to marketing@skedaddle.com/uk – maybe you could be our 2015 Customer Competition Winner!!