We could talk all day long about the beauty of Croatia, its stunning coastlines and various terrains that are perfect to be explored on two-wheels. But instead, here's a story from a regular Skedaddler, Nick Birkett, who recently headed to Croatia with us to explore the trails of the 'Magic Land' of Istria…
"After meeting a few likeminded individuals on Skedaddle's Awesome Andalucia mountain biking trip, a group of us decided to get together again to share our newfound enthusiasm for off road riding. Our destination was Croatia, somewhere none of us had previously ventured, but having read the notes that the Terra Magica trip offered a range of challenges to meet the skills and experience within our group, whilst hopefully ensuring everyone went home with a smile on their face. We were not to be disappointed!
Following a short transfer from the airport to Rabac, we arrived at our superbly appointed 4-star accommodation situated amongst fragrant pine trees overlooking the beach. With the sound of waves lapping the shore in the background, the hotel featured well-appointed rooms, two swimming pools, a spa and even a dedicated bike garage. More importantly we were right next to a purpose-built bike park so with great facilities to hand and a relaxed vibe we were off to a good start.
That afternoon our bikes arrived (all this year's full suspension models) and our local guide Ben and his team took time to ensure everyone was set up and ready to go. We rode a few of the trails in the bike park which offered us some last-minute fine tuning before returning for a well earned beer and thoughts of what the week's riding would bring.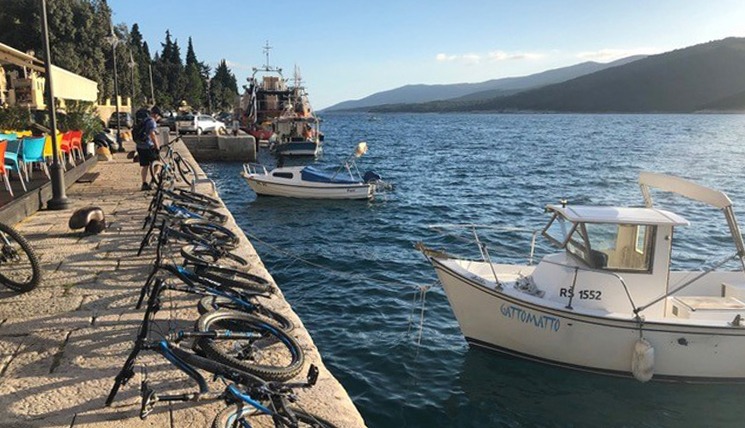 Now you can read the Terra Magica trip notes yourself (simply download them from the Skedaddle website) however, I'd like to briefly share a few of my personal highlights from this trip…
The ride over the Kamenjak Cape offered a perfect introduction to the beauty of Croatia. Being relatively flat this area has a vast network of interconnecting singletracks that led us around it, revealing small coves, crystal clear waters and some of the most popular beaches that this part of Croatia is known for. At times we were literally riding only a few metres from the shore, able to admire the spectacular scenery as we worked our way over to the next headland. We certainly won't forget that day – the small rocks deliver a delightful 'clink' – like the sound of braking plates as you cycle over them! A great day out and the perfect leg stretcher to start our adventure.
The descent from Vojak (1395m) in the Ućka Mountains took us down through the clouds into some beautiful pristine beech forest and then onto open trails before descending on some challenging yet fun singletrack. We passed by abandoned cottages where it felt as though time was standing still as we continued to make our by now, non-technical descent towards the sea. A puncture provided the perfect excuse to stop and enjoy the wonderful views across the coastline to the nearby island of Cres. Following a very relaxed late lunch in Plomin, rather than taking the transfer on offer some of us elected to make the journey back to the hotel with our guide via what turned out to be some challenging off-road climbing. However, we were finally rewarded for all our hard work as we arrived at the very top of the bike park above the hotel and the descent felt even sweeter knowing we'd earnt it.
Finally, the ancient trails of the Skitaća peninsula. You definitely need a guide here to find the best trails and hidden descents through the woodland and our local guide Ben knew the area like the back of his hand. Yes, there were some technical sections to get stuck into and some cheeky climbs, however the highlight was descending a sweet flowing singletrack as we made our way back to the small town of Labin. After a welcome coffee stop we made the final fast descent into Rabac, just in time for several beers before the sun disappeared behind the hillside. The perfect way to end a week's great biking adventure.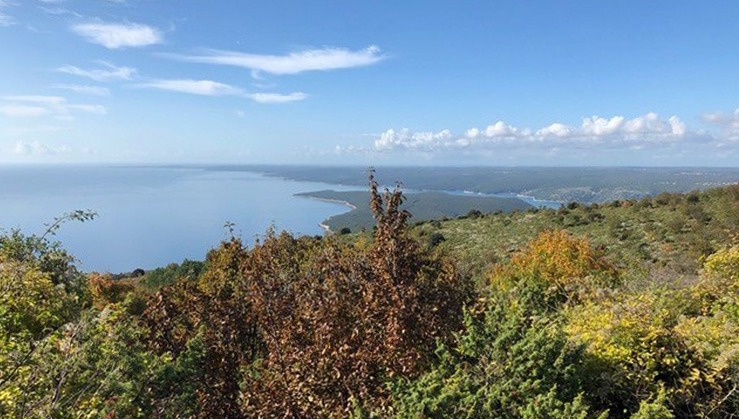 Two other things I will mention as they may be of interest some of you reading this. Firstly there is an e-bike option on this trip which was taken up by one of our group and was a great success. Secondly our trip was the 'standard' Terra Magica trip, however Skedaddle ran it for us as a private trip as the dates and flights for the advertised trip would not work for all of us, so something Skedaddle can organise for you if you can get a group together.
Anyway, I could go on about the cobbled hilltop villages we explored, the truffles and seafood pasta or the truly amazing natural bike park only your guide can show you, but I'll let you discover them for yourself. If you enjoy mountain biking and want to gain experience over a wide range of terrains, build your skills base or just have some grin-inducing fun on a bike I can wholeheartedly recommend Croatia. I'll certainly be going back for more as there is so much on offer."
Feeling inspired? Visit our website and download the trip notes to find out everything you need to know about this thrilling journey! We also have Terra Magica available as an electric mountain bike holiday, brand new for 2020.
Find out more about our Terra Magica tour here!
After the trip, we caught up with Nick to find out a little bit more about our Competition winner…
1. What do you love about cycling?
The feeling of freedom it gives you, it takes me back to being a child I suppose, you know, learning to ride and then being able to be independent and see a bit of our neighbourhood.
2. What's your favourite cycling memory?
There are so many!
a) Cycling across the Gran Sasso mountains, which are part of the Apennines in the Laga National Park during the Italian Grand Traverse last year. Amazing place to be.
b) One other place I will never forget is the agritourismo we stayed in Radicofani near Sienna whilst riding the Via Francigena. The hospitality we received complimented the splendour of the scenery experienced during our ride!
c) Arriving at Salamanca and experiencing the beauty and buzz of the Plaza Mayor whilst on the Ruta de la Plata guided mountain bike adventure.
3. What do you most like about Skedaddle?
The people. They just go out of their way to ensure everyone whatever the trip has an enjoyable time. And if there is an issue rest assured it will be sorted!
4. Where to next?
I'm just about to book the l'Adriatico al Tirreno. I'm also considering organising another private trip with Skedaddle for my local mountain biking group following on from our wonderful time in Croatia last year.