Today we wanted to take a moment and show some love and support to the nation of Italy, a country in all of our hearts and thoughts here at Skedaddle during these difficult times. The beautiful Mediterranean island of Sardinia is home to some of the most stunning landscapes there is, as well as being the home of Skedaddle Italia, and we're sure that everyone will find something for them to enjoy and fall in love with here when the time is right.
Read a story from an experienced Skedaddler Francis Brogden who joined us in Sardinia on the Coastal Explorer trip and took his vintage Wilier road bike along with him – and it's fair to say, they both were not disappointed! Check out this fun and unique insight into the life on tour…
"Last year my owner took one of his lightweight carbon bikes on a Saddle Skedaddle trip to the Italian Alps. I think he enjoyed it as he came back and started looking at the laptop for another adventure…
My luck was in, this time he chose a trip that was graded 2/3 as opposed to the Alps which was higher. The description of shorter mileage and less climbing meant I was in with a chance of being taken on this one. Lo and behold when the bike bag was taken down from the rafters, it was my wheels that were being removed and placed inside.
When we arrived at our first hotel, I was feeling a bit apprehensive at unveiling myself. We were carried from the minibus and placed in the courtyard whilst the owners settled into their rooms, with a fair few sampling their first taste of Birra Ichnusu (Sardinian lager) from their rooms' minibar.
Eight of the fourteen riders had hired bikes from Skedaddle and they were this years' model carbon Canyons with a wide range of gears. When my owner freed me from the bag, I felt conscious of the owners looking at me, as I was far from being this years' model. I left the Willier factory in 1987, carbon bikes might have been featured in Tomorrows World, but I was constructed from Columbus Steel.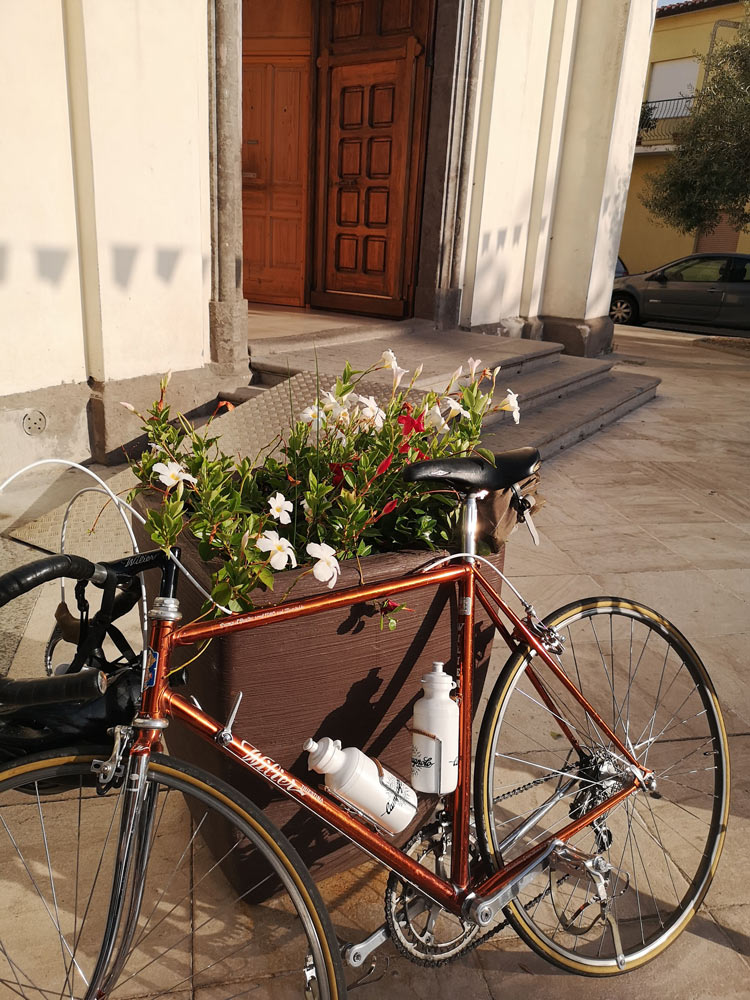 After all the bikes were assembled, we were ridden down to the lovely seafront of Alghero, it was only a ride of a few miles but it was a chance for me to spin my wheels and the owners to have a gelato. Everything seemed to be working okay, so I was securely locked up with the other bikes whilst the owner went out for a meal and another sample of Ichnusu.
The weather on the first ride day was glorious, the sun came up at 7 and the riders were ready to depart at 8:45. I say ready, but my owner still had several crumbs of his breakfast cake in his beard and I'm pretty certain he had a stolen Pain au chocolat in his back jersey pocket…
Once out of Alghero, we began our Southward journey down the West coast of the island. The good road surface, a gently undulating gradient and slight breeze meant I was looking forward to a long stint of being ridden. So, imagine my surprise when after only 10km we stopped, and all the riders sat marvelling at the wonderful sea view and sipping espressos.
The morning stop on the next day was at another beautiful sea front location and whilst the riders were having another espresso (I'm sure my owner only brought me to Italy so he could enjoy good coffee and red wine) an elderly local sporting a fine Selle Italia tracksuit top came over and through translations from the guides, told me how good looking I was and he wanted his picture taking with me.
It's fair to say my owner has a less than an Olympian physique (shot-putting aside) but he seemed to be coping fairly well and at some points he even took advantage of being allowed to overtake the front guide and motor on to the next road junction. This added to his sense of freedom and led him to believe he could do his own foreign tour, but everybody knows he can (and has) hot lost with a lift journey.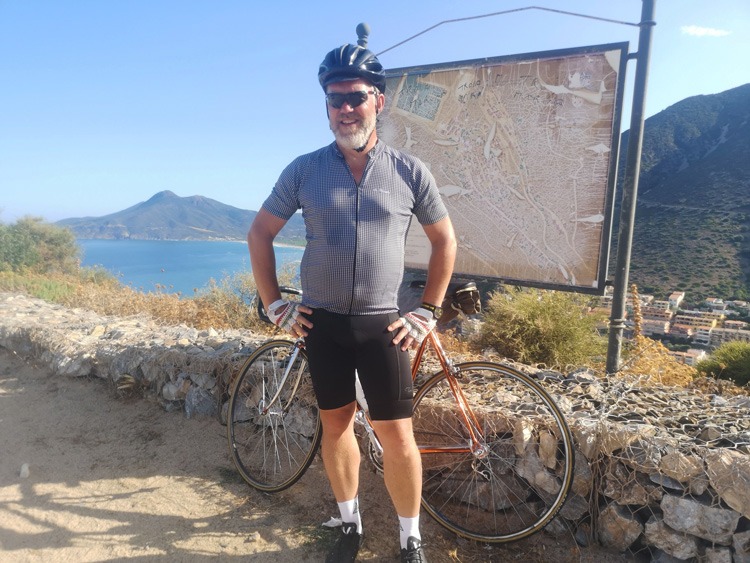 He definitely didn't pull out past the front guide when the route headed inland, and the climbs went up to a distance of 10km and gradients around 6%. This was partly my fault, I'm a beautiful (and modest) old racing bike with small gears, the hire bikes had dinner plate cassettes, my largest rear sprocket is 24. At these points he was nearer to the rear guide but with the sun shining, there were no complaints from riders who ascended first and were enjoying drinks from the van whilst waiting.
On day three my ageing components were playing up, and despite some slightly colourful language from my owner, we made it to our hotel in Santa Lussurgiu. Whilst the owners sat in the beautiful countryard outside the 18th century converted villa (correct, drinking Ichnusu), Danillo, Francesco & Stefano set about repairing me. From a well-stocked toolbox, they managed to affect a superb temporary fix involving a new cable, electricians' tape and a cable tie. This repair enabled me to complete the remainder of the trip.
Looking back, I loved the opportunity to return to my country of origin, albeit an island off the mainland. I'm hoping that he decides to take me to Tuscany next year…!
Kind regards,
Willier Ramato and his owner Francis Brogden"
Find out more about our Sardinia Coastal Explorer tour here!
After the trip, we caught up with Francis to find out a little more…
1. What do you love about cycling?
I love the social aspect more than anything else, you can enjoy chat and laughter whilst exercising and the effort is a lot less than running!
2. What's your favourite cycling memory?
First foreign trip was London to Brussels – the group of people on that trip were second to none.
3. What do you love about cycling in Italy?
Cycling is Italian – END OF!
4. What do you like most about Skedaddle?
The level of organisation is excellent – all you have to do is ride your bike and everything else is taken care of.
4. Where to next?
As mentioned I really wanted to take my vintage Wilier to Tuscany but current circumstances mean it's a ferry trip to Belgium in October.
Feeling inspired? A beautiful coastline of sandy beaches, emerald green waters and jaw dropping ocean views await you during our cycling holidays in Sardinia.