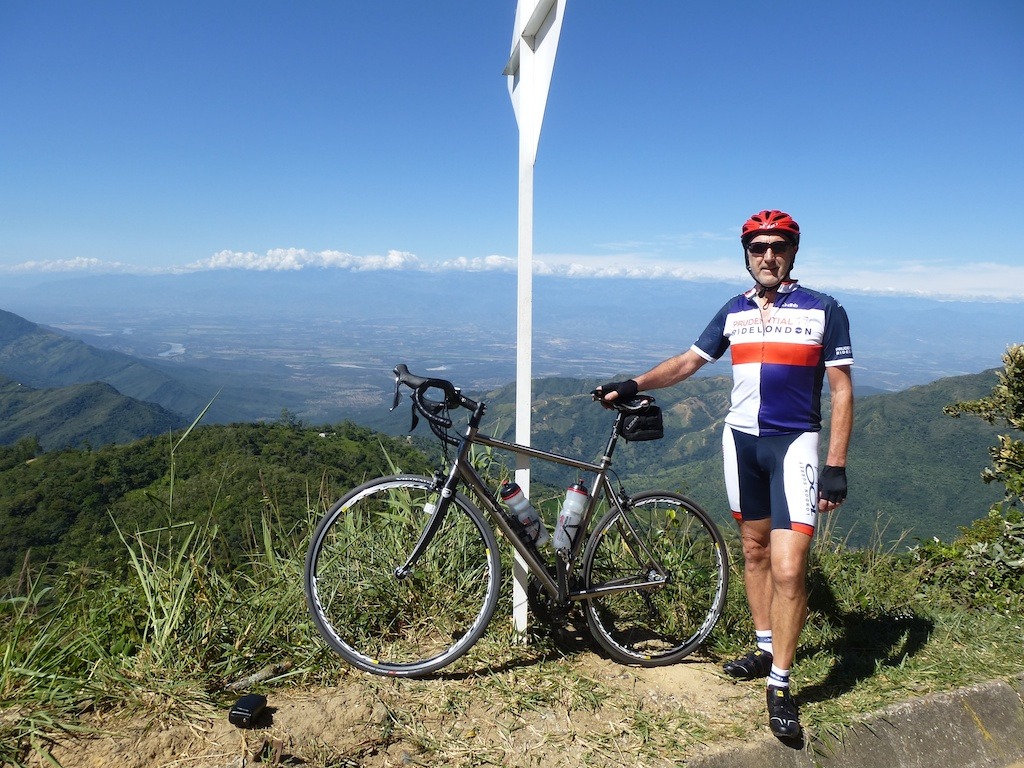 Road cyclist Ged Lawrenson recently headed off to tropical Colombia with us to take on some testing climbs and experience breathtaking scenery and culture along the way! Before his tyres were even back at sea level he wrote this great article for his local cycle club newsletter. Having received two cracking entries from our Colombia road trip earlier this year, we felt it was only fair to split our February competition between the two. Ged will receive £125 as prize money for his win, with the additional £125 going to Nigel Searle for his great Colombian photo entry. Both february winners will also be in with a chance of winning an additional £1000 during our final year competition. To find out about Ged's time away with us, read on:
Why go all the way to Colombia you may ask – isn't there enough cycling in Europe? Well, for a start, Colombia has been consistently voted one of the "happiest places on Earth". I agree. It has incredible scenery, high mountain passes, Pacific and Caribbean coastlines, an agreeable climate (in January), one of the most diverse environments and Eco-systems in the world, and an intriguing pre Colombian history and culture. Colombia is a safe country, having thrown off its image as a lawless, politically corrupt, drug-fuelled country in the latter half of the 20th Century. Anything else?
Cycling of course. Colombia is a massive cycling country: road cycling is Colombia's national sport, the biggest in all the Americas. The cycling journalist Matt Rendell, in his book "Kings of the Mountains", (2002) opened our eyes to the central place cycling held in the Colombian psyche. His account of cycling icons from the 1950s such as Ramon Hoyas (more later) and Martin Emilio Rodriguez (aka Cochise) captured the imagination of the nation when competing in the annual Vuelta a Colombia. The recent exploits of Nairo Quintana, (Giro winner and second to Chris Froome in 2013 Tour de France), Rigoberto Uran, Silver Medallist at London 2012 and strong Giro rider, and other Colombians riding in Europe, (including for Team Sky), whetted my appetite to visit this cycling Mecca. But would I be up to it? Would I cope with a tour that in Saddle Skedaddle's trip notes included the fearsome Alto De Letras, a 52 mile ascent of over 4,000 m, reputably one of the longest climbs in the world?
Fourteen of us including riders from NZ, Australia, Canada, US, Belgium and Russia, set off from a cool Bogata, the capital city high in the Andes at 2,625 m. Our route for the next two weeks would take us westwards over the Eastern Cordillera, down and up the valleys of two great rivers – the mighty Magdalena and the fast-flowing Cauca, then northwards into the Cordillera Central, the mountainous spine running north to south in Colombia.The tour would finish on the Caribbean coast, riding through the flat, hot Savannah after descending from the Andes, to the Spanish colonial town of Cartagena, via Colombia's second city, Medellin, and Manizales, a city in the coffee-growing region. The first serious ramp-up from the Bogata Plain left me breathless. Climbs totalling 1,300 m at this altitude were more than enough for the first day. Day two was dominated by fast descending, (my bike computer registering 1,578 m altitude down), losing the first day's gains, and with stifling temperatures in the mid 40's by the time we crossed the Magdalena River. Day three was the ascent of the Alto De Letras – one of the three so called Mythical Mountains regularly featuring in the Vuelta a Colombia. We were all pensive at the early morning start at Mariquita not relishing a day of climbing. However once I established a steady low-gear cadence I felt in control. My bike computer finally read 3,739 m altitude gain, with a manageable 5% average gradient over 54 miles in 7 hours. Nevertheless a bit more challenging than Box Hill! Two more up-and-down days were followed by the second highest climb – the Alto De Minas at the end of the first week: an ascent of 2,641 m, followed by a hair-raising descent into Medellin, battling with traffic, but with a rest day to look forward to. A trip to the bike shop in Medellin established by Ramon Hoyas Vallejo, now run by his son, was needed to replenish bike parts. (I was later to learn that Hoyas won 12 stage wins in a single Vuelta a Colombia, was 5 times a winner in the overall standings, and was idolised in print by Gabriel GarciaMarquez, South America's most revered writer.) As well as shopping, museums and art galleries in Medellin beckoned. A stiff climb out of the rim of mountains surrounding Medellin started our second week, but by now I was getting used to an ascent of over 2,000 m in 50 miles. The next day we left the Andes behind: an initial climb of 1,200 m was quickly followed by a tumultuous descent of more than 3,500 m of the Alto De Ventanas, towards the hot coastal Savannah, with temperatures rising threefold. A bus transfer left us with a comfortable 60 miles ride to the Caribbean on the following day. Finally, after a long hot slog of 113 miles on our last cycling day we reached the delightful colonial town of Cartagena. Cold beers and congratulations followed, with most recognising Colombia as their toughest cycling challenge. In all, 674 miles cycled, in 50 hours over 10 days, at an average of 11.68mph, with 15,400 m of ascent.
Sounds like a pretty spectacular trip had by all! Ged's article was originally written for his South West London Cycle Club, to see the original newsletter click here and go to 'Sou Westers' on the left hand tab. Once you have clicked on here head to the 2015 'Mar/April' icon.  Are you feeling inspired? For more information about our Colombian road odyssey click here.