Our guide and cycling journalist, Hannah Reynolds, took on our cycling adventure that explores the incredible country of Myanmar (Burma). Read her story about traveling to one of the most undiscovered countries in South East Asia…
Find out more about our cycling adventure in Myanmar (Burma)
When I told a friend I was travelling to Burma his response was, "I'm not sure how I feel about that, I wouldn't want to go there right now." He wasn't the only one, my sister-in-law also said, "we'd love to go, but not whilst there is so much trouble." It was interesting to be challenged on why I was going, and made me more alive to thinking about what answers I would give on my return, but a three week trip only scratches the surface and still I do not know enough to give a good answer.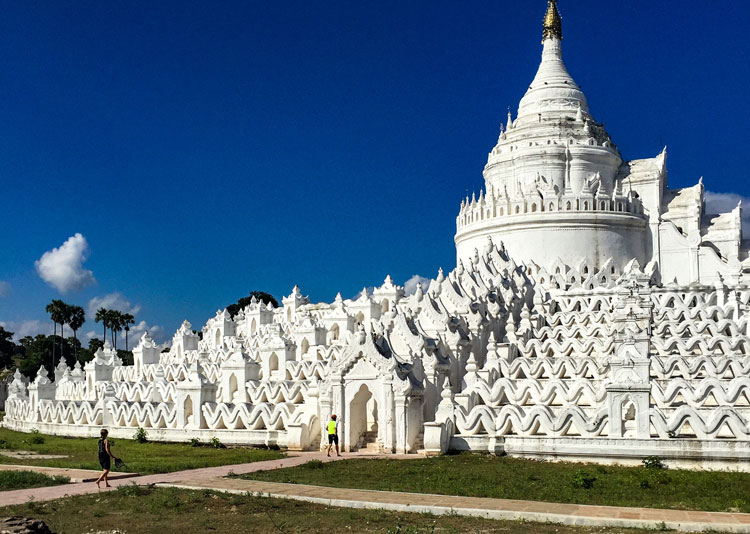 Before I left I spent some time digging a bit deeper to address my lack of knowledge. The more I read the more confused I became, it is a country whose history and culture is not straightforward, even the simplest of question seemed fraught with confusion. Do I say Burma or Myanmar?
My visa application was to Burma, my airline ticket was to Burma, but the ruling military junta changed its name from Burma to Myanmar in 1989. Other names changed at the same time, Rangoon also became Yangon. The UK Foreign Office still refers to Burma, even though the name change was recognized by the United Nations, and the establishment 'influencer', the BBC states "It's general practice at the BBC to refer to the country as Burma, and the BBC News website says this is because most of its audience is familiar with that name rather than Myanmar." Burma and Myanmar seem to be used interchangeably.
A well-travelled friend told me, 'you will know within the first hour of being there what you should say', wise words, once landed and through customs it was very clear that I was in Myanmar.
One of the most striking things I learnt from our local guide, Aung Ko, is that there are 135 distinct ethnic groups in Myanmar. Using Myanmar as a name instead of Burma includes all of the land, and all of its people. The new flag, created in 2010, is symbolic of this change. Bright and colourful the flag is seen everywhere, hanging out the windows of houses, in the front of buses and taxis, it seems to be embraced by everybody wherever you travel. The flag is a horizontal tricolor with yellow, green and red stripes; a large, white, five-pointed star is in the middle of the flag. The color yellow symbolizes solidarity; the color green symbolizes peace, tranquility and lush vegetation; the color red symbolizes valor and decisiveness; and the white star represents the union of the country. The five points symbolize the racial harmony and union of the country's five major ethnic groups – Burman, Karen, Shan, Kachin, and Chin.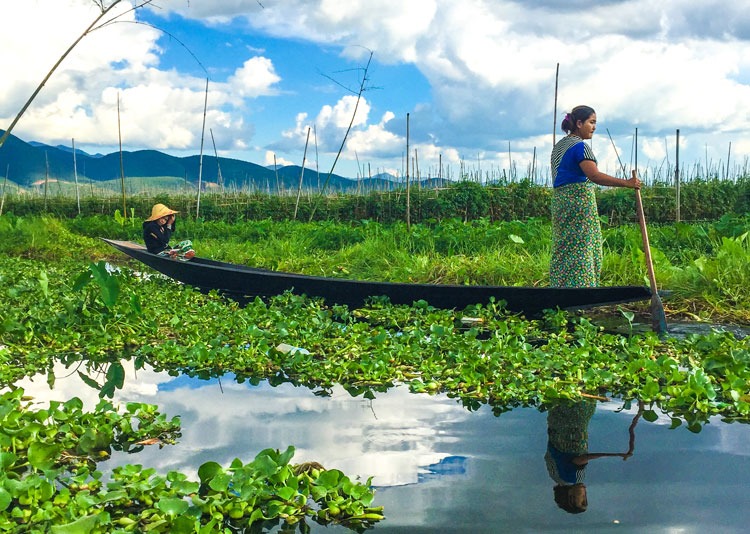 Myanmar is a welcoming country to visit, the people you meet aren't jaded by tourists and the places we visited didn't have elaborate information boards or visitor centres. The care and help shown seems even greater because of that. A taxi driver in Yangon helped me find an out of the way bar, he insisted that he wait outside till I had gone in and confirmed the person I was meeting was there, and all this was achieved without any common language, just the name of the bar on a bit of paper.
The reception to our group was always warm and friendly, riding down the road en masse we were an unusual enough sight to have both adults and children calling out greetings, smiling and waving. I was approached by a young monk on a temple tour who wanted to have his photo taken with me, not the other way around, he was as interested in where I had come from and what I was doing in Myanmar as I was in his daily life in a monastery. Similarly, we met a mother and daughter dressed in highly decorative traditional costume visiting a pagoda, the mother wanted a picture of two of the women from the group with her young daughter. Dirty, dusty, sweaty and in our mountain bike kit we looked a complete state compared with the elaborate dress and hair of the young girl, a definite contrast, and I wonder what they will see about that photo when they look at it in years to come!
Whilst it is totally understandable that you may want to withhold your tourist dollar for ethical reasons the Burma Campaign UK reversed their decision to boycott tourism in November 2010. In an interview published in The Times newspaper, National League for Democracy Leader U Win Tin said: "We want people to come to Burma, not to help the junta, but to help the people by understanding the situation: political, economic, moral – everything."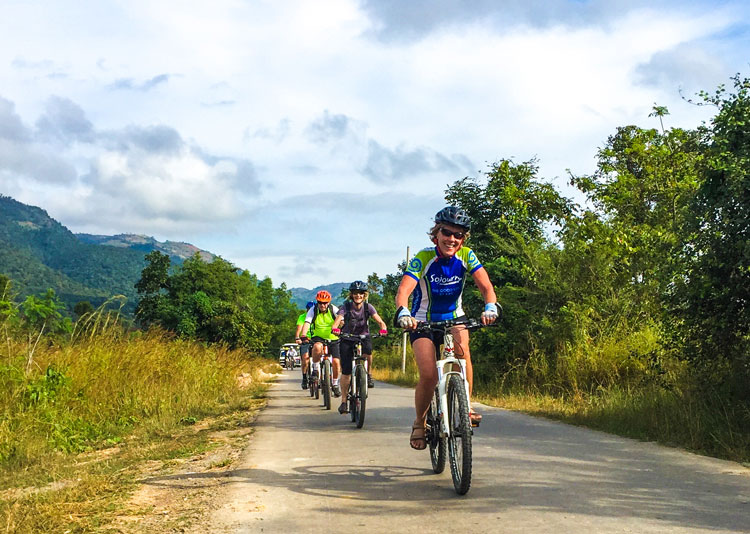 The National League for Democracy statement in May 2011 says that we as tourists have a role to play to make sure that tourism supports communities and is done in a way that is culturally and environmentally sensitive, "The successful development of the tourist industry in Burma depends not only on service providers such as travel agents, tour operators, tour guide, hotels and guest houses and transport companies but also on the cooperation of the tourists themselves."
Travelers want to be assured that the money they spend on their trips isn't be used in a way that they have an ethical issue with, the NLD recognizes "the challenge is to reap the benefits of a vibrant tourist industry that would give a much-needed boost to the economy while keeping negative consequences to a minimum… Positive discrimination in favour of businesses engaged in effective outreach programmes and environmental conservation should be encouraged."
Here at Skedaddle we researched our chosen our partner in Myanmar very carefully and examined all these factors to put together a trip that we feel provides a cycling holiday in a beautiful and vibrant country.
Myanmar is a stunning country with a deep and varied culture, from the tea plantations and mountains to the picturesque shores of Inle Lake, each day brought new experiences, new faces and new conversations. Through conversation and connection with local people you will learn far more of the challenges of the past and present than anything you can read online or in a guide book. It is a cycling holiday you will never forget.
Find out more about our cycling adventure in Myanmar (Burma)
Feeling inspired? Step back in time and discover ancient traditions on our cycling adventure, Bagan and Beyond. Discover a land steeped in ancient tradition, one where rust-robed monks and golden temples are never far from the saddle.