Photos, video and story by Orange Trike Media
It was a typical summer afternoon in northern Laos – the sky was deep blue and punctuated with just a few fluffy white clouds and there was wall to wall sunshine. The temperature was unseasonably hot, making the road go slightly tacky in places. Luckily the first part of our route was downhill so we were taking it easy, making the most of the welcome breeze while riding and admiring the incredible scenery as we rode close to the banks of the Mekong river.
As we cycled along I spotted up ahead a giant painted sign saying ICE CREAM in large letters on a white background. As metaphorical signs from the gods go that we needed to stop and relax for a while, this one was pretty blatant. A lovingly maintained thatched roof hut was located just off the road and next to the large glass serving window was a chalk board displaying the range of home-made buffalo milk ice cream flavours that were available to purchase. Despite having been lucky enough to live and work in Italy for quite a few years and therefore being somewhat of an expert in arguably the world's best ice-cream, I'd never tried a buffalo milk ice-cream before and this seemed like too good an opportunity to turn down!
A few minutes later, having explained to the lady in the thatched hut that we were researching the itinerary for a future cycling holiday in the area, we were duly invited in and were given an impromptu guided tour by Susie, one of the owners. Susie explained why she had given up a life as a senior manager in big business in Australia to come and run a buffalo dairy in northern Laos. "It was a kind of mid-life crisis, but one with a purpose rather than a Porsche" she said. "We visited the area on holiday and fell in love with it right away. We moved out here in 2014, but realised that even in this land full of water buffalo (which are owned by local people as a kind of walking insurance policy – one that can be sold in the event of financial necessity) there wasn't a dairy industry. So, we decided to try and change that." What followed were three years of hard work, studying, overcoming bureaucracy and most importantly trying to persuade local farmers that milking their water buffalo would be a good idea.
The Laos Buffalo Dairy opened in July 2016 and became the first of its kind in Laos. As we were given a guided tour of the incredible facilities that Susie and her partners had designed and built, it became obvious how great it would be to bring Saddle Skedaddle groups to visit the dairy, so that they could experience everything for themselves. You may well ask why as a Skedaddle cyclist would you be interested in learning about water buffalo? The answer could be something as simple as wanting to try some delicious ice-cream on a hot, sunny afternoon, but I suspect that after a few minutes of starting your tour, most visitors will be as enthralled as we were in the system behind the dairy.
A lot of ex-pat owned businesses have a less than stellar reputation when it comes to treating local people fairly, but with Laos Buffalo Dairy, this couldn't be further from the truth. One of the driving forces behind the owners setting up business there was their desire to help improve the lives of local people. Everything about the dairy is run in a circular manner, with each stage trying to benefit the next with the end result being a huge overall benefit to the local people. The local farmers get paid rent for loaning their water buffalo to the dairy, so have a regular income. Rice husks (a waste product from local rice cultivation) are used to provide bedding for the animals. The rice husks absorb the waste material from the buffalo which prevents it being washed into local water courses (where it pollutes water often used by local people for drinking and washing). The rice husk material in turn is re-cycled into natural fertiliser which is used both at the dairy and by local people to grow crops. The main output of the dairy is buffalo milk – significantly higher in nutrition than traditional cow's milk, it's also better adapted to hot climates and is naturally free from lactose, which reduces potential allergies. The milk is now being used by local families to supplement the diet of young children (in the form of rice pudding) and this is helping to reduce the problem of malnutrition and the related issues of low levels of disease immunity and consequent high infant mortality.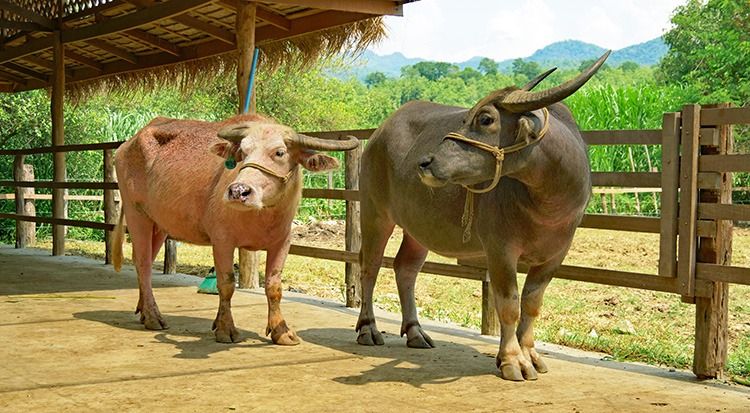 As well as the financial and practical benefits of the dairy, local people from the area are given free training in everything from animal husbandry to natural crop cultivation (to help reduce their dependence on expensive chemicals). The way the dairy operates is to rent female water buffalo from the local owners. On arrival, the buffalo are given thorough medical checks, inoculated against a range of illnesses and fed, watered and pampered to improve their quality of life (which has a positive knock on effect on the quality and quantity of milk that they produce). Once the buffalo have passed the quarantine stage they are then inseminated and give birth. One of the problems historically with Laos water buffalo populations has been a lack of genetic diversity leading to inbreeding, low fertility and high mortality rates. So, the Laos Dairy staff brought in water buffalo bulls from other regions of Laos and from other countries, to try and increase the health of the herd. After the female buffalo have given birth and have been milked daily for six months, they (and their young calf) are given back to the local farmers, but now in significantly better condition than when they first arrived.
Despite there being no history of dairy consumption traditionally in Laos, a combination of a growing local market (a mix of tourists, ex-pats and increasingly local people) and a steadily increasing export market, has meant the demand for the milk and their range of other related dairy products is rapidly growing.
During our tour, as well as being given an insight into the history and the background of the dairy, we got to try some of functions that the dairy go through daily ourselves. We tried everything from hand milking a buffalo cow to bottle feeding young calves to giving Ferdinand, their resident (and very docile) bull, his afternoon wash and scrub. Even though I grew up in a rural part of the UK (and have milked British dairy cows before), getting to hand milk a water buffalo was a pretty incredible experience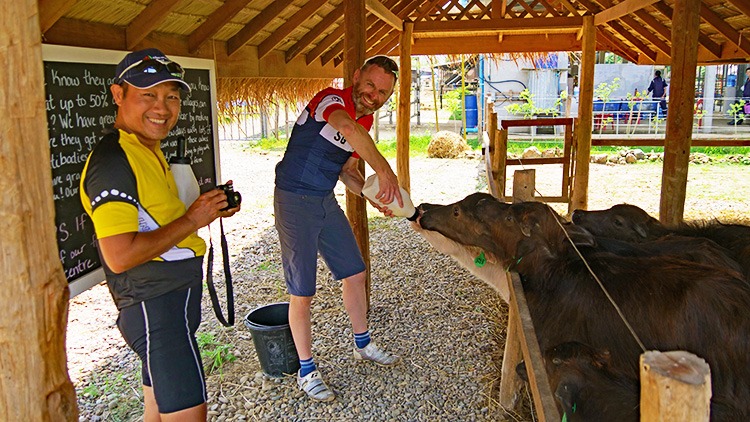 Of course, the proof of the pudding is in the eating as the old saying goes, so having duly learnt about the dairy and tried a lot of the tasks ourselves, the staff had saved the best part of the tour to the end. After giving our hands a good scrub (water buffalos slobber quite a lot when being hand fed, it turns out) we sat down to an amazing tasting table of buffalo mozzarella caprese (complete with tomatoes and basil grown on the dairy's own farm), different types of cheeses and yogurts and then the pièce de résistance, a selection of their amazing ice-cream, including a lemongrass variety, which instantly won my vote as finest buffalo ice cream in the world!
Of course, there's more to Laos than (amazing) buffalo milk ice-cream. For many visitors, one of the attractions is how quiet and un-touristy it is compared to its neighbours Vietnam, Thailand and Cambodia. Despite having the ideal mix of stunning scenery, great weather, some of the friendliest people you could ever meet and miles and miles of perfect roads for cycling, Laos isn't really on most people's holiday radar. This relative lack of visitors means as soon as you are out of the cities and into the rural areas, you get to experience the real Laos. It's primarily an agrarian society and you will see farmers working the land wherever you go – almost every strip of useable land has been cultivated. Laos has an incredible, although desperately sad history, particularly in the 20th Century. A series of wars from the 1950s onwards have left visible scars on the landscapes, yet despite having been through some appalling situations, the local people are incredible – their welcoming attitude and resilient approach to life shines through. Everywhere you go, as a visitor you will be greeted with a friendly smile, a wave and a cheery "Sabaidee". And, if you are wise enough to see this great country by bike, your welcome will be all the warmer.
Feeling inspired? Find out more about our Cycling Adventure in Laos!