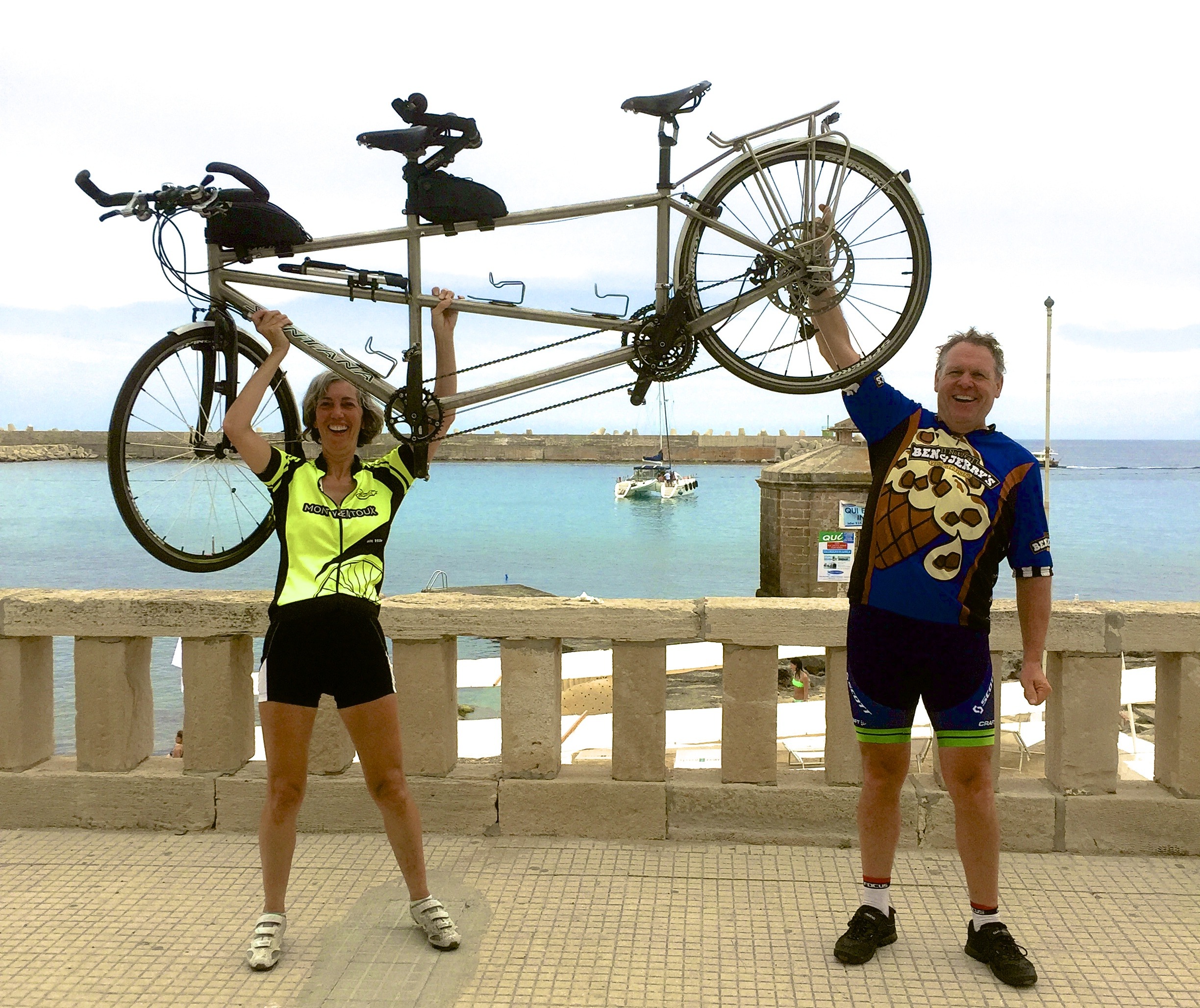 With her tandem in tow Skedaddler Jill Buzzard headed to Italy earlier this year to take on our 1,000 mile challenge, the epic Italian Grand Traverse. Here's how she got on…
Prelude
"A tandem" said our guide. "Well … we shall see", and he looked at the Skedaddle van to check the roof rack was on.
"Follow the purple line" were the instructions from Tim, our guide, who strapped a Garmin route finder to our handlebars. How difficult could that be?
But, the explosion of colour from every conceivable shade of petal making up the wild flowers which flanked the purple line, the views from the snow peaked mountains and glistening lakes, the secret meadows in the Italian Lake District, the inquisitive goats (and humans) and the majesty of Italian architecture rising to meet us – all of this, well – no wonder, my eyes often drifted from the purple line, and mistakes were frequent, thus increasing our projected mileage every day.
The Italian Journey
Let me explain. One day, in the winter, Andrew (my captain – I am called a stoker, and, yes, I do pedal) said to me, "Fancy a holiday in Italy in May?" I didn't need asking twice. The sun, the wine, the pasta served by those gorgeous Italian stallions, "Yes, please".
And so, there I was with our Skedaddle guides a few months later, looking at a Garmin and the prospect of a thousand plus miles in two weeks, and wondering what on earth had possessed me to agree to this 'holiday' – Italy's Grand Traverse – a bicycle trip (in our case tandem trip) to ride from Venice to the heel of Puglia. It might have looked like it was all downhill when I studied the map, but in reality this was going to be a hilly trip, and it wasn't even direct!!!
The group of fellow adventurers looked athletic … exceedingly so.   The night before the start of the grand traverse, we met the group who all seemed to be at Olympic levels of peak fitness – pro cyclists, a swimmer who regularly swam more than the length of the English Channel, people who took on RAIDS (previously an unknown phenomenon to me but apparently cycling up cols, and more than one in a day .. for fun?!), marathon runners – one who had run round the North Pole because it had to be conquered … these people were machines in my eyes. What on earth were we doing here? We were not elite athletes – just a pair of nutters who can't keep still.
Well, the gauntlet had been thrown down, so we geared up and got on the tandem ('Titania' – her name, which seemed a bit silly as I viewed the selection of carbon road bikes adorning the drive of the hotel, lovingly polished by the full pro kit wonders who owned them), but, after the initial fear that we were totally out of our depth, we got into our rhythm, found our groove, cranked up our wifi speaker to play "Ain't no mountain high enough", 'took our pace', and surprised ourselves … and possibly a few others!!
So, yes, we followed a purple line right down the backbone of Italy. We swore our way up the Apennines, and every hill in between, we dined on exquisite picnics and fell on pasta, pizza and any other food we could get our hands on, yet we became leaner and fitter, in spite of eating our body weight in bananas (maybe 50) and ice creams (definitely 50).
The end of the road – down at heel in Italy – was anything but down at heel. We were given a five star reception with 'Leuca water" – Prosecco with Curacao which admittedly (according to our group – now family) looked like Listerine, but tasted amazing along with the sweet smell of success which made hearts flutter and our eyes fill with the sheer magnitude of the achievement.
I can honestly say that the hardest ride we have ever undertaken was, in fact, the ride of our life. Thanks to the 'family' and all concerned.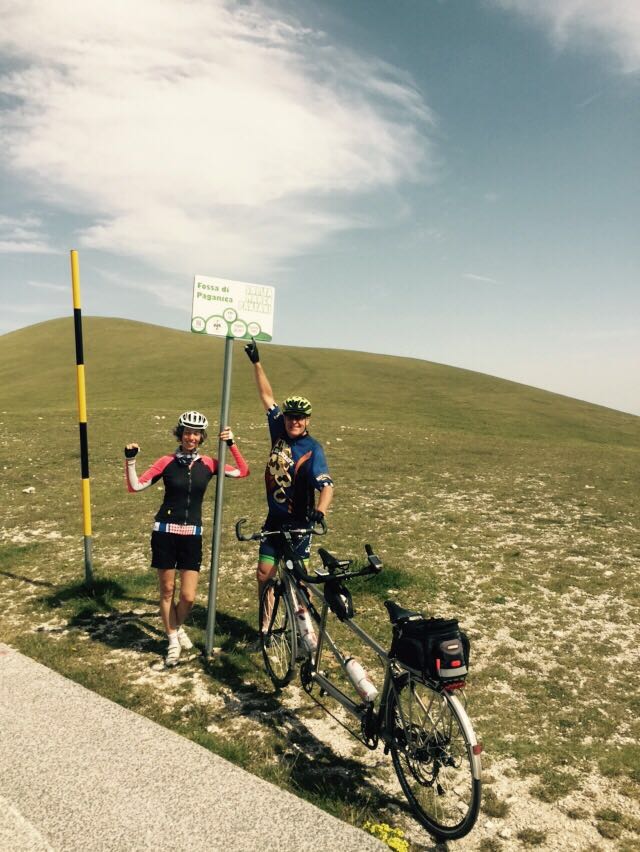 I wonder where the purple line will take us next time ….
Feeling inspired?
Jill cycled our road cycling holiday the Italian Grand Traverse. For more informtion about this trip click here. Jill is also the winner of our August 2016 customer competition, click here for more details.