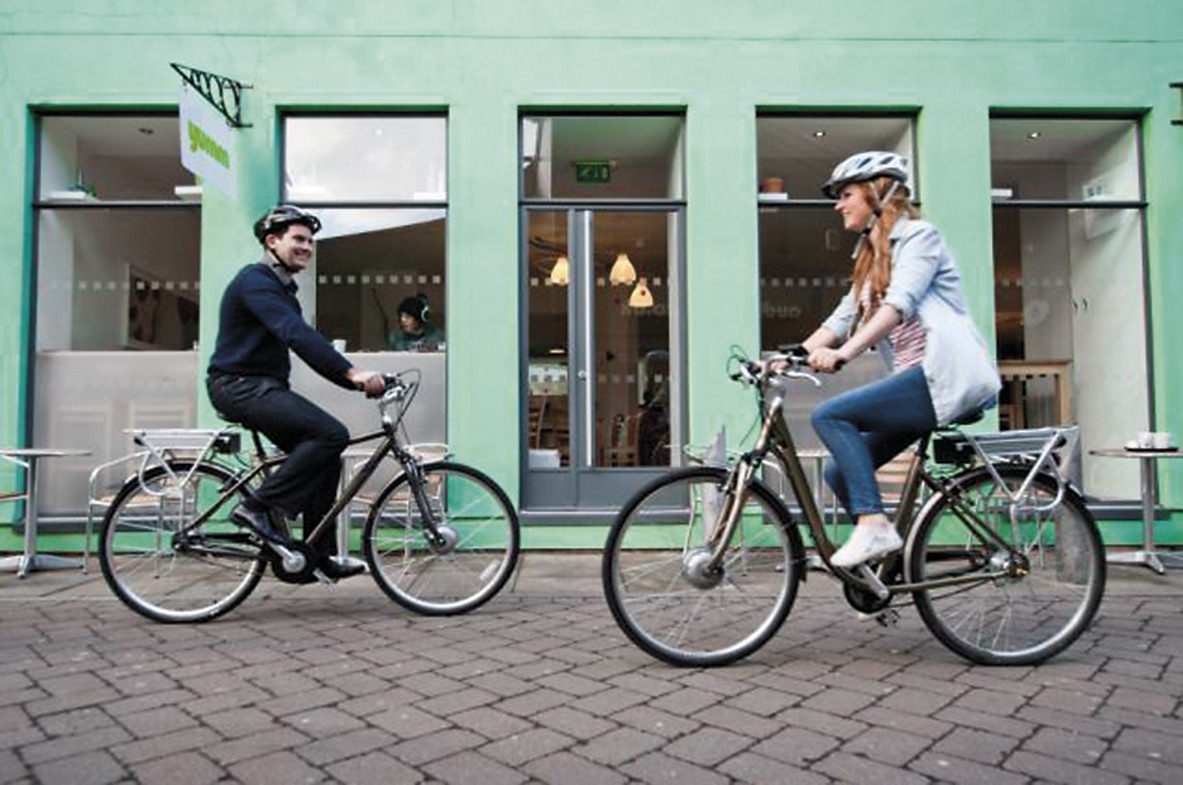 Many of our trips now have electric bikes (e-bikes) available as a hire bike option and are making some tours more accessible. Whilst very popular throughout Europe, the UK and its cyclists are slowly catching-up (no pun intended).
Why Choose An e-bike? If you feel a certain tour is a little beyond your current level of fitness or just fancy taking it a little bit more leisurely they are perfect. They'll also make light work of any occasional 'cheeky climbs' along the way and will allow you to take on longer rides too.
I'm A Technophobe – How Do They Work? An e-bike is like a normal bike but has a small integrated motor to help you along. The e-bikes we tend to use are pedal-assisted models on which a sensor detects when you are pedalling and activates the motor (at full power or whatever level you have chosen) whenever you are cycling.
Do They Make Much Difference? Most of the bikes come with several different settings so the motor will only kick-in when you really need it. On the highest setting you will get a boost as soon as your pedalling starts to slow down or if you turn it down it will only kick-in when you really start to struggle. The motor can of course be totally turned off so you can get as much or as little help as you need.
How Do I Recharge My Batteries? Batteries usually take between 3 to 5 hours to fully recharge and cost just a few pence to do so. This can be done in your hotel room overnight or if you think you might need a little more 'juice' during the day, then you might want to plug in whilst stopping for lunch or a snack at a café along the way.
How Far Can I Go? You'll be able to go between 30 to 50 Kms (20 to 30 Miles) if the route is relatively flat with some mellow pedalling. Of course if the route has a few hills along the way or if you're using the motor all the time this will be a little less. Needless to say our routes will take this into account.
Aren't They Really Heavy? It's swings and rounda- bouts. In general e-bikes weigh around 10 Kilos more than your normal bike, but the extra weight is offset by the assistance you'll get from the motor and we promise you'll not need to lug them up ten flights of stairs to store them at night!
Will I Get A Speeding Ticket? e-bikes have a restricted speed limit and will stop assisting you when you reach 25km/h (15.5 mph). Of course this doesn't apply if pedalling or freewheeling so you can whizz downhill as fast as you like. Can The Kids Have an e Bike? By law anyone over 14 years old can ride an e-bike and join in the fun.
Which Holidays Are e-Vailable? We've popped an E on the Leisure Ride Guide next to those holidays where e-bikes are available. But on many others we can arrange them, so if you fancy the look of a trip and like the idea of doing it by e-bike them let us know and we'll do our best to make it work for you.
Call us if you fancy giving them a whirr? For a full list of all our e-bike holidays click here