Roses are red, violets are blue…stuff the flowers and book a two-wheeled trip for two!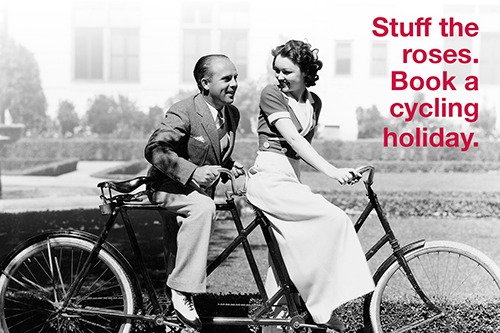 This Valentine's day, why not avoid the materialistic clichés and instead put the wheels in motion for an exciting adventure together? Here is a selection of our most lusted after destinations, handpicked by our HQ team…
1. Team Road: Tuscany Tourer, Italy
Why? Idyllic landscapes greet you at every turn in treasured Tuscany and we can't think of anything more romantic than soaking up the sublime Val d'Orcia views together on two wheels.
2. Team Leisure: Chateaux of the Loire, France
Why? This is quintessential France at its best! Picture grand castles dotted along a scenic valley – all washed down with the region's revered vineyard wares and gastronomic delights.
3. Team Adventures: Wine Country, Chile
Why? Don't miss your chance to cycle the incredible vinayards of the Colchagua Valley (complete with an Andean mountain backdrop) with your other half – surely the dream holiday for those who love to relax with a tasty tipple, or two?
4. Team Mountain Biking: Swaziland
Why? If you're the sort of couple who crave an adventure, this is the tour for you. Packed full of experiences, you'll get to sample some of the finest mountain biking that Africa has to offer! This is an experience of a lifetime combining great unexplored trails with fascinating African culture and wildlife.