For our latest giveaway we asked you to tell us your favourite thing about France! We absolutely loved reading your responses and for the evident love you all share for this spiritual home of cycling. From fine wine and cheese to safer two-wheeled experiences, here are just few of the things you all can't get enough of:
 A la carte…
‪'… well, France! First voulez-vous coucher avec moi (ce soir)? Think a romantic dinner near the Seine river, not Aguilera.' Vera Albuquerque
‪'… the food, and earning the food by pedaling!' Jamie Emerson
'… wine, only because I have not had the opportunity to cycle there yet. Having had the opportunity to have John Walsh as a guide in Costa Rica, I would love to experience riding in France with Saddle Skeddale.' Kathy Campbell
For the joy of cycling…
‪'… the way drivers leave plenty of space! Not to mention the glorious scenery and food.' Ruth Mayorcas
‪'… being able to cycle and not feel like drivers 'are out to get you' & of course the gorgeous wine and cheese.' Fiona MacCallum
‪'…"le trajet" or "the ride" ' David J McDonàgh
 '… everything, but especially the mountains' Dewi Evans
Because it makes a great pun…
‪'… CYCLING IN FRANCE IS WHEELIE, WHEELIE GOOD!' Colin Bays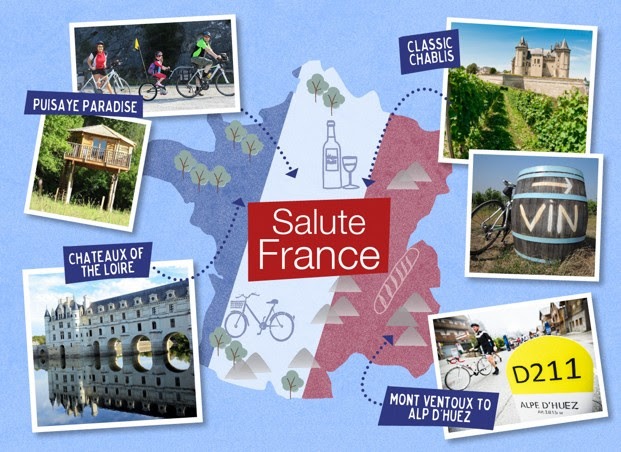 We want to send a big thank you to everyone who participated and congratulations to Colin Bays, who is now the owner of a signed copy of 'France en Velo' by Hannah Reynolds and John Walsh! Keep your eyes peeled for more giveaways and for your chance to be featured on our blog.
Feeling inspired?

To explore our range of fantastic cycling holidays in France click here and experience the country like never before!