Media maverick and part-time Skedaddle film editor Olly Townsend knows a thing or two about how to work a camera. With more and more of you looking to capture your two wheeled memories on video, we wanted to catch up with him to learn a few tricks of the trade and help you make the most of your dynamic GoPro gadget…
In the nearly 10 years that I've been involved in film making, pretty much every year without fail the level of technology that you could buy for your money has gone up and up. The technology that Joe Public can now buy (for comparatively little money) is astounding. From drones to a waterproof/shockproof/dustproof camera, that will transmit preview images to a connected smart phone/watch, there's ample opportunity to turn your hand at filming and all for not a lot of money!
The only problem now is that we can easily buy nice kit, but without the know-how to use it all, you're not going to get the best out of it. So, I've written a comprehensive (but straight forward) guide to getting the best out of your action camera. Combining your high tech goody with our super set-up advice, you should soon be shooting footage to give Steven Spielberg or Ridley Scott a run for their money…
The Kit/Equipment/Gear Dictionary
The price of incredible quality kit has come down dramatically, but it can be expensive if you buy the wrong kit or don't know what to do with it. So here's our basic list of things we think you'll need if you want to head out and shoot some great footage.
As with everything in life you get what you pay for. My personal view is that it's better to have a few key pieces of decent quality kit, than to spend all your money on cheaply made copies.
Camera (GoPro/TomTom/Garmin/Sony/Nikon etc) – buy the best you can afford. Most companies have an annual product upgrade cycle, so you could always try and find one of last year's models if you want to keep the cost to a minimum.

SD card and reader. The most crucial bit of the whole set-up. You need a super-reliable, decent capacity SD card (of the right type – standard/micro/nano etc) to capture your footage on.
This is something not to try and save pennies on – go for a famous brand (SanDisk for example), high speed (Class 10 with read/write speeds of more than 80MB/S are best) and the right capacity (for example GoPro cameras don't like SD cards bigger than 64GB capacity). If your camera takes Micro or Nano SD cards, you'll most likely need a card reader too, so that you can use the SD card with a standard USB drive on whatever computer you're going to be using to store/edit your footage on.
Charger and spare batteries. Batteries will last between 30 and 90 minutes, depending on what you're asking them to do. Buy as many spares as you can afford. Original batteries should be higher quality, but often other manufacturers will produce compatible batteries that work just as well. We'd recommend that you buy a charger unit too – this will enable you to charge multiple batteries at the same time.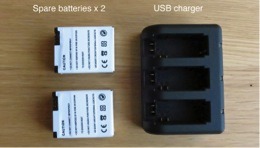 Mounts. As you'll see later on, variety of shots is key to making your final film interesting, so for this reason the wider range of camera mounts you can access, the better your footage is likely to be. You can buy the manufacturer's own mounts or buy quality aftermarket kit (for example K-Edge mounts).
I would recommend the following:
Helmet mount – perfect for a Point of View (POV) shot, but can be prone to shaky footage.
Chest mount – offer a really involving view for your audience when used correctly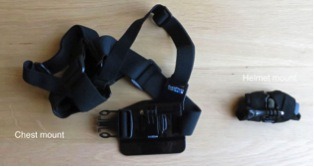 Handlebar/saddle rail/seat post mounts – great for variety of shots. If you have more than one camera, you can shoot different points of view at the same time using different mounts.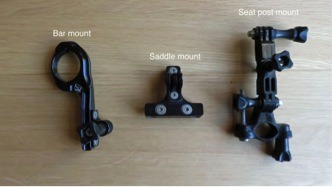 Vehicle mount – normally attach using a vacuum "sucker" – great for adding to your story (for example introduction/set-up shots such as the journey to the start of your ride)
Mini-tripod mount – useful for everything – time-lapse/scenery/low to the ground/lunch stops/selfie-shots
Smartphone or remote control. Most action cameras have the ability to be controlled by a smartphone, connected to the camera via Wi-Fi and a dedicated App. GoPro cameras generate their own Wi-Fi network which allows the camera to be controlled either via their dedicated Wi-Fi remote, or via a smartphone using their App. Remotely operating the camera means you can have it mounted somewhere inaccessible and still be able to preview the footage (to check the camera is properly aligned etc)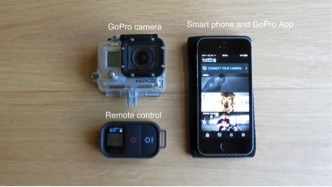 Hard case or bag. In order to keep your camera kit in good condition (and making sure you haven't forgotten anything), it's worth buying a decent quality hard case or camera bag to carry it all in.
Optional – Skeleton case and compatible microphone. Depending on what you are going to be using your camera for, you might want to consider buying an external microphone too. This would allow you to do interviews or capture background sounds at high quality when the camera is stationery/tripod mounted.
Now that you've mastered the kit, you're ready to move on to the basics of GoPro upkeep. Click here to read the next instalment from our video editor Olly. 
Feeling inspired? Don't forget to put your new-found skills to the test with our Customer Competition, your chance to win £250!