We are kick-starting this year with the return of Gorrick XC Spring Series. This is a four event open Cross Country Race Series held during January to April and is sponsored by yours truly! Everyone who participates has a chance to win one of our UK weekend Mountain Holidays and many other prizes – yay! This year Gorrick and their team celebrate 25 years of organising mountain bike events and we are more proud than ever to be working with them.
Here's a little insight from our good friend and keen Gorrick rider, Natasha Litherland, who rode the first on this new Spring Series, a chance for you to see what you can expect on the day:
"Having not been able to race much for a few years as I have been studying, Area 51 was a new course for me – it was exciting to be there and it gave me the buzz I used to get when arriving at a new venue.
I am always inspired at a race – every rider there is a determined individual, whether they are there to win their category, beat a friend or just enjoy the ride – they all love this sport and are motivated to keep fit and healthy. At minus 4 degrees Celsius the ground was frozen solid which gave the riders a lot of fun on the twisty mud-free course that regularly double-backed on itself, and also made for great viewing. Riding around I was just grinning at the fact that I wouldn't have to wash my bike when I got home.
Saddle Skedaddle headline sponsor these races and provide great prizes of their handpicked, top quality mountain bike weekends in the UK – one of which I won many years ago, and I have been a part of the Saddle Skedaddle team ever since then.  The Gorrick team never fail to provide an excellent event for everyone involved – that is why we all come back."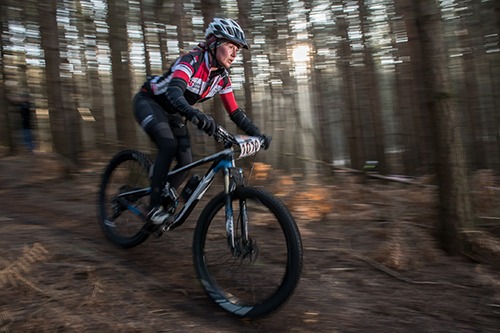 Photo by Kevin Sheldrake
Interested? Click here to head to Gorrick's website, find out more and enter! No club membership or licence is required. You can enter either online (hello early bird!) or on the day.