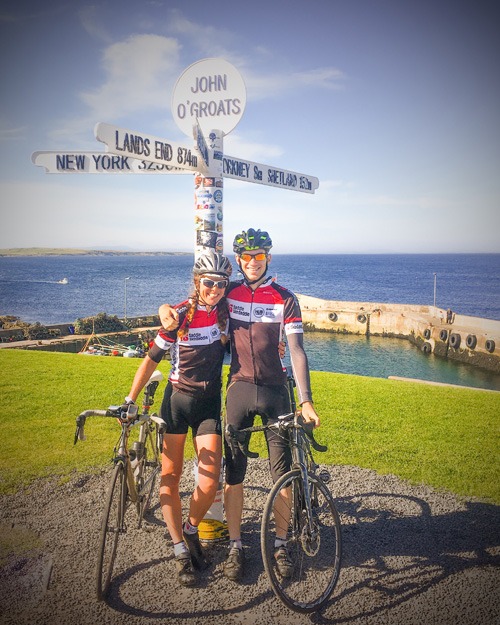 Who's that girl…it's JAYNE! Hailing from Yorkshire our newest member to join the Skedaddle squad is a friendly and vivacious character who has already got some of our best-loved UK trips under her wheels.  We thought we'd squeeze ourselves into her busy schedule and find out a little bit more about her cycling credentials…
You're new to the Skedaddle team this year, so a few Skedaddlers won't have met you yet. Can you tell us a little bit more about your experience so far guiding for Skedaddle?

Yes, I am one of Skedaddle's newest guides, and only started my training in february 2016. Once fully  prepped in the ways of Skedaddle, I then started guiding trips in April/March this year. There's been loads to learn. The trips that I started with were weekend holidays, (very sensible to suss out the new talent), I have also supported trips, which means driving the routes, and aiding the riders en route. I found these trips really helpful as a stepping stone into guiding,  and now I feel pretty confident assisting and leading tours. My first BIG tour was the Land's end to John 0'Groats tour which really was a life changing experience. I knew I liked guiding, but the idea of being away in a group for two weeks plus is something i've always wished to experience and I absolutely loved it! I'm totally addicted to guiding now and raring for more.

What's your favourite thing about being a guide for Saddle Skedaddle?
I think it has to be the people/team that make Skedaddle what it is, as well as the company culture. The training we receive is pretty amazing and I love our team Kit too.

 Can you share your best pre-trip advice?
Riding your bike is the only prep you need. If you're brining your own bike along on a trip a once over my a trusted mechanic beforehand is always a good shout ( a thorough clean, check and replacement of any parts/ cables) will mean you'll be in the best stead possible for your tour.

What keeps you going in the saddle?
Bananas every time! Comes in it's own handy packaging,  universally available and slow release sugars means it is the food of champions in my books.

Which trip in our range makes you want to hop on a bike and get cycling right away?
The Land's End to John Œ0'Groats trip this year, which was on my ultimate wish list, and I'm still buzzing from it to be honest. Other than that, any trip that takes me to the mountains, and, the Peru- Andes to Amazon looks pretty awesome too!!

 If you had a superpower on tour, what would it be?
Well, wouldn't  life be so much simpler if I was a mind reader!

What can't you be without on a cycling trip?
Oooooh, I've got a few items!  Not meaning to state the obvious, but my own bike is essential.  I'm also a massive coffee addict so won't be found without my AeroPress and favourite coffee.
Going for gold…
Having completed the epic Land's End to John O'Groats tour this summer, Jayne wrote up a fantastic blog about her experience cycling 1,000 miles. Click here to read her fantastic write up.