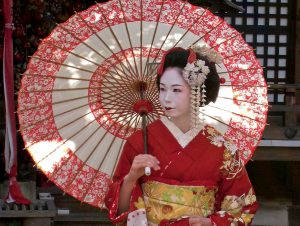 Our two tours in Japan offer the opportunity to really experience Japanese culture and meet people ready to share their wonderful cuisine and traditions. Wander through ancient temples, cycle quiet back roads, admire rugged coastlines and peer into volcanic craters. Both tours start in Kyoto with 'Tarmac' better suited to those looking for longer distances each day.
.
.
Temples and Tarmac -14 to 28 September – £3250 + Flights
Tea and Temples – 06 to 21 October – £3450 + Flights
.
China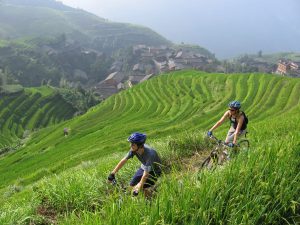 Yunnan – 06 to 19 July and 03 to 16 August – £1595 + Flights
This tour starts in Shangri-la and then heads north to the dramatic White Horse and Mei Li Snow Mountains on the border of Tibet and Burma before turning south and taking in the rapidly changing scenery along the Mekong River – An amazing journey to one of the country's least travelled regions.
.
Guilin and Guangxi – 07 to 20 Sept. + 12 to 25 Oct.- £1195 + Flights
An amazing holiday to the China one often imagines: lush rice paddies, bamboo lined emerald rivers snaking through pine forests, mist swept limestone peaks and ancient villages. Highlights include the Dragon's Backbone, Li River and Yangshuo. Tour Video
.
Mongolia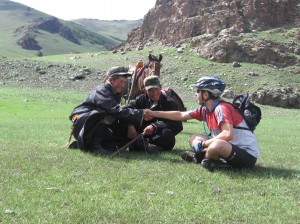 A tour suited to those with an adventurous spirit. One of the true travelling frontiers, Mongolia offers an incredible experience for the cyclist. This biking tour will take us on a crossing of the Arkhangai Mountains, from the edge of the Gobi desert at Bayanhongor to the old Mongolian capital of Kharkhorin.
Mongolia – 20 July to 03 Aug + 10 to 24 Aug. – £1795 + Flights
.
Ladakh
Often referred to as "Little Tibet" because of its rich culture and tradition, similar to its neighbouring country. This is a trip where we explore isolated villages seemingly frozen in time and visit remote monasteries perched on high cliffs that contain a wealth of treasures. For those taking the September tour it is festival time which further enhances this amazing location.
Ladakh – 06 to 21 July / 17 Aug to 01 Sept. / 01 to 16 Sept. – £1595 + Flights
.
Sikkim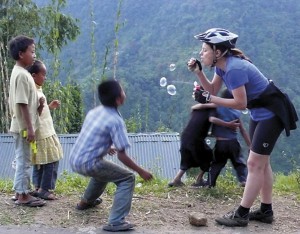 This former kingdom is dramatically positioned at the base of the Himalayas. You'll bike from the lush sub-tropical rain forests right into the highest terrain of the earth and on our final day we set our alarm clocks for 'very early' and sunrise at Tiger Hill, Darjeeling and hopefully views of Everest!
Sikkim and Darjeeling – 02 to 14 November – £1595 + Flights
.
Vietnam and Cambodia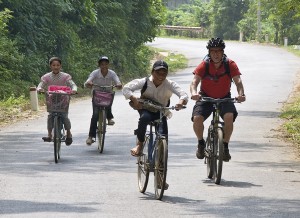 Our journey begins in in Vietnam's former capital Ho Chi Minh City, still often referred to as Saigon by locals and tourists alike then heads through the mellow Mekong Delta with its famously friendly locals before heading north and arriving by river to Cambodia's capital Phnom Penh. Looking to experience South-East Asia on a tour that is easy-paced then this is the trip for you!
Vietnam and Cambodia – 02 to 16 November – £1495 + Flights