New for 2019 are the challenges and chills of Croatia. We're calling its magical peninsula in the north, Istria, home for 7 days, from where we'll discover precisely why Croatia is considered an underrated mountain biking destination. The beautiful bit will be far more obvious.
Based in Rabac, a  town on the shores of the stunning Adriatic Sea, we'll transfer daily inland to visit the unique regions Istria has to offer. With 1,000 km of trails in Istria alone, we really are spoiled for choice. The riding is varied and rewarding, and most days will feature short technical sections  and the odd cheeky climb.
If that's got you interested, just wait until you read what else we have planned…

Why Croatia?
Croatia has been growing in popularity for more than a decade and it's not hard to see why. With its idyllic islands scattered like jewels across the horizon, diverse culture and fascinating history, as well as the spectacular walled towns, it's a country that's as charming as it is dazzling. We've been running leisure bike and boat holidays here for a three years now and these have proved a popular hit with Skedaddlers.
It really is a destination that has something special for everyone though, and the same goes for the Mountain Biking. Our local guides will take you on secret trails through wild hills and beautiful nature reserves. With modest daily distances and a focus on fun routes making each day suitable for a wide range of riders.
We'll visit the Parenzana, the most renowned cycle trail in Croatia — a converted railway linking the idyllic villages of Grožnjan and Vižinada. And when you're tired of riding and relaxing, there's always chance to experience the many cultural delights, such as idling along the cobbled streets of towns like Motovun.
If you hadn't heard of Istria before, you'll be happy to hear it's one of Europe's best kept culinary secrets. Of course, we'll be putting that reputation to the test, sampling the high quality locally produced olive oil, truffles, honey and of course a glass or two of local vino.
With beaches, pools and walking opportunities on site this is the ideal mountain biking tour for mixed-ability groups and non-riding partners, while keen riders can explore the local trail centre to add a few extra miles on any day.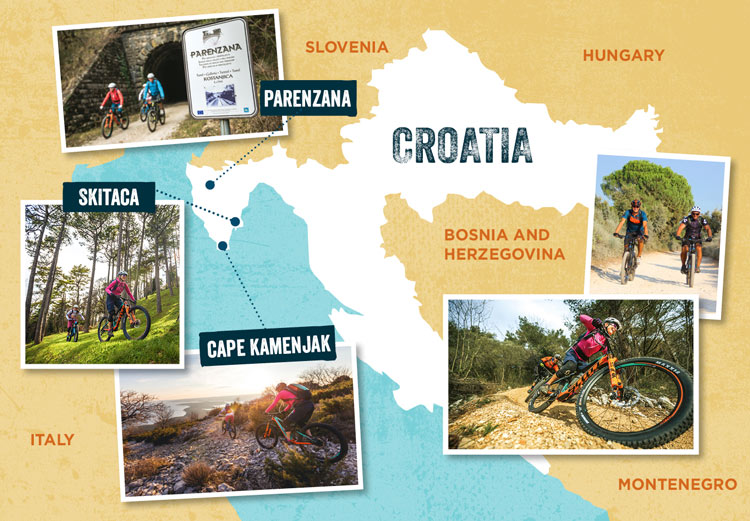 The Itinerary: Day 1 to 7
We start at the cape of Kamenjak at the southernmost point of Istria. A tourist hotspot in the summer and for good reason, when we arrive it's nice and quiet, so we can experience the incredibly beautiful area of criss-crossing singletrack trails.
The next day is all about height as we head to the summit of Vojak, the highest peak of the Ucka mountains. It's part of a protected nature park and offers amazing views of Kvaner Bay and most of Istria. What goes up, loves to come down and that's exactly what we'll be doing as we move from tarmac to dirt roads to trails on our way to the foot of the mountain.
Day four starts with a spot of sightseeing at Dubrava Sculpture Park in Labin, where we'll see the works of local Istrian artists. Labin, famous for its olives, honey and wine, provides us with the setting for a gentler day in the saddle as we ride quiet country roads, forest trails and hidden singletracks, leading through beautiful rolling hills and quaint hamlets.
Day five is a showstopper, with a journey back in time as we hit the Parenzana, a converted railway perched on the hillsides leading to the medieval hilltop town of Motovun. After a short ride we arrive in the old town of Grožnjan, a town often filled with the scent of truffles as they are added to all kinds of local dishes. Crossing bridges and passing through tunnels, accompanied by phenomenal views, we'll soon be in Motovun where we eat and explore.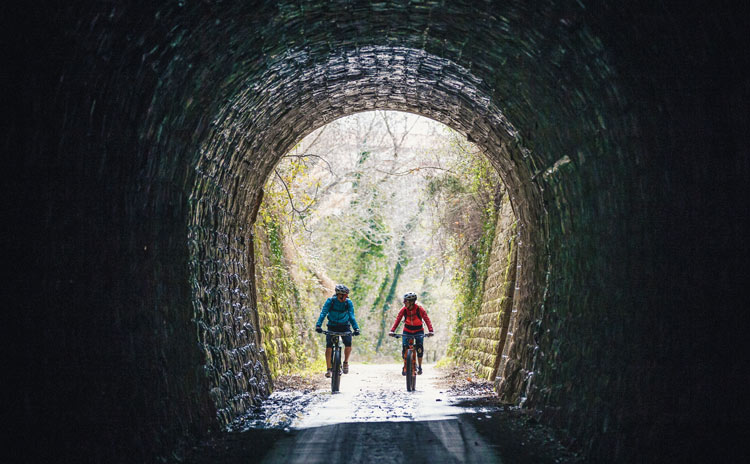 The big finale is a tour of the amazing Skitaca peninsula. We'll journey along an intricate network of ancient paths and tracks that meander through low scrubland and woodlands. Before some superb flowing singletrack carries us to a tiny chapel nestled alone in ancient forest. It sounds like a fairytale but it's not, we'll visit the village that gives its name to the peninsula, now home to one solitary full-time resident.
By the time we arrive back in Labin, we'll have one last chance to sample the fun descent into Rabac. A cocktail overlooking the sea will be a fitting way to celebrate a great week of thrilling riding.
Love them, hate them, never even tried 'em
White truffles are a delicacy around the world, often found on the plates of fine-dining restaurants for a pretty penny. In Istria you'll discover their humble origin with its fertile land yielding a global reputation for what is being unearthed in its ancient forests.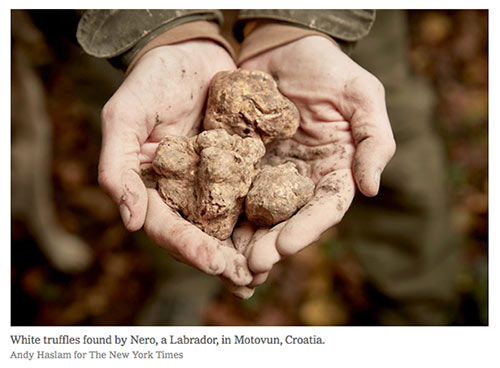 It turns out, parts of Italy have long been taking the credit for Istria's white earthy gold. However, when you read The New York Times piece, you'll find that much like the rest of the country the world is now paying close attention to its magic.
You'll get to sample these truffles throughout our tour with the ideal spot being Motovun after a solid days ride.
Need more convincing to join us biking in Croatia?
See this destination come to life in a video created by the local tourist board…

Feeling inspired? Terra Magica, Croatia is now officially part of our range for 2019. Visit our website and download the trip notes to find out everything you need to know about this new mountain biking destination.