Experience the contrast of modern and traditional Japan alongside Skedaddler Carol Kelly as she learns to handle chopsticks and protect her modesty on our Japan Tea and Temples cycling holiday in Japan.
I want this to be a cycling holiday you'll remember for the rest of your lives, said our tour leader Vince. He was handing out our Japanese survival kits. Tentatively we withdrew the contents and discovered an attractive pair of chopsticks in their own patterned box and an ominously small and thin towel, the purpose of which became clear as our trip progressed.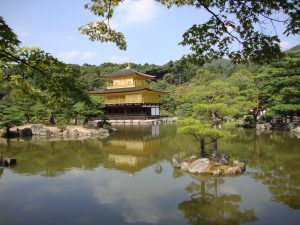 We started the trip in Kyoto and spent the first day cycling through intricate streets with exquisite tiny shops to Vince's favourite temples. Kyoto has 1600 Buddhist temples, over 400 Shinto shrines and 17 UNESCO World Heritage sites and we were thankful of his expertise.We soon discovered the purpose of our new chopsticks during the first of many sumptuous picnics in marvellous locations, which became more impressive as our trip progressed. Venturing out at night through the colourful Gion we enjoyed several of the many styles of Japanese cuisine, including the 'do it yourself' okonomiyaki, where the table is a big hot plate for cooking highly-seasoned omelette concoctions.
Saying farewell to Kyoto, we headed up and through the mountains. Lush, green and shady, the mountain forests of pine and cedar boasted waterfalls and drifts of wild iris, wisteria and azaleas. Our group was already declaring Japan a cycling paradise, a feeling that only increased as we cycled through small rural villages and mixed farms to our accommodation for the night, a delightful thatched cottage in Miyama.
Before dinner, Vince introduced us to the protocol of the Japanese bath, the onsen. Now we discovered the purpose of those small thin towels. We were shown how to use them to cover our private parts when outside of the baths and when inside, we were told they should be kept out of the water by placing them on the edge or on your head! We also discovered the joys of the yukata, the traditional, cotton kimono worn to the bathhouse.Our next stop, Obama, merged the traditional with the modern; we learnt to make tasty dishes at a wonderful cooking school, enjoying the results of our labour for lunch. The mountains of Wakata were worth the cycling effort and the ride to the glorious Mikata Five Lakes was blissful. In Mikata we stayed in a traditional wooden Ryokan, the most beautiful accommodation imaginable. Each bedroom mirrored the elegance and simplicity of its architecture, with their lake views and delicate flower arrangements. Outdoor bathing pools soothed our bodies and dinner was a meal to remember and linger over. The moon reflected perfectly on the lake as we enjoyed sukiyaki, sashimi, crisp tempura and numerous intriguing tiny dishes. Our conversation sparkled as we sat sipping hot saké in our yukatas.
The next day we travelled to Osaka by train and caught the comfortable overnight ferry to Kyushu; an island of steam, mud baths and volcanoes. In the early morning light, columns of steam rose all through the town, setting the scene for a different experience.We began with a ride from the top of the Mount Kuju Pass, with a dramatic descent through forest on an intricate network of paved roads to a charming onsen set beside a river. A lunchtime bath seemed perfect as by now we were proficient at politely juggling our small towels for modesty. Cycling clothes back on, we pedalled down into the world's largest caldera to a small town at the foot of Mount Aso. We spent a welcome three days here, cycling through cedar forests, picnicking beside river gorges and gasping at stunning views. Cycling up Mount Aso was a challenge, but being able to peer into the active volcano's bubbling lake was well worth the effort.
The exquisite town of Sensui treated us to a twenty-four course traditional dinner at our minshuku and in the charming Yufuin we tried karaoke and discovered that not everybody who cycles can sing. Vince and his Skedaddle team deserve accolades for the extraordinary planning and research that underpin the success of this tour. Each day provided variety and excitement and heaps of surprises and delights. Our small thin towels now serve as guest hand towels but evoke memories of camaraderie in the bathhouse while our chopsticks have pride of place in the kitchen. Certainly a holiday to remember for the rest of our lives!
Carol Kelly, Hackett, Australia