Road cycling is all hard work and no play right? Think again! Whilst some roadies enjoy sweating it out up Mount Ventoux in the fastest time possible, others prefer a slightly more social affair, where culture and company feature as highly as the cycling itself. Lucky for Skedaddler John Guy our road cycling holiday to sunny Sardinia, which explores this Italian islands spectacular coast, offered the perfect mix of thrilling daily routes and plenty of entertainment along the way too. Here's how John got on during our Sardinian Coastal Explorer trip:
Perhaps it was the wine. Or the unusually good weather. But our legs didn't hurt at all. It was our ribs that ached. We laughed our way through fifty miles a day down Sardinia.
Take a diverse group, give them good bikes, fuel them up on four course dinners and three types of salad for lunch and endless snacks in between then let them loose on sweeping empty roads, some tough climbs and endless descents with views to die for. If the guide gets the recipe right then the outcome is a group that gels. A group that laughs. At themselves, at the guides, at each other and at any setback. That includes the fourteen thorns Alison picked up in one inner tube alone during a day of punctures. You can see what Lieven, our guide, thought of it in the photo.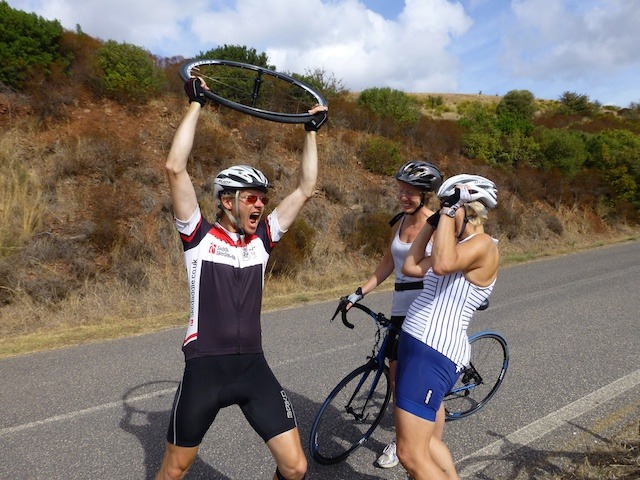 Lieven was happy to fix the fourteenth puncture…
It would be hard not to be happy when each day dawns with a blue sky and the promise of a warm dry day with light winds. Even harder when you wake up in an Albergo Diffsuo, old buildings restored with magic, to eat a great breakfast.
But you only really hurt your ribs laughing when something sets you off….
Like Alison appearing in Bosa with one sandal, hoping to hop to dinner, and the other sandal mysteriously turning up in Peter's capacious multi-pocketed waistcoat some hours and a lot of wine later.
Like seeing Richard's face when the dog which he had befriended while we were waiting to leave Santa Lussurgiu repaid his attentions by cocking its leg over his day bag.
Like Peter's obsession with nutritional balance. He was determined to get all the major food groups every day. That meant no day was complete without pizza, beer and ice cream. On one day when pizza resupply was in doubt he carried his own on his bicycle, and there is a photo to prove it. A sneaky beer on the Calaforte ferry helped get the nutrient balance right on another day.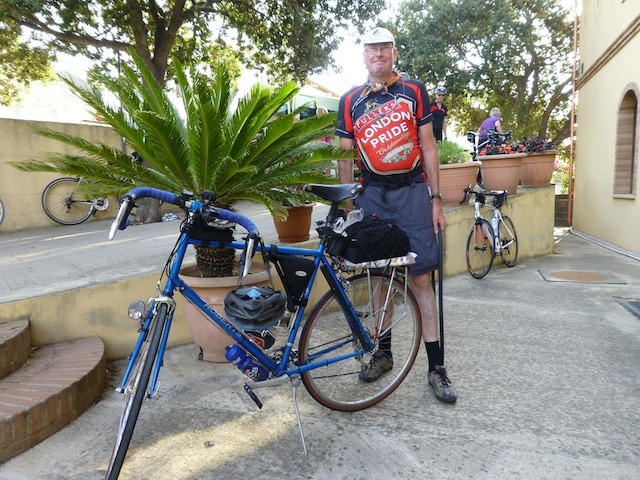 Peter carrying pizza to ensure he gets all the food groups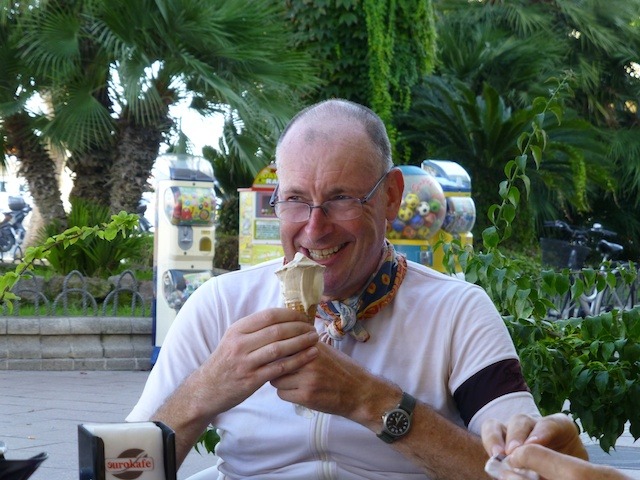 Peter balancing nutrition with second major food group, ice cream.
Like when the old mining town we were heading for all day, pronounced Boojeroo, was signposted all the way as Buggeru. And as I was always arriving after the main group I was forced to pose with the signpost pointing the way to Usellus.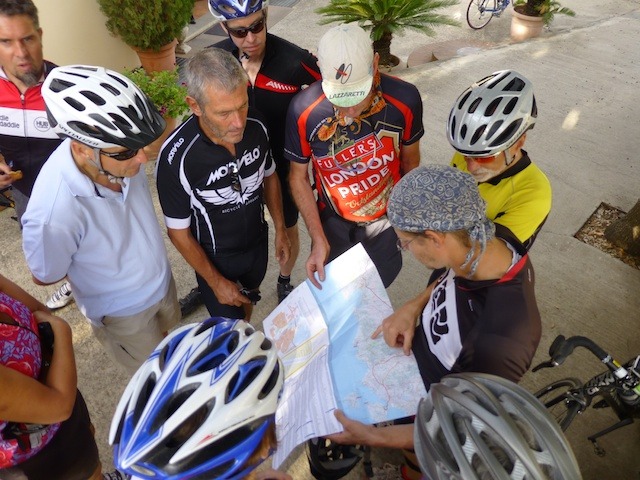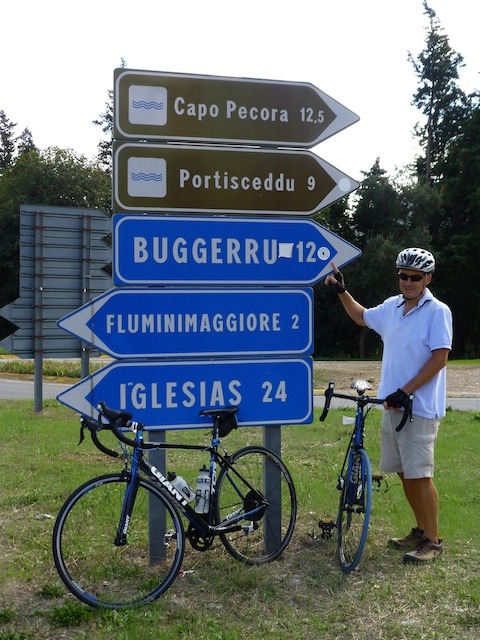 Buggeru is this way…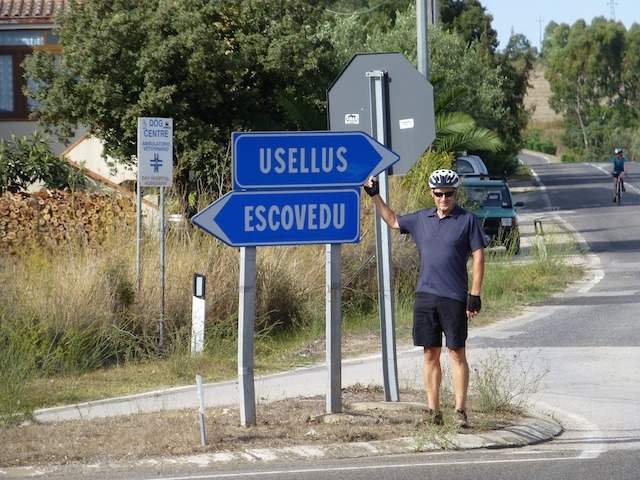 What they call you when you can't keep up…
Like admiring the Roman ruins at Fordangianus and looking up while pretending to listen to Lieven's learned lecture, to realise that everyone else is like you, thinking only "where's the coffee?". There's a photo to prove that too.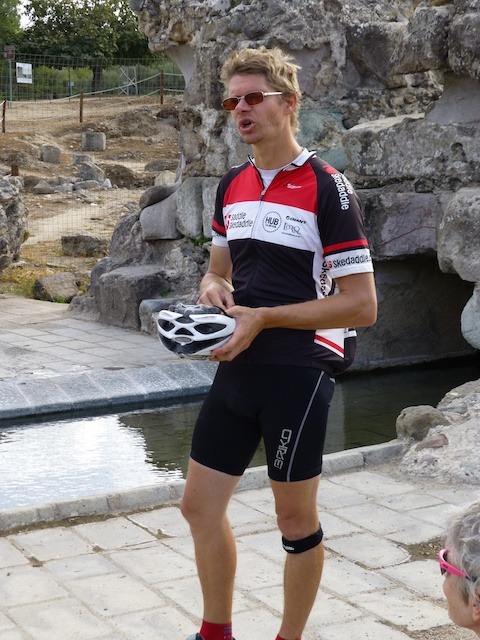 Lieven giving Roman lecture…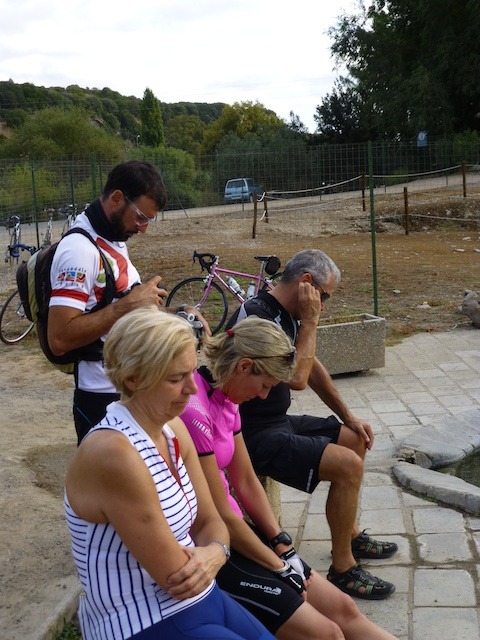 Lieven's audience need coffee
Like when the cheese jokes started over the pre-dinner beers at Portixeddu, and Richard laboured to produce the longest and most obscure cheese joke ever. The punch line is "Read less, duh!". There's no room here to write the joke, life is too short.
Like hearing Tim's laugh, which was enough to set the rest of us off again every time.
Like drafting Nicola as he slowly but steadily built the pace until one by one we all fell away, then at lunch seeing him putting his expressive "what me?" face on when he was teased about how fast he rode when he was let loose at the head of the group.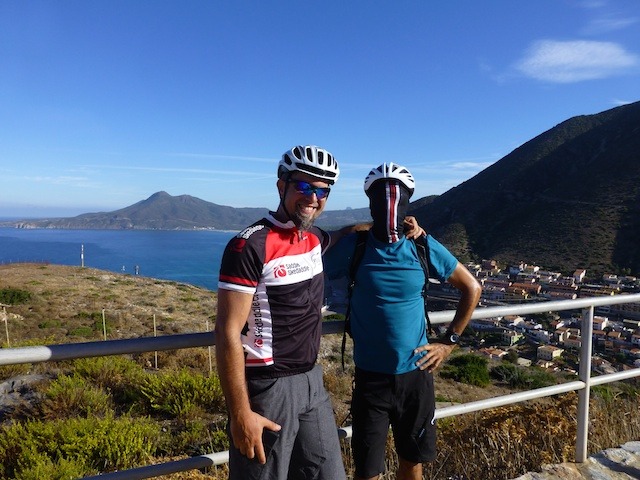 Renato and Nicola hiding his what me face!
There's more to cycling Sardinia with Skedaddle than laughing. Much more. There were great routes and great food and great views and impossible blue seas and white beaches and careful but laid back guides. But it was the laughter that lifted us through the tougher climbs and the laughter that we will all remember.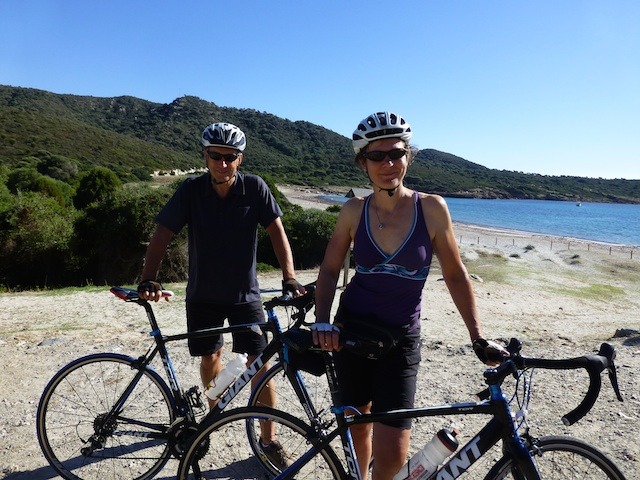 Impossible blue seas and white beaches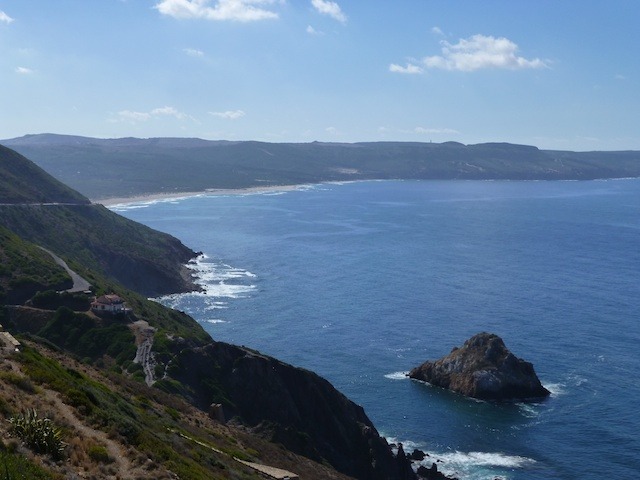 Views to die for and laughing gets you up the hills to see them!
Thanks John, a great entry and sums up what our Skedaddlin' trips are all about – laughter and fun with friends 🙂