Here's a superb story with some great photos from Steven Lerpiniere, recalling his epic journey which combined the Coast to Coast and Hadrian's Cycleway with his brother Andrew. It also won our March customer competition, meaning he's picked up £250 of Skedaddle vouchers in the process. Here's his story…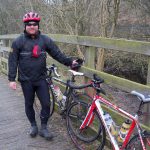 We – my bike and I that is – hit the snow at some pace. Not a lot of pace you understand, we're almost fifty miles into the day, and I'm skating a road bike on ice into a forty mile-an-hour headwind. The back wheel kicks out and I correct it instinctively. We judder, juggle and plough on. Nothing to it, we've been doing it all day, off and on. Next second, it's rather more off than on. I'm sprawled in the road half-buried in a snowdrift and my bike is somewhere else.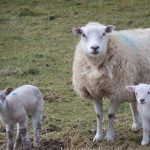 I stand, and I know my leg is still attached because my knee really hurts. I stagger around and retrieve my bike from its snowdrift. There are bits of it pointing in directions they shouldn't do. I take my time in the middle of the road; I mean it's not as if there any cars attempting to drive down it. That would be madness.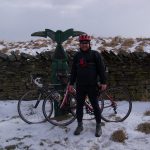 At times like this you have to consider your options. I consider throwing my bike around because I've had enough of ice-cycling. I also consider screaming at the incessantly tearing wind, railing at the mocking trees, building an igloo and living in it until my frozen body is discovered in the thaw. I settle for blaming my brother. After all, it was he who arranged for us to tackle the C2C. He who agreed to my suggestion that we ride the route in early Spring – before the roads got too busy.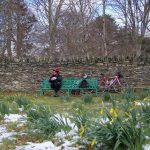 He appears at this moment out of the blizzard, forced to turn back to find me. He's concerned. I think at first because of the hole in my tights, and what appears to be blood seeping through. We both admire it briefly, but the more pressing concern is reaching Penrith before nightfall. There was a sign back down the road telling us we had 9 miles to go. We mount up and ride down the snow filled road, then another, and another. After another eternity, the next sign tells us we have eleven miles to go. This is not good. As dusk threatens, we find the last village before the town and battle into it, wind hard against us. The speed camera clocks us at seven miles per hour. I have to say that's encouraging.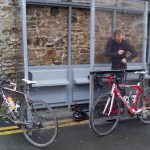 And then we've made it. We find the B&B and our jovial host. We defrost under hot showers. We hit the town hard. Tomorrow we do it all again. But it dawns all bleak and wintry. The locals cannot believe how cold it is. They're wrapped up like polar bears. It is, in fact, possible they are polar bears wrapped up like locals.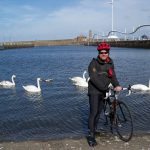 We phone through our food order to the station at the end of day two. The man who lives at the station at the end of day two doesn't think so. They're cut off; isolated; unreachable. The mountain passes are shut. I celebrate inwardly, but Skedaddle ride to the rescue. A guide appears as if by magic, and four pots of tea later, we have a plan. Unfortunately it involves cycling again.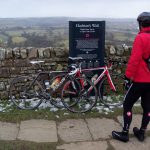 Our magical guide transports us further north (I know, it didn't sound right at the time either), drops us at a forgotten Dickensian village and points the way higher into the moors. He seems really nice, but he is also thoroughly enjoying our discomfiture.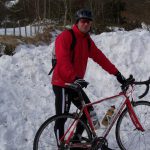 An old woman from the village appears and beseeches us not to ride out onto the moors. For a moment it seems she will physically stop us such is her concern, but there ain't no stopping us now. Our support vehicle has disappeared with our bags to our hastily rearranged accommodation, and if we want them back we've got fifty miles of Hadrian's finest to negotiate. We get to work and there are climbs early. Then we hit the high roads and the wind shrieks with delight at finding us again. We take her on, a peloton of two. I nominate myself as team leader and tuck in behind my brother's wheel. After all, this is his fault.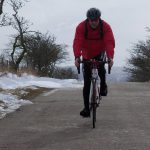 There are hard pellets of snow driving horizontally into our faces. There are dead sheep in the fields. There are probably some magnificent views if you could get your head up. We stop to admire Hadrian's handiwork and realise how utterly freezing it is when we stop moving.  We regret the amount of tea we consumed before riding. The resolve of the Romans drives us on; to think they had to cycle up the hills with rocks in their panniers.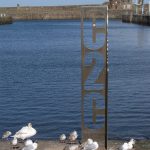 We go down a bit, quickly, and up a lot, slowly. We climb to the highest point of Hadrian's route and congratulate ourselves on everything being downhill from here on in. In many ways it is. Later on we stop for yet another liquorice bar, though by this stage we eat them with all the enthusiasm of Roman legionaries learning their next posting is with Hadrian's lot. As we sit on a bench forcing down our liquorice, we are cheered up immensely by the sight of a local dragging his dog on the most miserable walk. They struggle up the hill into the gale, the dog clinging desperately to the ground to prevent take-off on the end of his lead. Halfway up they are hit by a wall of snow that sweeps down the road without warning, and they turn back. We saddle up and ride past the utterly disconsolate pair, giggling madly under our breath. They'll be back on the same hill tomorrow, but not us. We'll be on an entirely different one.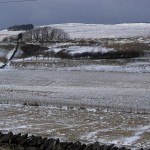 There aren't many hills on day three. It is like the brochure says, easy and mostly level. We cruise it, finding some spots where the wind can't get us, though we find this experience a bit unnerving. We push on quickly and welcome the wind with open arms, albeit metaphorically. Our last stop before the end is at Skedaddle's bike café beside the river in Newcastle. It's great, you should go there. They form a welcoming committee, and treat us to lunch, though they undo a lot of their good work by saying we've aged twenty years in three days. Still, it is nice to sit somewhere warm and cosy.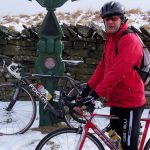 That only leaves the last ten miles to the end. Eventually we pass the serried ranks of fish and chip shops at Tynemouth and the sea welcomes us. And then it is done; a final sprint for glory up the last hill and joint first place. So that was it; the C2C in three days. It was great. If you get the chance; do it. If you're bonkers and you get the chance; make sure you do it really early in the year, on a road bike with the snow being blown in from Siberia.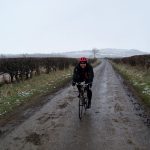 A final word on Skedaddle. Without them the trip wouldn't have been possible. Without their help halfway through, half of the trip would have been impossible. Without their café on the last day, the prospect of another liquorice bar would have been unthinkable. Thanks guys, you are, as they say, epic.