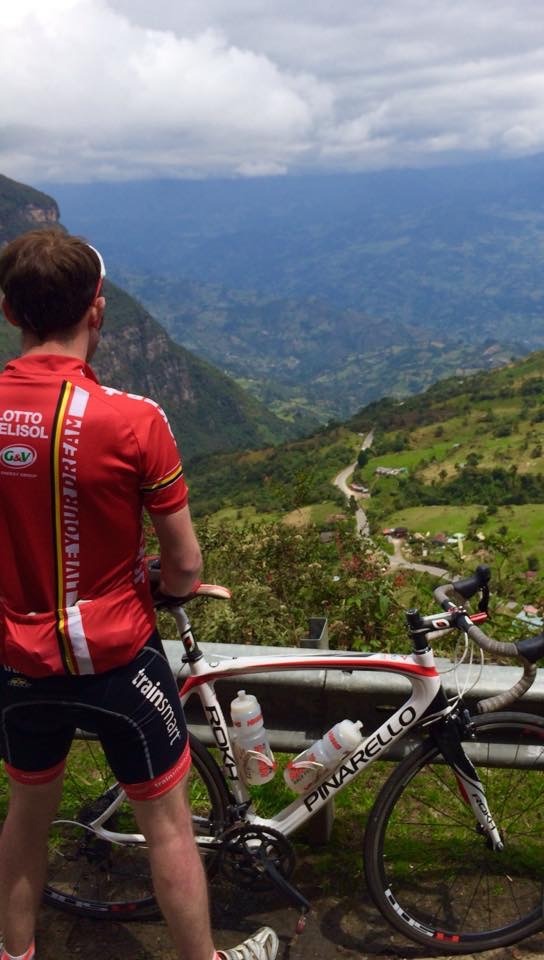 Our latest customer competition has certainly brightened up a cold and crisp Friday in the office! Sent in by Skedaddler Nigel Searle, it shows us the view of Choachi, from the top of the hills around Bogota. Nigel here is standing at around 3200m and the town below is approximately, 1500m above sea level! If you look closely you'll notice Nigel's jersey has the the phrase 'live your dream' printed on it! We think this sums up this shot perfectly…
Here's what Nigel had to say about his cycling holiday to Colombia:
As soon as I discovered Skedaddle, the road trip to Colombia really caught my eye. Riding in Costa Rica with David (who masterfully leads both trips) persuaded me that Colombia had to be my next destination, inspired by his tales of life in Colombia on and off the bike. The appeal was four-fold – an exotic location; great weather, escaping the worst of our winter; challenges on the bike; a chance to relax off the bike, particularly in the beautiful historic old town of the destination coastal city, Cartagena. It seemed like a dream trip. I had no qualms about the 'security situation', which many people had asked me about before I departed – why would a company run this trip if there was such an issue?
The trip starts near the well developed and surprisingly sophisticated capital Bogotá, at an altitude of 2600m, finishing at sea level on the coast to the North. So, one could consider that to be downhill all the way (ha!) but in between lies a little bit of everything. Every day gives a different type of test in the saddle, and every day shows a different aspect of Colombian life and culture. The itinerary offers climbs and descents, longer climbs and longer descents. Hot, fast, flat riding, some rolling hills like those you might find in England. Down in a valley alongside a river, riding along a ridge with dramatic open views to the left and right, on the side of a mountain with no civilisation in sight, or racing down a descent heading towards an expansive cityscape.
The one constant along the route is beautiful scenery. Everywhere is green. I expected some places to be barren, dry… boring… but everywhere has something to offer the eye, a reason to look up from the tarmac. I found it very tranquil, even with my heart beating hard, my lungs gasping for air and the occasional truck rolling by. The route passes through cities, towns and villages…. The wealthiest parts of Colombia to the poorest. The temperature varies from hot hot hot to plain mild. The nightlife is there if you want it too, just make sure you bring your dancing shoes.
I don't need to write about every individual day but one couldn't do a fair write up without a doff of the hat to Alto De Letras, the monster climb on the third day. When I say monster I really mean 'longest road climb in the world'. 86km from base to summit. I'm not a rider that has a particular fetish for hills – I enjoy the exertion required to make an ascent and the achievement of getting there, but I like my rides to have variety. A 10 – 15 km climb is about my sweet spot, so I was a little daunted by what this particular day might bring. The pre-ride briefing didn't do much to instil confidence yet it turns out that whilst Letras is certainly a unique challenge, it is very manageable for a competent rider so shouldn't put any readers off whatsoever. The real challenge is to complete the ascent with enough time and daylight to take on the enjoyable descent down the other side, from 3600m to the city of Manizales at around 2000m. Altogether the day consists of breakfast at 25°C at 8am in a hotel with a beautiful rural panorama, a 7 hr ride to a mountain top where it's misty and cool (there is a coffee shop!), a fast swooping descent into a busy city and classy, upmarket hotel and (in my case) a very large, very cheesy pizza!
My favourite view is shown in the photo – such an amazing sight. The sprawling city of Bogotá is encased within a bowl shaped range of hills. If you climb to the top, this is what you see on the other side. The cascading landscape, bright, vivid colours and sense of how high and far I had come really took my breath away. I finished the trip feeling very refreshed, despite the arduous 1100km in the legs. I had lived the dream for sure, one better than I expected.
Having received two cracking entries from our Colombia road trip earlier this year, we felt it was only fair to split our February competition between the two. Nigel will receive £125 as prize money for his win, with the additional £125 going to Ged Lawrenson for his great Colombian article. Both february winners will also be in with a chance of winning an additional £1000 during our final year competition.
Wish you were here? Check out our road cycling holiday to Colombia by clicking here.