The Swampeys, a group of friends from Australia regularly ask us to design a trip for them. Their last trip was our Tea and Temples cycling tour in Japan.
Commonly known as the frogs, the Swampeys are a group of eclectic friends based in Kiama on the South Coast of New South Wales, who use the common thread of road cycling to engage and expand shared interests in the more important aspects of life….food, wine, culture, natural landscapes and friendship.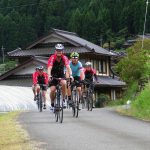 Several years ago we contacted Skedaddle to organise a French road cycling in Provence tour. The reason we chose this company to run the trip was accidental. The reasons we continue to use their services are not. Skedaddle has since organised cycling trips to Italy (Tuscany and Sardinia) and most recently was a fantastic cycling holiday in Japan.
Our love affair with this wonderful company centres around their ability to provide trips that, even though are commercial, do not have a commercial feel. Naomi and her very experienced team are able to provide an itinerary that caters perfectly to our needs; challenging riding through landscapes of high beauty and conservation value coupled with wonderful accommodation in places that reflect the cultural heritage of the area and reinforced with delicious local food, wine and hospitality.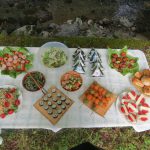 I am continually amazed by their ability to get the little things right; the fabulous picnic lunches provided at just the right time and location, arriving at mountain viewpoints just as the sun is setting, seeking out small village restaurants providing food to die for. The list goes on and go.
Having said all this the stand out feature with being involved is the driving desire of Naomi and her team to provide an experience that would be difficult to be match by other tour organizers. The reason for this are quite simple. They are committed to sharing with us their love and passion for cycling, food, wine, culture, natural landscapes and friendships. The things us Frogs value most.
Thank you Skedaddle!
Want to design your own bespoke trip with us then click here for more details of call Adam Walker on 0191 265 1110 or drop him an email on adam@skedaddle.com/uk
If cycling for your sushi in Japan takes your fancy then check out our cycling holiday – Japan : Tea and Temples –