This story from Ian Smith was so good we decided it was the winner for our January Customer Competition. Its a superb recollection of his Atlas to Desert mountain bike holiday along with some magnificent photographs. His prize was £250 worth of vouchers to use on a Skedaddle holiday.
In 2007 I booked a mountain biking holiday to Morocco. A few days before the start of the trip in a moment of utter carelessness I threw my passport in the dustbin. I only discovered this on the night before I was due to depart and by then the efficient waste collection technicians from North Herts Council had emptied the contents of the dustbin into their fragrant dustcart and tipped it's contents on the giant landfill site a few miles away. Not only did I lose my passport, I lost the holiday and the best part of £1200 as my insurance policy had an exclusion clause relating to acts of complete mindlessness. It goes without saying that I was really rather angry with myself; I had no one else to blame and no cat to kick. So five years later, with a new passport firmly in hand I went to Morocco to finally sample what I should have sampled five years earlier.
Day One – Luton Airport to Marrakech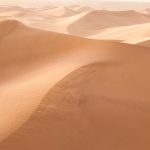 One has to ask oneself. Does anyone ever buy anything from those exclusive retail franchises in airport departure areas? Aren't they just places to kill time? I killed a few minutes at Luton at a well known electrical store and by the end of it could easily have killed the hopelessly incompetent salesman whose irritating smile was inversely proportional to his product knowledge.
Day Two – Marrakesh to Telouet
Our group of nine cyclists was introduced to our support team, all of whom were called Mohammed. Apart from Saaid. He was called Saaid.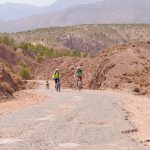 We set off in two Toyota Land Cruisers on the long transfer across the High Atlas to the start of our cycling. Saaid told us the main industries in Morocco are 'tourism, agriculture and making children'. We were on a steadily rising road. 'Look', exclaimed Saaid, 'Berber cars, 4 x 4 Berber cars' as he pointed to a donkey carrying an old man. Looking good I thought to myself.
We crossed the High Atlas, and as each mile passed so the number of trees reduced. The lack of green did not make the landscape any less impressive though; there was a stunning variety of colour in this arid land, the land of the Berber people.
The day's cycling was easy on a deserted tarmac road, passing salmon coloured buildings of mud and straw construction. We cycled through a valley where the lush green ribbon of palm trees was fed by a slow moving stream providing a lifeline for plants to survive and even thrive at its banks, whilst beyond this everything was brown, yellow and orange.
Day Three – Telouet to a mountain plateau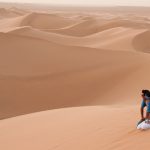 4:11 a.m. The sound of a pack of wild howling dogs woke me and no further sleep was possible. After visiting the UNESCO World Heritage kasr at Ait Benhaddou we cycled off towards our mountain plateau campsite at 2000 metres. Or rather we cycled and pushed our bikes up a steep boulder strewn track until the track levelled out to reveal a sweeping panorama in which I could see nothing man made whatsoever. We made camp and sang Berber songs around a camp fire as the sausages barbecued and the goats and sheep of the Berber herdsmen wandered freely around us. It was magnificent.
Day Four – Mountain plateau to Tamallakout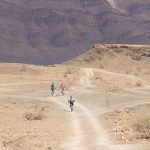 It rained all night. Cycling was deemed too dangerous and we transferred by Land Cruiser to Tamallakout. Lucozade coloured streams were flowing off the mountains, merging into bigger streams and eventually rivers, where 24 hours earlier there were none, breathing life into the previously parched landscape. We stopped to pull a car out of a muddy ditch – Berbers always help other Berbers in distress we were told. In fact everywhere we went we saw generosity of spirit and time between the Berber people; they work, live and survive as a co-operative. The rain intensified and no cycling was possible, so we played games and slept.
Day 5 –  Tamallakout to Ouarzazate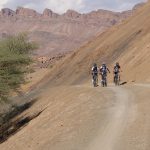 I looked out of the window in the darkness of a 6:45 am start and saw the hoped for sign of the last flickerings of a star filled sky, the notification that the rain had gone and the promise of a good day's cycling to follow. And what a fantastic day it turned out to be. The rains had washed the sky and the newly laundered air was crisp, clean and invigorating and the sky was the deepest blue I've ever seen. The track rolled up and down and round bend after bend, revealing at every turn a different landscape of rich colour. There were deep dark crevasses, straight out of Lord of the Rings and sweeping sunlit vistas of rock strewn mountainsides, sparsely populated with hardy trees and shrubs offering the only green to be seen. We saw no-one. It was not difficult cycling, it wasn't too hot and my cycling buddy Dawn and I were just purring with satisfaction. It was perfect. The hotel was perfect too, at its centre a gorgeous courtyard filled with exotic looking and smelling plants.
Day Six – Ouarzazate to Agdz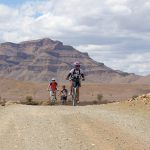 Another magnificent day's riding in similar surroundings to yesterday and again a fabulous hotel in which to relax at the day's end. With a decent swimming pool and an imperious peacock showing off in the grounds of the hotel, this was the ideal place to relax and chill out after a great day in the saddle.
Day Seven – Agdz to Zagora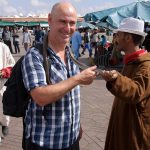 The day we rode the Draa Valley. And what a day it was! To start with the track wound its way through the palm trees on the outskirts of Agdz and we passed many people at work on the land as we cycled slowly by, mostly women gathering alfalfa for their livestock. We went up and we went down, always being within touching distance of the Draa River. After another delicious lunch under the palm trees we climbed for a km or so before being rewarded with one of those great moments that cycling frequently delivers. The view before me was simply stunning. I could see the whole of the rest of the world. A vast desert plain hundreds of feet below, dotted with hardy bushes and trees, reaching out to a ribbon of palm trees lining the river in the distance, all set against a magnificent mountain ridge stretching across the entire horizon.  This was genuinely breathtaking. We dropped down to this plain and cycled across its magnificent smooth sandy piste and regained The Draa River and its grateful palm trees. I managed to persuade a shy Berber girl to say "Come on you Spurs!" and she was duly rewarded with coloured pencils.
The cycling element of our trip ended and as we got into the Land Cruisers so the first heavy drops of thundery rain fell – it couldn't have been timed better (if of course it had to rain at all). We had a short transfer to the desert town of Zagora and another desert experience manifested itself as we headed south, a desert storm. Not one comprising dropping laser guided smart bombs from silent stealth bombers, but one of sheets of sand being blown in the strengthening wind. It was not a big storm, more a desert squall, but it was strong enough to paint the palmeries of the Draa to our left a fawn colour as they bent in the wind. And to make things even better, a rainbow briefly arched across this battered landscape as if in tribute to our cycling endeavours. Do ride ends get any better than this?
We arrived in the surprisingly modern town of Zagora and immediately made our way to the famous sign indicating Timbuktu being 52 days away by camel. Today was simply one of my best days ever in the saddle.
Day Eight – Zagora to Mhamid.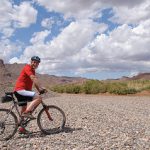 Today was the main reason I had come to Morocco, to sleep beneath a million shimmering stars on a Saharan sand dune. But Mother Nature was conspiring against us; the wind was still strong and plans for Saharan slumbers were abandoned. So, we set out in the Land Cruisers in the billowing sand to at least have a look at the dunes. We drove through Mhamid and then the tarmac suddenly ended – literally the end of the road, next stop Timbuktu. It wasn't long before the lead vehicle was stuck, its wheels spinning and burrowing further into the sand. After 15 mins or so we recovered the vehicle and returned to a hastily arranged hotel for the afternoon. But Berber guides do not give up and late in the afternoon we set off for some more accessible dunes. As soon as we arrived Saaid was out of his vehicle and leading us up the biggest dune as the wind continued to drive the sand over the surface. My feet sunk deeply into the sand. This was going to be hard work to get to the summit. But I did get there and the views were magical, the dunes were every bit as beautiful as I expected. They folded and unfolded in gracious sweeps in different shades of yellow. It was what I wanted, maybe now quite how I wanted it, but I was on a Saharan sand dune at last and I was watching the light in the sky slowly extinguish as the sun set. I was very moved by my location and was utterly gobsmacked when I overheard one of our group say to another "I can think of better places to be". I couldn't. At that moment there was nowhere else on earth I'd rather have been. Nowhere. I lingered at the top briefly with Matt as the others went down to the Land Cruisers. I said that I didn't really want to go down at all; I think he felt the same.
That the shower at the hotel delivered no more than a trickle of water to remove Saharan sand from my body and the toilet refused to flush all night was of no consequence to me. I'd see the sun set over The Sahara.
A word about our leader
He was superb.
A word about the guides.
They were superb.
A word about the hotels.
They were way above my best expectation. Two in particular were superb.
A word about the food.
It was superb.
A word about Saddle Skedaddle
They are ok. Actually, I have no complaints whatsoever! This is a dream of a cycling holiday that is not too tough and gives a great insight into the life of the Berber people and the beautiful country of Morocco.
A final word
Superb.