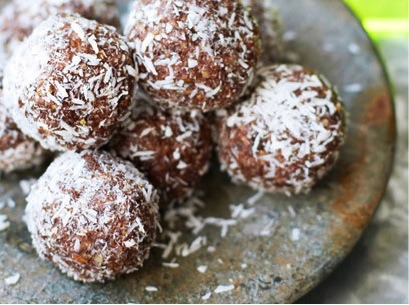 Energy bars are a tasty and convenient way to eat on your bike but you don't have to buy expensive sports nutrition products, its easy to make your own.
If you are riding for more than an hour your body is going to need fuel and it's preferred fuel is carbohydrate. You need around 60g of it per hour to keep you feeling strong. There are all sorts of foods that are good for bike riding; bananas, dried fruit, jelly babies and cereal bars, even jam sandwiches. Haribo sweets are a particular favourite with Skedaddle guides! The main thing is that the food is easy to carry, easy to eat and agrees with your stomach. Try lots of different things until you find something that suits you. 
Making your own energy bars is really simple and you can easily make up your own recipe depending on your favourite foods and what you have in the cupboard. Below is a really easy way to make energy balls, you can eat them in one bite and they travel well if you put them in a plastic sandwich bag in your pocket.
 Basic Recipe for Energy Balls
Calories per serving: 120 kcal
Grams of carbohydrate: 12g
25g crushed walnuts
75g raisins
25g dried cherries
25g ground almonds
1 tbsp cocoa powder
50g desiccated coconut
2 tbsp peanut or almond butter
Method
Mix crushed walnuts, raisins, peanut butter, ground almonds, cocoa powder and agave syrup together in a food processor or by hand. Shape into bite-size balls and roll in desiccated coconut to coat. Put in the fridge to firm for 20 mins. 
Pick and Mix
Design your own bar. Pick at least one thing for each category, stir together, shape into balls then pop in the fridge until you need them! 
Good foods for energy:
Dried fruits and oats are the basic ingredients of most bars and balls.
Raisins
Dried cherries
Dates
Dried apricots
Dried Cranberries
Oats (pre-soaked not dry)
Flaxseed
Something sweet and sticky:
Syrups help bind the bars together and are another source of carbohydrate.
Honey
Agave syrup
Golden syrup
Maple syrup
Fats:
Fats help bind the bar together, high in calories but slow to digest.
Butter
Coconut oil
Peanut butter 
Nuts: 
Nuts add flavour and texture, good fats and a little protein.
Brazil nuts
Cashew nuts
Almonds
Walnuts
Hazel nuts 
Chocolate:
These will give a chocolatey flavour but won't melt in the heat.
Cacao powder
Cacao nibs
Cocoa powder
Now it's over to you! With delicious treats just a quick bake and bite away, our energy bars offer a quick solution for boosting your cycling power whilst out and about. Move over Red Bull, there's a new energy booster in town…