One of the many exciting additions to our range of cycling holidays in Morocco is our Family Cycling Holiday – Morocco – Desert, Mountains & Coast.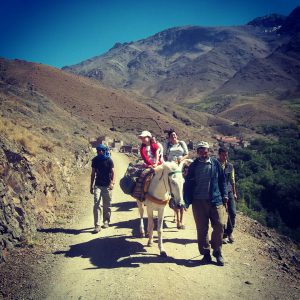 It is a dream destination for adventurous families looking to travel to somewhere culturally absorbing and stunningly beautiful and offers education and adventure in equal measure.
Life in Morocco is based heavily around the family, and children of all ages are held in high esteem, guaranteeing a warm welcome to families joining us here.
This particular Moroccan cycling trip has been designed specifically with families in mind, and represents a fun and exciting way to discover the landscape, the people and the culture of one of Skedaddle's favourite countries.
With a backbone of mountain biking, we've also managed to neatly weave in some superb experiences for all the family, including a night's desert camping, camel riding and a mountain adventure park…..and that's just for starters!
Available in April, May and October to coincide with the school holidays it is perfect for families with a sense of adventure who want to experience landscapes, cultures and environments distinctly different from destinations closer to home.
A recent advert for Morocco read "Visit Morocco, 4 hours and 400 years away from the UK" and this sums up Morocco as a great holiday destination!
Due to the varied activities included in this trip, we suggest it is suitable for children aged 10 years and above, though if you thing those of a younger age might like it do give us a call and we'll chat things over. We can also arrange bespoke / tailor made tours for you and your family in Morocco too.
This trip is jam packed with great activities with a new experience around every corner. Morocco is perfect for a first overseas family adventure with a very safe feel, great food options (even for fussy eaters!) and a "wow factor' waiting around every corner.

Our local team of guides who love to share their knowledge of the country complete what is a superb tour that is jam packed to the rafters with things to do and places to visit.
As well as this lovely family holiday in Morocco, we have mountain biking options in Morocco as well as our Road Atlas – Road Cycling Holiday too.