Here is Iwona Szymd's account of the Merida Brass Monkey mountain bike event in Tunnel Hill, Surrey on January 13th. She is our sponsored rider (and a good one at that!) and it's great to have her on our team!
"The first race of the year and first race as an official Saddle Skedaddle rider! I woke up early to a truly beautiful day – sunshine, blue skies, frosty surfaces and refreshing air. For me it was January racing conditions I'd dreamed of, all through Christmas and New Year. What's more the start was at 12 o'clock, so I was 'allowed' an easy Sunday morning.
The attendance was really high.. in fact amazingly high for the start of the year. All ages and genders represented in large numbers and a real good vibe and I signed up for 2 hour race along with 23 other girls.
Prior to the start there was a minutes silence dedicated to one of the world's top XC riders Burry Stander, who died after being hit by a car whilst training in his native South Africa.
A time to reflect on the safety of cyclists on the road…What's the chance of a collision with the car? Is mountain biking really dangerous?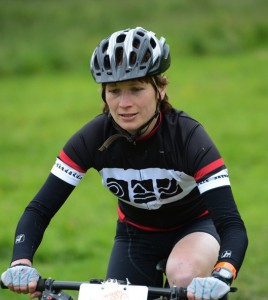 Midday and here we go! 10km lap start with approximately 500m on fire roads, followed by the wider track and short, steep climb. I stayed in the front of the group and tried to get into the best position before getting to the singletrack sections. It was all going according to plan.
After the 1st lap I was on a 5th position behind Laura Sampson from Gipping Race Team and Louise Robinson XC racer/Four4th Light, Liz Gilmour Ride Team and Rachael Gurney.
On the 2nd lap I managed to pass-by Rachael and then caught up with Liz, taking her over at the beginning of the 3rd lap and not conceding my place all the way to the finish. 3rd place was mine!
The trails around Tunnel Hill are awesome. Lots of twisty, very enjoyable singletrack through the woods,  a few short steep / cheeky climbs and some lovely descents to really add to the excitement. Certainly well worth having a go at!
Thank you to Saddle Skedaddle for the great support and here's looking forward to being back at Tunnel Hill on 17 February. It's Round 2 of the Saddle Skedaddle Spring Series –  it looks like being a cracker!"