Montane Kielder 100  a real Legend of Enduro racing.
Afternoon chaps – figured I should say thanks to the sponsors of what must be one of the most memorable biking events of the year last weekend. completely awesome event! Don't recall ever going on a ride like it, setting off into the hills with no idea where I was going or when (if) I'd be back and then finding a man quite literally giving beer away at the finish – and it wasn't a dream 🙂
Cheers and now I need a holiday!
Matthew B.
========================================================================
Hi Andrew,
I made it down (got a lift from a club mate I persuaded to enter). Here's my race report for the club website. It was truly a killer! Glad I did it though!!
Rosemary B.
http://www.edinburghrc.co.uk/forums/index.php?topic=11415.0
========================================================================
Full Event Round Up From Joolze Dymond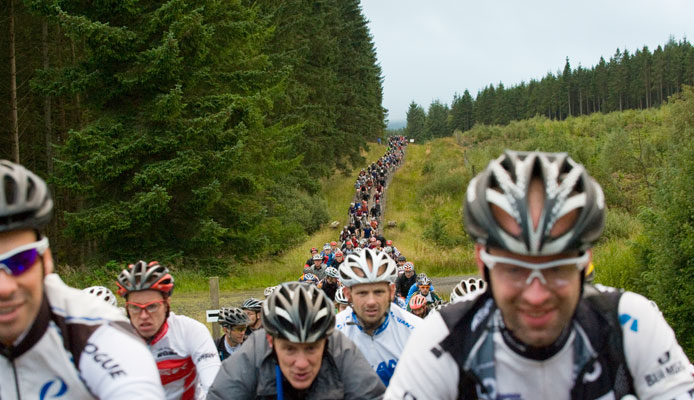 September 5th 2009 is a date that will be etched on many mountain bikers' minds as a day when enduro history was made and the marathon racing bar raised in the UK, when the inaugural Montane Kielder 100 got underway. Boasting a 100 hundred-mile loop that would take riders out of their comfort zones and far beyond, the Montane Kielder 100 race was a race like no other. The idea inspired by similar events in the USA, was always going to struggle with no racing allowed on bridleways in the UK and the sheer scale of the land involved. Stepping up to the mark was the Kielder Partnership along with the Forestry Commission who were more than delighted to be part of British history making and so the trails of Kielder Forest and Newcastleton were utilised to bring the dream of 1 lap, 1 rider, 1 race, 100 miles to life. Montane stepped in early on with their support, along with Saddle Skedaddle, and Accelerade, who provided much needed energy bursts, also soon joining the party were USE, Singular, Joolze Dymond Photography XCRacer and as they say the rest is now indeed history!
In the outset the organisers were only expecting a smattering of entries, a 100 riders at best, expecting just 20 to finish and perhaps maybe just one death along the way. As it was, over double that number actually entered with 200 riders from near and far, (some as far away as America and Switzerland making this a truly international race) actually lining up on an early brisk Saturday morning to take on the challenge and see if they could win¦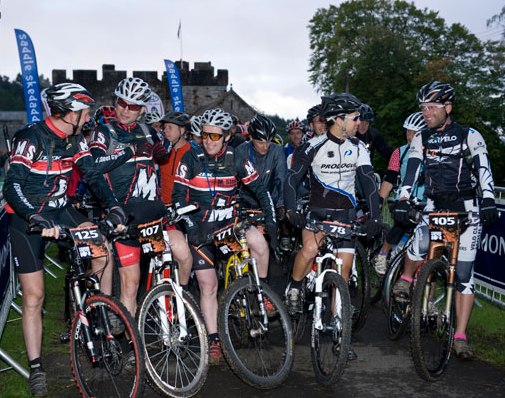 It was to be a race not only against each other but also against physical and mental tiredness, not to mention the clock as the tough and unrelenting course took a harsh toll throughout the day. Conditions were ideal, well it wasn't raining for a start and the cool but calm weather saw the race begin in earnest. Wisely the organisers had strategically put into place 4 cut offs, with riders expecting to average 8mph to reach each one in plenty of time to continue on. For many it was a mile too far and as the day wore on the race became a real battle of attrition with rider after rider finding themselves defeated by the task in hand. First casualty of the day came after just 2 miles as singlespeeder Marty's freehub exploded, leaving a short but disappointing walk back home watching as the clouds of dust whipped up by hundreds of riders disappeared over the horizon.
The course itself was pieced together with local knowledge from Simon Banks, who threaded the trails effectively around the valleys, weaving this way and that, constantly climbing or descending, hooking up stunning technical singletrack with gruelling, fire track slogs, interspersed with the occasional puddle of doom, which could occasionally swallow a biker whole¦ One of the many highlights, apart from the much needed food stations was the epic crossing of the Scottish border, entering reiver country, an area renowned for centuries for raiding, theft, constant fear and misery. The crossing point was marked with a fanfare from a lone piper along with streams of bunting, Scottish Saltpetre's competing with St.George Cross flags. As the riders emerged from the heavy mist they reached for a ˜crossing' fee with which to pay the piper thus ensuring smooth passage into Scottish lands. It soon became apparent to all involved that the reiver reputation has long since been replaced by a much friendlier outlook and riders were greeted at the Newcastleton feed station and throughout the race with incredible enthusiasm from local people who volunteered to help.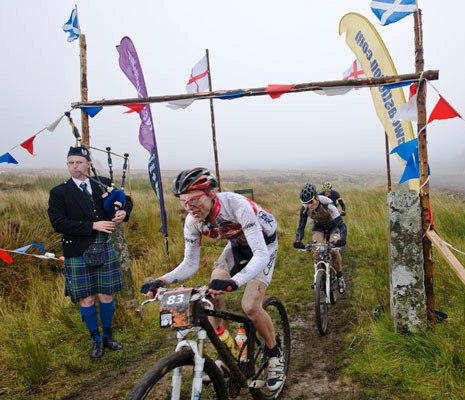 As the race unfolded, all the categories up for grabs in this unique race were close fought affairs with just a handful of minutes separating the winners from the runners up in most occasions, which in the epic scale of racing for well over 8 hours is an incredible achievement for all involved. Right from the start a small band of riders soon made it apparent that they were keen to take the first title in the open men's field and as such they quickly established a punishing tempo that opened up a considerable lead. In this compact group were international enduro specialist Ian Leitch, along with elite riders Simon Earnest, Australian Mike Blewitt, Neal Crampton and Keith Jones. By the crossing point this had dwindled down to 3, with Crampton taking them into Scotland, closely followed by Blewitt and Earnest. Leitch having punctured now found himself in no mans land as he fought on in 4th spot trying hard to bridge the gap. Finally after nearly 8 and half hours in the saddle at full effort, Neal Crampton crossed the line to take the first 100-mile off road race win after a tough fight. Simon Earnest followed just 3 mins later to take second while Australian Mike Blewitt came home after a mechincal problem out on the trail, 11 minutes later in 3rd. In fact just 35 mins separated the top 8 finishers in the men's open, a real close call where anything could of happened to upset the balance in the closing stages as riders found their brake blocks being hungrily devoured by rough Kielder grit¦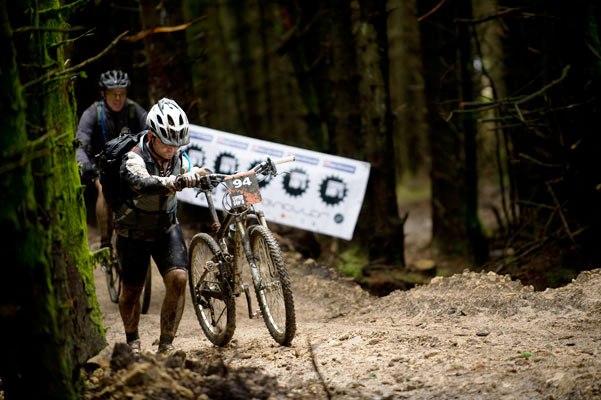 In the women's race, Mel Alexander fresh from 2 weeks in the Swiss Alps took control half way through the race relieving Jenn Hopkins of her early lead. Alexander continued her focused ride to complete the race in just over 10 hours; Hopkins claimed second 43 mins later, while Amy Baron-Hall picked up 3rd with her sterling ride. Her 12hrs and 18 mins doesn't sound too great in comparison to Hopkins and Alexander but when you factor in that she rode the full distance on a rigid singlespeed it brings it all into perspective! Her epic ride saw her pick up another prize as the first female singlespeeder too. Around 20 or so SS ers (Simply Sadistic or single speeders however you want to look at it!) took part, making this tough race, even tougher! Paul Errington took the honours in this category after a showdown with Dean Taylor along the way!
In the men's vets race it was yet another showdown of two closely matched rivals, Michael Powell and National Marathon Champion David Hayward. In fact Hayward was reluctant at first to enter such a daunting race and then he figured he'd have a good outing with Powell to compete against! Thus ensued a ding-dong battle that saw the lead switch and change nearly as much as the terrain. Towards the closing stages of the race it looked like Powell may have at last the upper hand, but it wasn't to be as just a handful of miles to go Powell blew, leaving Hayward to surge through to take the win with Powell coming home just 3 mins later in 2nd, just able to hold off James D'Arcy in 3rd. Janet Prier took just under 12 hours to take her place on the top step of the vet's women's podium over 1 hour ahead of Sally Daw, while Anna Baird fought strongly on to pick up 3rd with just under 14 hours in the saddle. The last prize of the day, a sort of ˜Lantern Rogue' or in this case the USE Pink Camo light of last place love was awarded to Mike McTimoney, who staggered in dead last, under cover of darkness after 14 overly epic hours on his trusty singlespeed, he very nearly didn't earn this honour, but being the gentleman he is, he kindly let a young lady finish ahead of him! Just goes to prove that chivalry does pay!
Throughout the day a steady stream of riders made their way back to Kielder castle for a free beer and burger, the area was awash with tales of epic battles both physically, mechanically and mentally won and lost! Consensus was that this was a brilliant event, superbly organised, one that has been missing from the UK calendar and that now established has raised the bar for ultra marathon racing in this country. Riders were also in awe of the support and friendliness of the local communities who helped make it a race to remember for all the right reasons.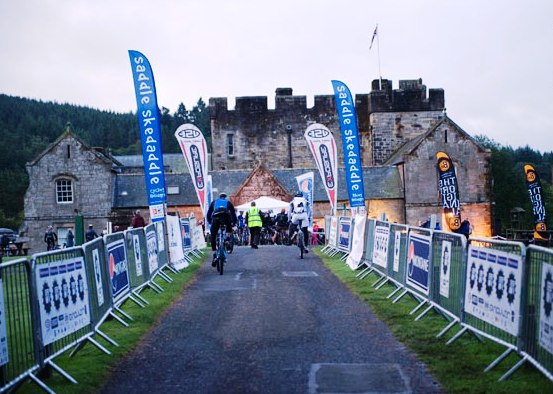 200 riders started, 130 riders actually completed the race, no one died. Of those, just 25 finished in less than 10 hours. Plans are already underway by many who entered to come back and do it all again, but faster¦.
For full results and information about this now legendary race, check out: www.kielder100.co.uk
Rider comments:
Neal Crampton " Open men's winner.
That was a cracking race with some stiff competition. Our Australian friend was pushing a mean pace out there and it was just a case of following his wheel. As the race progressed people started dropping off until with just 20 miles to go it was just down to me and Simon (Earnest). I made a break for it with about 5 miles left to go; I knew I had to drop him before the final descent, as he's much faster than me on the downs.
I'd be more than happy to do this again next year it was epic, I'd rather there wasn't so much water on course next time though it does make it a much more intriguing race if you throw in a battle with the elements as well. I think a lot of people had forgotten how much bigger miles are than kilometres, I for one found it a lot harder than I'd hoped but in the end I have to say it was an all round cracking event.
David Hayward " Vets Men Winner
It was painful! Michael caught me after 42 miles and then began a swapping of places as we rode on. He dropped me on the technical sections and I came back and dropped him on the climbs. He began to crack after we'd past the 88-mile mark and I pressed on and despite more brake problems he didn't catch me up. I at first didn't want to enter, but knowing that Michael would be here I knew it would be a good race and I also knew that if I didn't do it I'll be wishing I had as I'd be thinking I missed out on something special and I'd have been right! I'm pleased I did it, it's a real epic ride and the fact you don't repeat any section it's just one big lap as promised, makes it an amazing experience, one I'd recommend to anyone. It was a long day out in the saddle but on balance it was fun, especially hearing and then seeing the piper at the crossing as we emerged from the mist. Epic!
Paul Errington " Men's Singlespeeder
100 miles on a singlespeed? Why not! That has to be the obvious answer. It was loads of fun. It was perfect for singlespeeding with lots of nice steady climbs followed by pretty quick downhills so riding fully rigid too was great. When I heard about the 100-mile race I knew I had to do it, especially if you ride singlespeed you have to tick all the big boxes and this has to rank now as the biggest and the baddest out there! It was definitely big and bad and I can't wait to come back next year and take it on again. I had some good competition out there too. Deano caught me when I flatted, as did Phil Moore. I got round them pretty quickly, then Deano got back to me at Newcastleton, he'd obviously had more snacks along the way than me, so I paid the price for stuffing my face at Newcastleton! It was a long day and those mileage markers were vague to say the least, I guess they may have been measuring nautical miles or something, but no in the end it was great. The 7Stanes trails were excellent, especially over Newcastleton way and some of the new trails they have when that beds in properly will be absolutely awesome as well. The lowest point has to be Rob Dean being swallowed by the biggest puddle in the world, he's a big guy and I'm so glad he was a head of me at that point I'd have been stuck otherwise!
Mel Alexander " Open Women's Winner
It was hard. I'd been looking forward to this race for ages, 100 hundred miles, 1 loop was incredibly appealing especially after last year when I did a lot of solo endurances races going round in circles, I just needed to go out and do one long ride for a change! I loved the format, it was so refreshing not to have to ride sections time and time again and you know that after 100 miles it'll finish! It was really good fun with Jen out there. She started off really, really fast and it took me quite a while to catch her up. Then when I did catch her she blew me away on a climb and I got her back on the descent it took a while for us to settle down and then rode about 20 miles together, which was really nice to have the company. We hit a flat section, which I was stronger on and she must have stopped or something as I dropped her and didn't see her again. I felt good out there, really strong and enjoyed it when I finished! Yeah if it all works out for next year I'll be back it's a superb race.