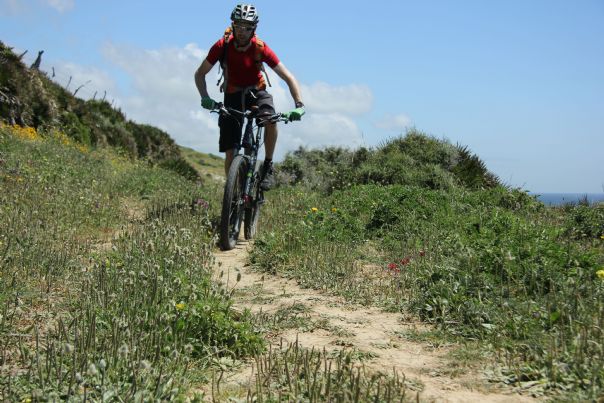 Matt from the Skedaddle office returned recently from guiding on our Trans Andaluz holiday. Here's what he thought about the trip.
"Even for those of us 'on the inside' a holiday to a new destination always brings a sense of excitement and nervousness. Landing in a new country and meeting up with the group is much the same for the guides and the customers. Finding out names, sussing out fitness levels and most importantly checking out the bikes everyone has brought along.
The first morning of riding dawned in typically Andalusian fashion with blue skies and rapidly warming temperatures. After a quick skills session we set off on our adventure and I always feel the complications of the real world lifting in those first few pedal strokes. The first day on this trip sets the scene for the week with some challenging climbs under a hot sun, fun singletrack sections and some occasional very challenging technical sections. By early afternoon we were all ready for some proper food and the Chorizo and Bean stew served up by Andy under the gaze of the peak of Torrecilla was an early contender for 'picnic lunch of the week'. The final climb of the day to the hotel spectacularly located overlooking Tolox tested everyone, but this was quickly forgotten after a dip in the pool, a session in the Sauna and a fantastic gourmet meal of local specialties.
Highlights flowed all week and are hard to rank but will be remembered for a long time. Tapas in Istan in the midst of the Fiesta de la Naranja, the epic rocky singletrack descent into El Burgo, the massive achievement of crossing the Lifa Pass, plunging into the cool waters at the Cueva de Gata and the final 10km of perfect singletrack into Tarifa to finish with a glass of Cava on the beaches of the Atlanic Ocean!
Our Tranz Andaluz is one of our classic trips, encapsulating all the aspects that characterise a great Saddle Skedaddle mountain bike holiday. The route is wilderness cross country riding at its best with testing climbs and great descents taking you far off the beaten track and allowing you to experience a real slice of rural Spain. You will come home having experienced some of the best times you can have on a bike, and you will be fitter and more tanned to boot!"