We're always on the look out for new blood to join our guiding team and Tom Owen is part of our new generation of guides in 2015! Based in Lancashire, Tom knows the northern hills well and so his first guiding trip in the Lake District, Classic Passes, seemed like a perfect fit! Here's how he got on:
This year, I am really excited to be guiding some holidays for Saddle Skedaddle. The first of these was this weekend: a road cycling holiday starting in Threlkeld and touring the classic passes of the Lake District over two days, mostly following the route of the Fred Whitton Challenge which takes place next month.
After a spell of warm sunny weather, uncharacteristic Lake District rain accompanied our departure on day one; this made for a chilly ascent of the first major ascent of the route, Honister Pass. After a steep descent, a warm drink and refuel at Buttermere, Newlands Pass was next on the list. Could temperatures drop any more? Apparently they could, as a few flakes of snow started falling around the summit.
Keeping things moving to keep warm, Whinlatter Pass proved a steadier climb. On the other side, into western Cumbria now, the rain had eased and more warm drinks with lunch kept morale high (note for future trips – bring even more Battenberg). The next section of the ride over Cold Fell is usually the point on the route that catches me out. It isn't one of the 'headline' climbs, but it is an exposed moorland section, usually with a southwesterly coming straight off the sea providing a stern headwind. Luckily conditions were perfect on this occasion, the weather had calmed and there were great views to SW Scotland and the Isle of Man.
Once in Gosforth, showers were welcome and home made pies devoured. The next day we woke up to…
Sunshine! Although a little chilly, it was a beautiful morning all the same.
Day two started with a warm up along Eskdale then into the route's steepest section, Hardknott Pass.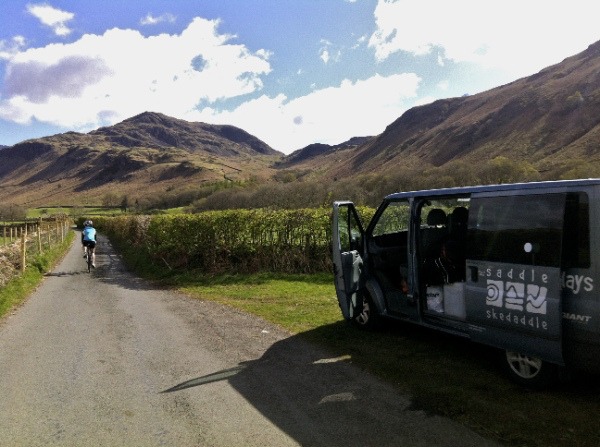 Reaching gradients of 30%, Hardknott Pass can be a savage beast to battle. Once the work is done here, the following climb of Wrynose is much shorter and is followed by a lovely picturesque descent through Little Langdale. After rolling through Ambleside, we set up lunch near Troutbeck.
The cheeseboard was a particular favourite, I only just managed to get the photo below before it was devoured.
Fuelled up again it was time for the climb up Kirkstone pass and the high point of the route. The ever unpredictable Lakes weather dished out a few more flakes of snow before getting sunny again. Regrouping after the final climb over Matterdale End for the final roll back to Threlkeld, the group arrived satisfied, tired and happy! The signs of a quality weekend of riding bikes in a stunning location.
Thanks Tom!