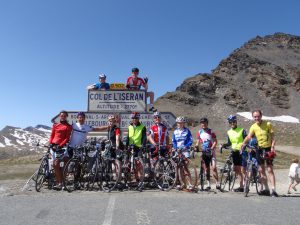 Skedaddle's Raid Alpine tour starts in the alpine town of Thonon Les Bains close to the Swiss border and ends 740km later in Antibes by the shores of the Mediterranean. As one of Skedaddle's tougher trips, it's a grade 5 trip. My cycling reached a new level this year, I was participating in sportives and doing time trials within my cycling club so decided to do a cycling holiday with a bit of a challange! I had heard a lot of good reports about Saddle Skedaddle. The guy I spoke to in the office – David, suggested the Raid Alpine as this fitted in with my time off work. David was actually going to be guiding the trip too so he was able to give me a lot of information about it. I gave the trip some thought and decided to go for it, knowing there was a support vehicle, should I need it!
I trained quite hard for the holiday, gettting up at 5am to cycle to work, doing spin classes, pilates and with the help of members from the Kinross Cycling Club, went out and trained on hilly routes. Having said this, nothing can prepare you for the climbs in the Alps.
Day 1 – Arrival
I arrived at Geneva airport and met up with 2 of the 3 guides from Skedaddle – Vanessa and Imogen. I later found out that Vanessa is a world champion amateur time trialist. I then met up with most of my other team mates for the week as they arrived at the airport. There were 16 in total and they all knew each other from previous cycling trips. Whilst the guys loaded up the mini buses with the bike boxes and luggage we waited outside the airport, the heat was incredible. I knew it was going to be hot but this was very intense heat and I knew it was going to get hotter as we cycled to Nice.
We were then transferred to our hotel in Thonon Les Bains. The first thing to do was build the bikes. I was lucky as I was hiring a bike. I was informed that it would be a 'Giant' but was pleasantly surprised to find they had given me a brand new bike – it felt like Christmas! All I had to do was attach my pedals and bike computer. 5 minutes later I was all set to go. I gave it a quick test and it was fine!
Later that evening we all met in the hotel reception where I met the group leader David and we all headed out for dinner. I was a bit nervous about this trip although I have been on many cycling trips in the past – this was my first road cycling holiday. I knew the Alps would have some seriously tough climbs. I watched the Tour de France, but these guys made it look easy. It was at the back of my mind 'would I manage up the climbs'? , 'would the descents scare me'? and 'had I trained enough'? At dinner I felt like the 'outsider'.   Everyone knew each other from previous trips and they were all going on about the trips, talking about their fancy bikes, garmins and all other gizmos. I felt totally out of the conversation and felt like I had made a big mistake and thought I was going to be out of my depth with the cycling! I think it was more 'fear of the unknown'. I was probably a bit tired too as I had a very early start. Everyone was really friendly – as they always are on these trips and thats why I keep doing them!
Day 2 – Thonon Les Bains to Megeve (approx 85 km)
After breakfast we got on the bikes and assembled for a group photograph by the sea.
As soon as we left Thonon the road began to rise for the first climb of the day. As we climbed I realised my alpine training had paid off – I was overtaking most of the group.   The climb wasn't even steep! This is when I started to relax and knew I was going to enjoy the holiday. On this day we did the Col de la Moises (1118m), Col de Jambaz (1027m), Col de la Ramaz (1557 m) Arachas les Frasses (1068m) and Megeve (1107m).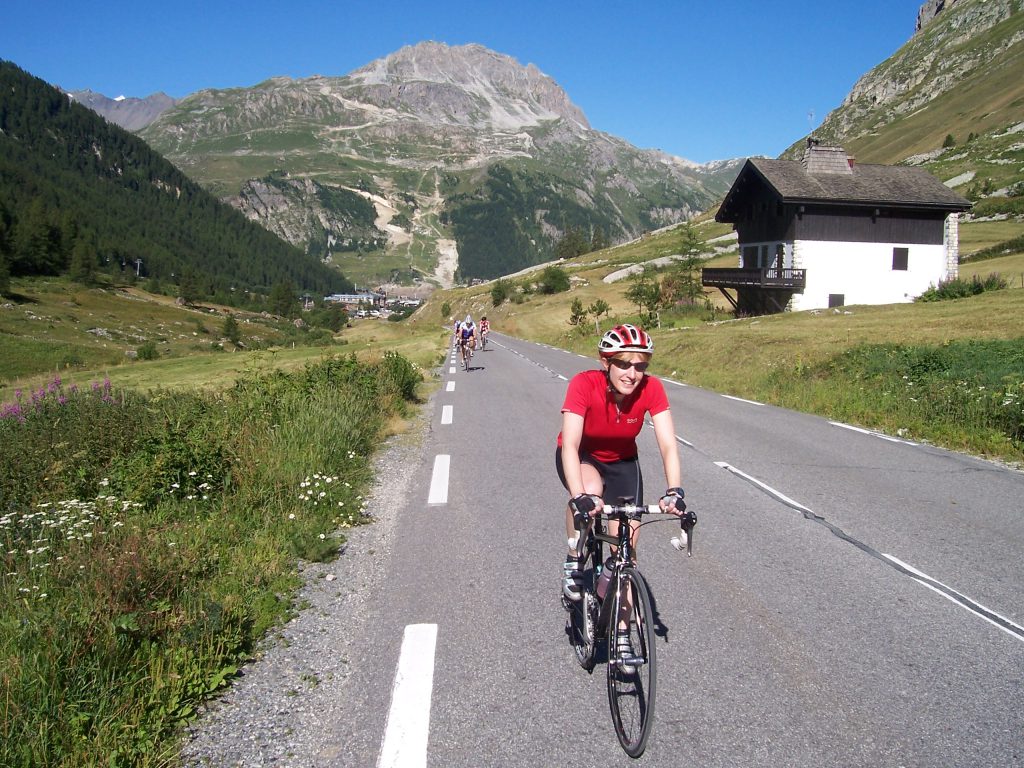 My heart monitor started playing up. It wasn't working before the holiday and thought it required a new battery. This was obviously not the case. I really wanted to know the calories I was burning – maybe it was a good thing it wasn't working – I may have been shocked! After asking what others were burning, a few people said it was about 5000 calories. I hoped that I would be eating that amount as I didn't want to lose any weight.
As we reached Megeve there was a digital thermometer on a building which read 35 degrees celcius – and this was at about 5pm!
The group were of mixed ability – about 5 including myself were club cyclists. There were 5 females on the trip (including me). One guy – Phil, was a member of the Kingston Wheelers in London – he was super fast – a 'G1' (fast group in the KCC).
Each day one guide would be driving the van and there would be one guide at the front leading the pack and one guide at the back. We would always re-group at points along the way, sometimes a road junction or at the top or bottom of a climb. There was never any fear that you would go in the wrong direction.
Day 3 – Megeve to Val d'Isere (approx 110km)
Leaving Megeve we headed to Notre Dame de Bellecombe then began the real climbs: Col de Saises (1650m), Cormet de Roselend (1968m), then we had a 20 kilometre descent. I was concerned about the descents on the trip. I knew they would be fast & furious with lots of hairpin bends and long drops with no barriers. But, I did want to improve my descending skills and there is no place better than here. The worst part – my hands. Due to braking quite a bit my hands got really sore and numb. Even my fore arms were sore. I made it to the bottom in one piece going at a comfortable speed and I actually enjoyed it! Towards the end of the day we tackled the first half of the mighty Col de L'Iseran ending the day in the Olympic ski resort Val d'Isere.
For me this was the hardest part of the holiday. It was climbing all the way to Val d'Isere.   The heat was unbelievable. There was just no shade. Think I was doing about 5 mph, sweat dripping off me, dry throat, trying to drink as often as I could and nibble on bits of energy bars whilst keeping the pedals turning at a steady pace and not talking. There were three of us on the climb then Michael fired ahead leaving myself sitting behind Russell's wheel. The fact that he was there kept me going. He said the same thing that evening about me being there. It sounds like torture and at the time it was, but you know what – I'd do it again! For me – as long as I keep on drinking then I'm absolutely fine in the heat. I don't know if its the heat that plays tricks with the mind but sometimes it would look like I was cycling on a flat road, but when I stopped pedalling, I would know I was on a climb – it was weird.
The hotel in Val d'Isere was amazing. It was my favourite, it was just so quirky! Here is the link – www.ormelune.com. This is what I saw when I came out my hotel room:
Day 4 – Val d'Isere to Susa (Italy) (Approx 88km)
Part 2 of the L'Iseran this morning. This wasn't as tough as yesterdays climb, probably due to being cooler first thing in the morning.
The L'Iseran, at 2770m is a Tour De France legend. It was for many years the highest paved road in the Alps (until they built a 'scenic' over Col de la Bonnette – I did this one too!)
Some of the group getting ready for the long descent.
The road sweeps down over the other side, interrpted by a couple of minor 'lumps' before popping over the border into Italy for the final ascent of the day at Mont Cenis (2081m) – a 9km climb with gradients of 6% to 8% all the way up. From here its a very long downhill 28km (I didn't think the downhill was going to end, it just kept on going) to Susa where we spent the evening.
Arm warmers, gilets and jackets were a must for cycling down the descents.  You could feel the chilly air then all of a sudden you would 'hit' what would feel like a hairdryer being switched on.
Day 5 – Susa to Barcelonette (Approx 154 km)
This was the longest day. I knew I could easily do 100 miles, after all it wasn't so long ago that the 'century ride' was done on a club run. But this long distance included 3 big climbs – it was going to be a different story. We set off about 7.30 and were told to expect a long day in the saddle. The support van was always there so you didn't have to carry much whilst riding. You could also leave a rucksack with suncream and warmer clothing for the descents in the van.
The first climb of the day was Col de Montgenevre (1850m) then we approached Briancon with stunning views and where we had a nice coffee stop. The next big one to tick off was the Izoard (2360m) another Tour de France favourite. I think the climb is about 19km and has 8 & 9% sections. The views and the sweeping hairpins that follow are breathtaking and the descent, which professional riders take at speeds approaching 80kms an hour – I certainly didn't do this speed! The last climb of the day was Col de Vars (2111m). A long and cold descent as the sun was setting and a relatively flat run into Barcelonette where myself, Julian and leader David bombed all the way. I'm sure I was faster on the flat that what I was on the descent! Sometimes I think I was faster on the climbs than the steep descents! I felt fine at the end of the day, maybe a bit tired and made sure I did lots of stretching.
Day 6 – Barcelonette to Auron (Approx 68km)
This was a short day but still with a lot of climbing. First of, the Restefond is tackled then the Col de La Bonnette. There was an option to continue upward to the Cime de la Bonnette, a scenic loop option above the col itself which sole purpose is to be the highest paved road in Europe. I HAD TO DO IT! Check out what I'm wearing! The climb up the loop was like doing the 'dragon' at Dunning. It was so steep. I really felt like getting off the bike and walking – but I didn't! I felt like I was pushing myself to the limit to get up this climb, but was well worth it!
I felt this was a really tough day after yesterday, more so because I wasn't sleeping well. I think it must have been all the coffee at the coffee stops and the caffeine in drinks I was taking, think I was getting about 5 hours sleep, which just wasn't enough.
Day 7 – Auron to Puget Theniers (approx 85km)
We headed downwards as we left Auron and start climbing again on the Couliolle before dropping into the stunningly beautiful Gorges du Cians. There is little in the way of straight sections in the gorge and with the river on one side and the overhanging rocky red crags on the other. This was an amazing descent. Lots of bends through tunnels in the rockface.   One tunnel in particular I remember as it was in complete darkness. I pulled my sunglasses down my nose and still couldn't see a thing. A guy from the group – Daryl, was behind me and I shouted back 'can you see me'? The last thing I needed was Daryl clipping my back wheel. I had no idea what speed we were doing as I couldn't see my computer.   It was a really strange experience. I was also scared of landing in a pot hole, although there weren't very many. Once through the Gorges we climbed over a couple of minor cols before settling in Silage for the evening.
Tonight the group was split as we were staying in 2 hotels. The first group were dropped off and I noticed that the hotel had a swimming pool. I was going to the other hotel which I was hoping had a pool too. After joking about this to David, he gave me the option of staying in the hotel with the pool or going to the next one. I was the only one in the group to be given this option. I decided to go to the other one partly because of the particular group that were going there. Imogen was the only other female and she was great to get on with.   Gordon was such a good laugh. Imogen drove the van to the other hotel whilst David, Phil and I cycled. It did seem like another Col we were climbing. I think it was only 8km to the other hotel but it was all uphill and it seemed to be getting hotter.   Phil being super fast went on ahead. David and I kept up a steady pace all the way to the top. I did feel like saying 'just go ahead' but did my best to keep up. The hotel was fantastic! I so made the right decision. It was in the middle of nowhere. I was really surprised it had electricity as it felt so remote. It was amazing. The other 3 guys from the group had arrived earlier – Gordon, Daryl and Michael. The seven of us sat in the sun and then Imogen took us treking up a small river. Dinner that evening was fantastic. The lady owner had a trout pond, so trout was on the menu. The seven of us dinned outside and the food was absolutely delicious. After the trout I had lime sorbet with vodka – thinking it would be a splash of vodka – OMG I think it was about 3 measures. Well, all I can say is it was the best nights sleep all week and I felt refreshed in the morning for my final day! I went out for a short walk before breakfast and actually felt like going for a run, I felt so good!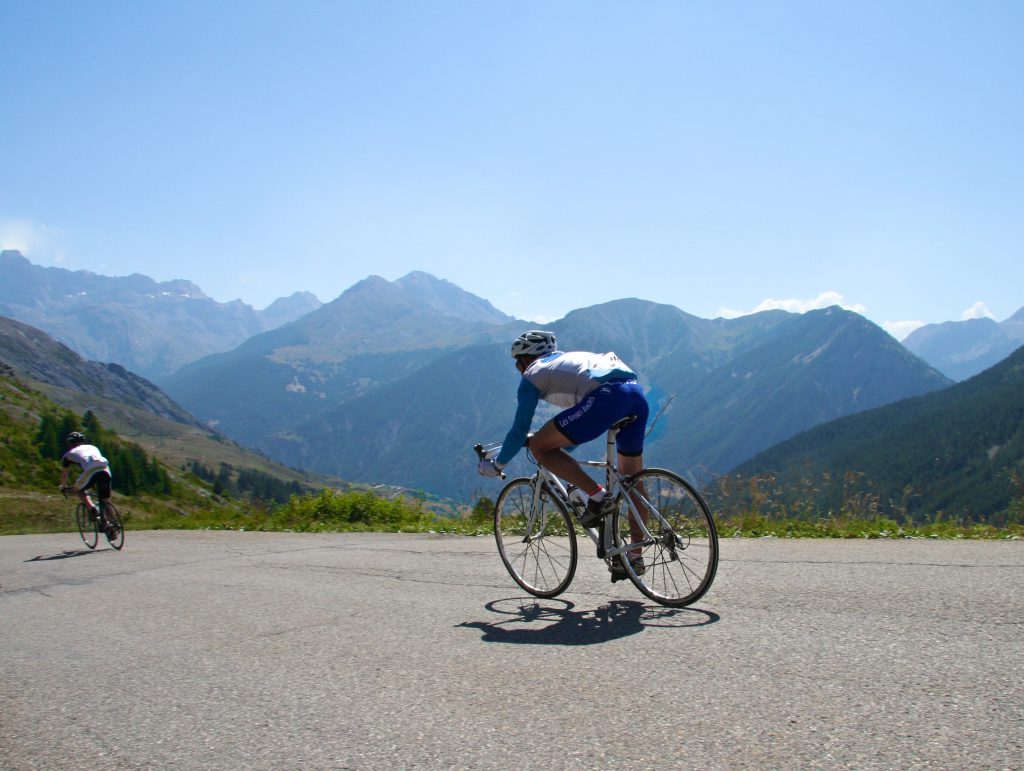 Day 8 – Puget Theniers to Nice (approx 139km)
The cols in this stage of the journey were smaller that what was climbed during the week, but there were plenty of them! Through a series of minor roads we passed through Grasse 'la capitale mondiale des parfums'. I would have loved to have done some perfume shopping, but there was just no time – boo! The final descent was into the glamorous town of Antibes on the Cote D'Azur, the official end of the Raid Alpine. What a place! I was just loving it there. We had champagne by the beach and then back on the bikes to cruise along the Promenade des Anglasis to the hotel in Nice. At night we headed out to the centre of Nice for our final dinner. Dinner that night was in a lovey busy restaurant.   After dinner Julian said a speech and presented our 3 fantastic guides with a token of thanks. After dinner half the group decided to stay out for drinks (me included – big mistake). After having a glorious week of sunshine a thunder storm started and we watched it from the sea front then headed to a bar. I won't mention the drinking, but I was a bit delicate the following morning! Thank goodness my flight was early afternoon!
Day 9 – Return
Time to say farewell and head to Nice airport for the flight home.
For me, this has to be the ultimate cycling experience and I really hope to do it again.
The highlights: too many to mention, but here are a few:
Seeing names painted on the roads: 'Thor', 'Vockler' to name but a few. To cycle on the same roads as these top cyclists gave me goose bumps!
The support team were just wonderful! Always there at the right moment when the water bottles were getting low, when I was in need of more snacks and always there with fresh fruit and cool drinks. Nothing was too much bother for them. Oh, and I did enjoy the little jellie sweeties – I think they got me up a lot of the climbs.
The lunches provided by the support team – WOW. Everything was so well presented and there was always more than enough to eat.   Vanessa was a nutritionist, so we were always being fed on the right amounts of proteins, carbs and fresh fruit. One day she had sprouts for us to eat – you can well imagine the hilarity with these sprouts!
My cleats had to be renewed – David must have done these very late at night as the shoes were ready for me first thing in the morning. He even cleaned my shoe when I stood in dirt – it could have been dog dirt! I don't think that was in David's job description!
Vanessa and Imogen were absolutely lovely too. Always a smile and ready to help.   Imogen insisted on carrying my heavy bag up 2 flights of stairs for me as the lift was taking ages and I had just cycled up a climb to the hotel.
The guides were highly informative. Each morning before we set off, they would show us on the map the routes we would be taking and pointing out any steep descents or areas where the roads were not in a great condition. They would also mention the re-grouping points.
Being faster up the climbs than most of the guys and the females on the trip – not that I'm competitive! Feeling a real sense of achievement. I cycled all the climbs and all the descents.
Being very well looked after and not having to think about a thing. I think thats why I come home so relaxed and chilled out.
All hotels on the trip were excellent and a very good choice of restuarants.
The weather! A week of glorious sunshine. What more can I say? I'd like to be back there!
Just cycling in the Alps. The scenery was breathtaking. Can cycling get any better?
I hope you have enjoyed reading my blog and if you are thinking about doing the Raid Alpine – don't think about it – just do it!