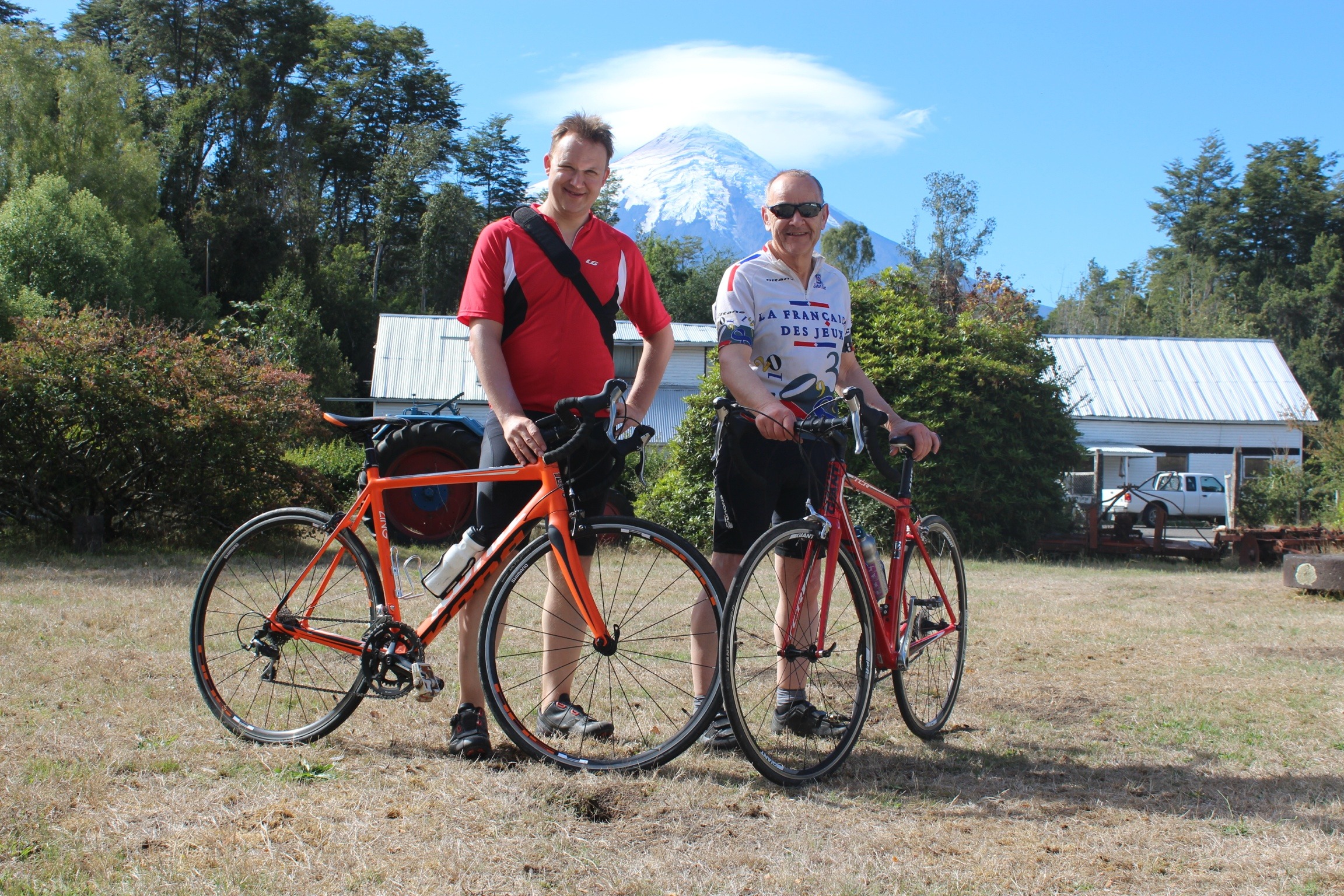 Skedaddler Jeff Thomas recently embarked on our first ever road cycling holiday to Chile and Argentina and had such a great time he wrote us this fantastic piece about his journey away with us. We love Jeff's article so much that he is our Customer Competition winner for March, meaning he has won £250, as well as being in with a chance of winning a further £1000 at the end of the year. Want to know more about our inaugural South American trip? Time to read on…
'Strictly no double-dipping allowed' – Ness' words as we plundered the swiftly-diminishing contents of the chocolate fondu positioned centre-table.  Little wonder that calorie intake was a priority for our tired bodies – we needed rest-day rejuvenation at San Martin de los Andes, mid way through our touring extravaganza on the swift and sleek roads of Chile and Argentina.   Hence the temptation of serial immersion of our snippets of melon, kiwi-fruit and the like in the rich and succulent lake of molten chocolate – this (and the rarely encountered non-instant coffee) the most tempting of attractions of this bustling Argentinian lakeside town.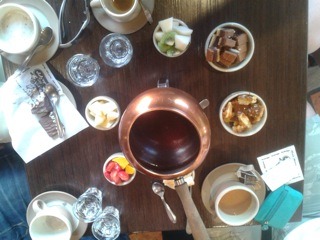 Day 9 was a reward for hard work on the roads of Chile and Argentina, this pioneering group already bonded by our 250 miles, or so, of inspiring road cycling so far.  For our fortunate 15, shepherded by our excellent group of local guides and Skedaddle support, this was the first group to undertake this new addition to Saddle Skedaddle's South American offerings, most of which was centred around the area's fabulous Lake District region.  It was a trip of the Patagonian pampas, of fabled highways such as Route 40 and the Road of the Seven Lakes, of screeching parakeets, of fleetingly-glimpsed cascading water, of expansive skies, of vistas that drew the eye through their scale and variety, of temperatures often exceeding 30 C , of sustained wind in our faces.  Through shared exhaustion and exhilaration, it was a group rich in 'can-do' sentiments, of camaraderie born out of shared goals – from hurtling down, and straining uphill, as an ensemble, somehow gaining consolation and shelter from those labouring closest to you.   A group of mixed nationality, experience, age and attitude – where those less fit or new to the game were encouraged and cycling transgressions forgiven – sometimes only the size 9 gearing from my cycling shoes offered a way up steepening Andean inclines. The group's teasing and humour was always in some way enabling, forgiving of imperfections but encouraging of effort.
We had started in Temuco, a short flight south of Chile's capital Santiago, heading eastward on our wonderfully new and well-equipped road bikes, relishing (if not the inclines) the excellent road surfaces, generally free of perilous potholes.  Cyclists of our type and number were an unfamiliar sight to the locals; in the passing traffic, the incidence of bedraggled cars and lorries, well past their prime, was worryingly high, but their drivers generally provided a safe passing distance, the vortex-creating exceptions both memorable and unsettling.  Hoots on horns were frequent, happily much more often as an intended greeting than intimidation or warning.  Distant volcanoes appeared on the horizon, closer companions in days to come.  The landscape was in the main agricultural – at first wheat farming, with a good deal of greenery evident, including the much anticipated monkey-puzzle trees – an attraction trumpeted in the Skedaddle guide-notes to a perplexing degree; as their numbers increased from the sporadic to the genuinely forest-like, their attractions could be better appreciated.   Sometimes, Chilean industry of the past was evident; on Day 2 we cycled through the famed Tunel de las Raices – a railway tunnel for much of its early life, though now it channels busy road traffic to (and from) Argentina, including, as of now, an excited contingent of cyclists willingly responding to the request that we cycle through 'fast'.  The coolness of its air was welcome, our confinement and the stuttering illumination of its lighting adding to the effect of flickering movement and drama, our numbers swollen by our projected shadows.
As we emerged, a gloriously swift and effortless descent began; sheltered within an expansive sunny valley, our high spirits were maintained.  Soon we were to cross the border points and interim 'no-mans land' of the Chilean/Argentinian boundary, our colourful group, lycra-clad and flat-footed, alternating between enforced passport-clutching waiting and pernickety form-filling – contrasting with the intriguing comings and goings of everyday life and commerce that carried on regardless around us.  How brilliantly our Chilean guides navigated this unusual band of travelers through the myriad of formal procedures – all to be repeated when we were to make our way back into Chile towards the trip's end.  But the day of the border crossing was burnt on our minds, and scored painfully on our muscles, for another reason; the prolonged Andean ascent it required – up and up, in relentless lowest gear for mile after demanding mile.  Crumbling early on, my temporary respite on the support vehicle was essential to the continuance of life; delivered further up the climb 8 motorized minutes later still left (to my increasing surprise) an hour of heart-pounding cycling effort, finally making the highest altitude of the trip.  As fellow cyclist Duncan dryly predicted, my use of the support vehicle was not to be repeated on the lengthy post-lunch descent.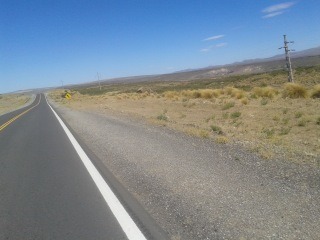 The following day it was onto Zapala, up climbs provocatively described by the inspiring Steve as 'cheeky' – how wonderful to find these within my capability – and periodic high-speed descents, now having a thrilling appeal that drew my mind back to the fearless cycling days of teenage years.  A wonderful thought took root – not only could I manage cycling of this type and duration but through all its psychological and physical ups and downs it would prove 'happy-making'.  Then south from Zapala, on the glorious Route 40, through a flat, open landscape that dwarfed us.  For those familiar with English landscapes, our environment seemed a blend of Dartmoor and the Derbyshire Peak District, but times 20 in scale and impact.   And here the southerly Patagonian wind increased – in no way cooling but simply full-on in its buffering of the increasingly drawn-out procession of challenged riders – weakening, gasping, cursing to varying degrees.   Struggling at the rear of the group, the indefatigable Ernesto guided me towards the lunch respite, arriving in a state far from sprightly – looking as Sarah correctly and politely diagnosed, 'spent and grey'.  A further loss of morale and momentum post-lunch, in my case, through the combined effects of a lost cleat and rear puncture proved difficult to shake off.  My addled windswept brain pondered the notion of the turns of the 'wheel of fortune' and created out of the air delusional suspicions of willful team sabotage – before realizing that only those who are quicker riders of the group would be thought of as opposition.  My namesake (Jeff the Younger) was a wonderfully accomplished rider; this Jeff (the Elder) was never able to venture far beyond the rear of the group.  In an early day on the trip, on being told that 'Jeff was first to the finishing line', a fellow rider was kind enough to ask 'which Jeff?' – a clarification never to be asked for in subsequent rides.
By the time we all reached the wonderful overnight sanctuary of Spring Creek Hotel, near Junin de los Andes, the immediate remembrance of an unrelentingly grueling ride took on the alternative construct.  Now we relished a day of massive achievement and of battles won – a transformation brought about by the kindness and efficiency of our welcoming host, his superb food and drinks, our lovely wooden cabins perched at the lake-edge, and the captivating sight of adjacent snow-peaked volcanoes.  Refreshed, the following morning saw us en route to San Martin de los Andes for a spin of less than 40 kilometres, me just able to hang onto the wheels of the South African husband and wife duo, whose elegant and sustained riding style had so impressed me from the tour's beginnings.  After our rest day, we faced the immediate and much anticipated prospect of a steep exit from San Martin, an incline that had been all too visible in our wanderings the day before as we leisurely explored on foot the hills that surrounded the town.  But come the day, a revelation – sustained climbing, this time over the 18 kilometers, could be enjoyable – again I was aided by (just about) hanging onto the wheels of the glamorous pace-setters and the unexpected realisation that my cycling was … hey, getting better.  This increased confidence was helped by the fact I was now riding a different Giant bike  – a dashing red TCR with what the Skedaddle experts felt had gearing more sympathetic to my needs.  Ever generous, the Chilean guide Vicente had agreed to swap bikes to help me, taking on the blue and white SCR I'd ridden up to that point.  Any qualms about the ethics of such blatant bike grabbing were eased as Vicente flew past me as we climbed, as ever smiling broadly – spinning away on legs 40 years younger than mine that did justice to the sporting character of his new acquisition; both man and bike looked happy.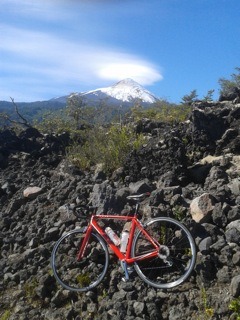 As San Martin fell behind is, and the road eased we were soon treated to inspiring views across the adjacent lake of Lago Lacar.  Now we were powering along the type of road that Ernesto often referred to in his advance briefings as 'undulating'.  Sometimes the word seemed lost in translation –  a Spanish euphemism for 'expect hills' – but here the road was as richly endowed with minor descents as with 'cheeky' ascents, up until the point (marked 'Fin Pavimento') where the metal road ran out.  In this part of Chile, having re-crossed the border after a severe but more manageable climb, we witnessed the devastating effects of the volcanic eruption in 2011 of Mount Caulle.  At the time of that eruption, its influence was more commonly expressed in terms of an inconvenience to air travel but here a more vivid and sustained impact became apparent.  Trees stood in shattered frozen outline, in a scorched and far-reaching landscape that bore some resemblance to those haunting Paul Nash paintings of a World War 1 battlefield.
Next day, from Puyehue to Ensanada, was for me one of the tour's highlights.  This a shorter but still demanding day, the result of a change of plan in light of forecast rain.  First, an initial transfer of bikes and riders by van, then the pack let loose for the most part onto a straight flat road, cutting unswervingly through a dense forest, and enticing us into a joyous 10 or so kilometres of speedy progress, towards the distant outline hills ahead.  This is followed by lunch at a perfect beach-setting – a geologists paradise of blackened sand and rounded, well-burnt pumice stone – then back on the bikes for a closer encounter with the imposing volcanoes of Calbuco and Osorno.  For this is the vast lake that comprises Lago Llanquihue – extensive enough to require (should we have felt inclined) three cycling days to encompass its full perimeter.   The following day, leaving our delightfully quirky accommodation at Ensenada, as a final stage we follow the bike lane that flanks the road that follows the lakeshore as far as our final destination of Puerto Varas – the City of Roses – home to our Chilean guides, so their cheery mood can be understood.
But here's the irony; after our safe 10-day survival of the Chilean/Argentinian trunk roads, as we enter the bike lane that lies to one side of the circumnavigating road, one of our party falls off his bike.  Duncan falls victim to the detritus and rubbish that inevitably accumulates in bike lanes, not only in the Milton Keynes redways close to my home, but to the shore-line bike tracks that line Chilean lakes half a world away.  Both are forever contaminated by debris, thrown up from the inside by speeding road traffic, or tumbling down the inclines that flank the narrow track's outer limit.  Just as bad, strips of raised yellow studs straddle this bike lane, in the wrong position and numbers – they may help motorists find their way, but to cyclists these fearsome objects have a concrete-like consistency and are a menace.  So now in front of me lies a wounded Duncan, initially out cold – our sudden anguish and shock encapsulates the shared sense of togetherness and mutual support that cycling as a group had created.  Now the Chilean and Skedaddle support team come to the fore, with eventual despatch to hospital in Puetro Varas, though to us (and of more concern doubtless to Duncan as well) the wait seems distressingly long.   Reassuringly, though flat out on the tarmac, as he comes round Duncan includes an early query into the welfare of his bike, and in time he shows a correct awareness of the 'here and now' – later we learn from Skedaddle Steve, who conscientiously acts as companion and friend at hospital, of the diagnosis of a broken collar bone, bad bruising and grazing, but thankfully no worse.  The patient's humour, big heart and cycling legs are all reported intact. Eventually, the remainder of the group cycled with strong camaraderie and heightened caution to our final hotel destination, at which point there are heartfelt mutual congratulations, mixing sadness over the accident just witnessed, with much relief, exhaustion and delight.  In the final photographs, amidst the cheers, Jeff the Younger brandishes Duncan's dark glasses into the camera line – these thoughtfully rescued from the crash site on the bike lane.  So Duncan's presence remains with us well into these final celebrations and into those soon-to-be framed mementos of our collective efforts.
The final tarry (as the Garmin aficionados revealed) was a trip of near on 485 miles – with a total ascent over the 10 days of cycling of more than 34 thousand feet – as the redoubtable Andy tells us, a climbing tally equivalent to well over the height of Everest – in barmy temperatures and in summer-like conditions where our waterproofs remained unused.  As much as the physical achievements, the trip was a social triumph.  How wonderful to take flight from the lethargy of a too-often dreary and inward-looking UK winter, and re-focus on the brightness and stimulation of whirring gears and spinning wheels, with the sun warming your back, surrounded by those who share your private enthusiasm.   Just as invigorating were the bonds of newly-found friendship and the infectious humour.  In the middle of Patagonia, for some reason British Andrew's engaging joke about the spotted hyena that falls into a vat of boiling water – making a laughing stock of himself – has an extra appeal, causing me an inner chuckle well after first telling, at whatever time of day or (more usually) night, often just before sleep.   Surely, the physical demands of the day pre-disposed us all to laughing along with each other and to the delights of conversation, both silly or serious.   And the trip was a reminder of how readily our common humanity can straddle all nationalities, ages, attitudes and experiences.  Put South Africans, Brits and Chileans (and bikes) in the same melting pot, stir, season and enjoy the results.  A well-arranged trip and Chilean warmth and generosity were surely key ingredients – Ernesto and his warm bear-like manner, with the readiest of smiles, Vicente with dash and sincerity evident in all he did for us, Ismael, with all the generosity his support role required – combined with a gentleness so evident in my last image of him – his hands gently cradling Duncan's head as he lay spreadeagled on that Puerto Varas bike lane – and the constantly good-natured and caring chef and driver Alvaro.  Also Skedaddale Steve, immensely technically knowledgable and ride-experienced, but with his enthusiasm and eagerness to help undiminished. Proficient cyclists were all round – Richard, full-blooded yet soft-hearted, ever kindly and alert to what surrounded him.  And the flying couples Jeff and Julie, Andy and Sarah, inspiring to see ride, even (as was usual) from well behind in their wake.  Ness and Helen both contributing so much to the group sprit.  And not to forget Andrew's choice of cycling jerseys, establishing a new meaning to the word chic, by permission of Marmite and Rice Crispies Ltd – the generous character that comprised the 'inner man' always helping to enliven and entertain.
And for me one final benefit; there were two father and offspring combinations on the trip; one the inspiring John, a work and life toughened South African with a soft heart, still bike-fit and determined well into his 70s and the most genial of alpha males, still an inspiring figurehead for his elegant and intelligent accompanying offspring, Lynn (with husband Heinz) and Andrew, all looking as easy on their bikes as they were company off the road.  I was so fortunate to have my 35 year old son James with me, together creating so many good memories to look back on.  As I settled contentedly into a slot near the back of the pack, there was a particular delight in seeing James flourish near the front – 30 years on from those earliest bike-riding lessons – and in appreciating the high regard in which he was held by the remainder of the group, for his riding, his humour and his easy sociability.  What better companion and room mate for the trip could there be?
And the 'looking after' was the right way round – a watchful and encouraging eye kept on dad, on and off the road.  Only once did I relapse into parental anxiety more appropriate for a much earlier era – at the top of a fierce decline with mention of a traffic build-up, I blurted out the all-too-obvious, '… take care on this next bit James, keep on the road, keep off those nasty gravel-covered bit at the edges …' The look he gave me back was more of an amused smile than what would have been an excusable degree of irritation at a father's over-stated fuss.  Bonded though we were, once again I'm reminded that this guy is forever his own man, and just how far and how confidently he has flown from the family nest, thank God, on and off the bike.  How wonderful that a bike holiday puts you back in the right gear for the better appreciation of family, loved ones, friendships and of life.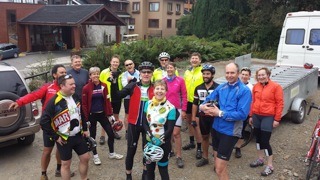 (Photographs courtesy of Andrew Bartlett and Richard Plaistowe)
Sounds like a holiday with many happy memories! We wish Duncan a speedy recovery and hope to see him fighting fit on a bike in the not too distant future. Finally, well done to Jeff on his Customer win – we can't wait to see you on another Skedaddle holiday in the not too distant future.
For more information about our road cycling holiday to Chile and Argentina click here.