Our South Africa / Botswana mountain bike holiday is a trip of two halves, it's like two separate holidays, two completely different experiences, both MTB safaris, both completely unforgettable!
South Africa
Excellent mountain biking, luxury accommodation, lots of animals and delicious food made this trip very special. The weather was hot and sunny in the day and cooler at night. The biking was pleasantly technical if you wanted it to be. There were nice rocky sections and some challenging climbs. However, these can be avoided if preferred.
We cycled around the private game reserve at Mount Anderson and literally had the whole place to ourselves. Trent, the guide and manager of the reserve, is a bottomless pit of knowledge about the animals and history of the place. He took us down gold mines, hunted out the animals and showed us some great singletrack. There are no predators on this land, but there are eyes everywhere, watching your every move, wildebeest, zebra, antelope, ostriches, baboons etc. Plus Trent's pet Meerkat, who is quite a character, she ran alongside for miles and wouldn't go home.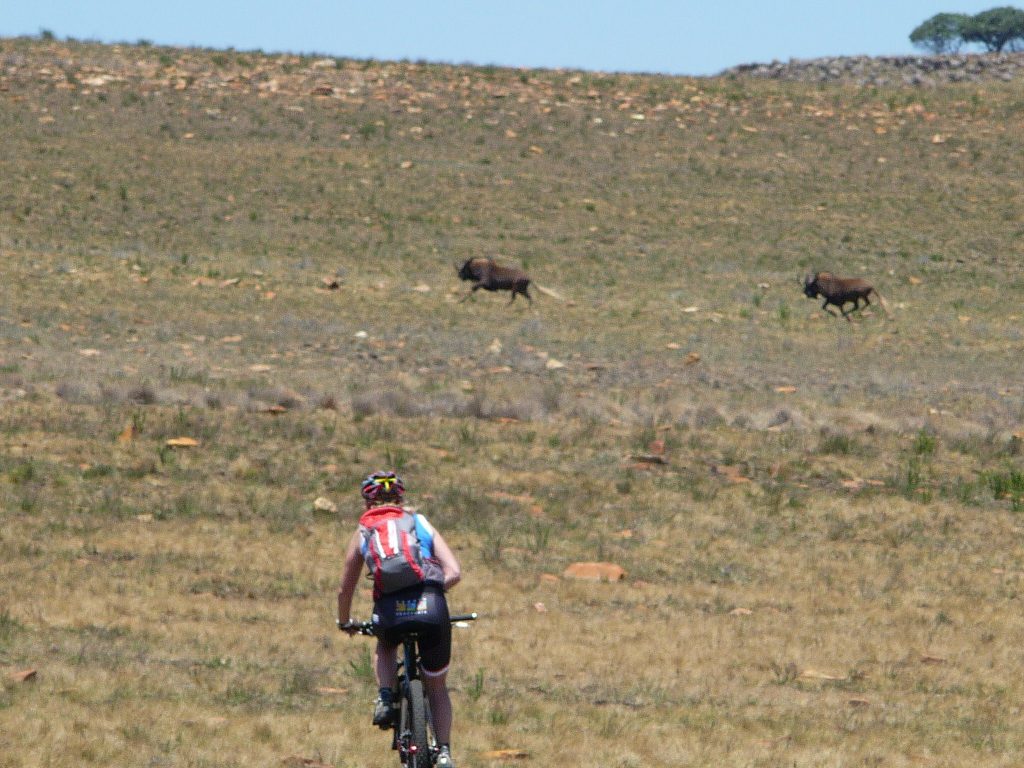 In the evenings we went out in the Land Rover for sundowners and sought out animals on the way. Evening meals were delicious, the best homemade soup I have ever tasted! There is a full size snooker table and a blazing fire in the living room. The view from the accommodation of different layers of pools and weaver bird nests is pretty special.
They definitely picked the most scenic spots for lunch! We ate at two different lakes, Trent taught us how to fly fish if we wanted or you could just lie around in the sun if you preferred. I was engrossed in taking pictures of the scenery and wildlife as it was all so beautiful and different. On the  last day we ate in a bar and just before that we had three thigh deep river crossings, which were great fun and lovely because it was so hot!
Botswana
Leave the luxury behind and enter the bush, the thrill of being in amongst the animals in this game reserve and sleeping under the stars / in tents listening to all the different sounds is an unforgettable experience. It blew my mind! Here it is warm in the evening and hot during the day. The camps are basic and there is no running water at the first two so it was a bucket shower and a hole in the ground toilet. There's something quite liberating about showering under a tree in the nice warm sun!
Waking up to the sounds of a noisy Avery every morning meant even I was up and wide awake at 5:30am and those that know me will confirm that this would usually be a ridiculous idea! We set off on our bikes early, as soon as everyone was ready, and rode until lunch time. After that is was too hot and so lunch and then relaxing under a tree was usually the order of the day until 16:30 when we went on an evening jeep safari and to watch the sun go down. On the last day we did a foot safari to some rocks which overlooked the bush for miles and Joe, the guide, showed us animal tracks and taught us about the bush.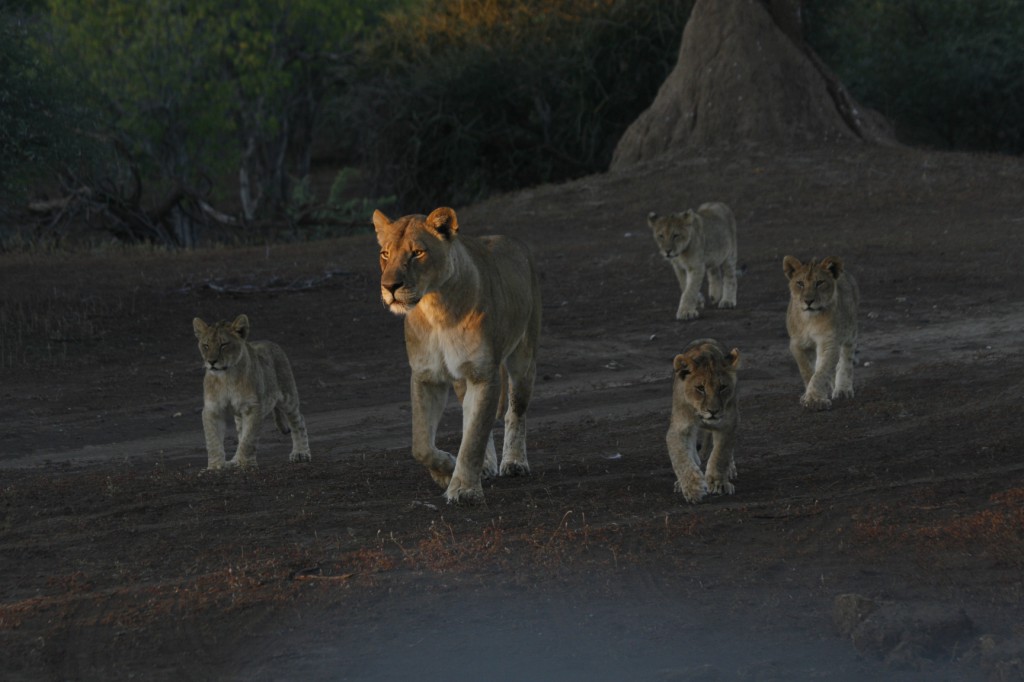 The terrain is very flat, dry and extremely thorny. The pace was slow so as to not scare the animals away, the weather was hot (up to 43°C) so that was just fine! A guide at the front and back meant that all the guests were protected in the middle, so we were free to take photos and look at the animals without having to worry too much. Occasionally we'd get too close to an elephant or something and have to backtrack, but mostly we were fine. We saw leopards, elephant, giraffe, wild boar, antelope, etc , etc. We saw tracks of a lion, with drag marks from its prey, also cobra and aardvark tracks.
The best night for me was when a couple of hyenas came to the camp and snuck up on us. They settled down and waited, we could shine lights at them and take photos and they just lay there, waiting, until we had gone to bed and they could come scavenge things from the camp. The last night seemed like luxury with proper showers and toilets (still outside) and we slept under the stars. Elephants were growling like lions literally just outside the camp. It is quite something to get into bed and listen to them, especially when all the birds start chattering, as you knew something was out there. With Joe around there was nothing to be afraid of, alone we wouldn't last 5 minutes!
You can see photo's from our previous trips on our flickr gallery here.