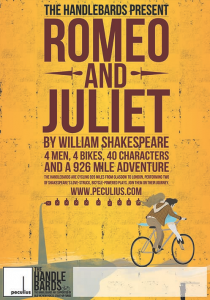 On Saturday 13th July at 7.00pm there is a live Shakespeare performance of Romeo and Juliet in The Cycle Hub on Newcastle's Quayside (home of Skedaddle).
This iconic story of romance will be performed by the Handle Bards, a group of 4 actors who are on a 926-mile tour up and down the UK, travelling to and from each venue by bike!
Tickets are priced at £12 for adults and £10 for concessions, and can be bought either in person from the Cycle Hub or over the phone on 0191 276 7250. Capacity is limited so book yours now!!