We caught up with our globetrotting Skedaddlers to find out their top travelling tips! From the best way to experience a Skedaddle cycling holiday, to travel hacks to help you pack like a pro, here's our favourite advice…
With Skedaddle in mind:
'Top travelling tip – do it with Skedaddle and get a great roadside lunch daily, to keep you fuelled! Their guides aren't too shabby either.' Wayne Thomas
' Arrive prepared, rely on the wisdom of Skedaddle Guides, and beware of undulating climbs.' Joanne Arnold
'Pack your sense of humour. Seeing the quirky aspect of life and having a laugh while awaywill help you make the most of your cycling holiday.' Megan Hassett
Packing to perfect:
'Take an extra toothbrush and paste in hand luggage (as well a some padded shorts) just in case of lost luggage at the airport, a few essential items will keep you going until you get your bag back' Mick Parry
'Always pack a large, lightweight scarf…. great for protecting you from the sun, keeping off a chill breeze, as well as something to sit on whilst out and about…an invaluable piece to take away.' Leighann Williams
'Always roll up clothes when packing as you will fit more items in your case. Tie a ribbon around the case handle so you can quickly identify on the luggage collection area too – ensuring a speedy exit and more time to enjoy your trip away!' Russell Marshall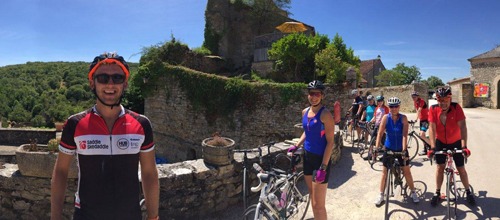 Looking for more packing advice?
For more top tips and a general cycling holiday packing kit list from our team of experts, click here.
Feeling inspired?
Skedaddlers were asked to send us in their top travelling tips on social media and these were our favourite from the bunch! The winning advice went to Wayne Thomas who won a Skedaddle jersey, as his prize! Keep your eyes peeled for more competition giveaways, and for your chance to be featured on our blog.