With over 30 cycling holidays (and counting!) alongside a Skedaddle base, Spain is a destination we're proud to call home! Here's our 6 wonders of Spain, best experienced when exploring on two wheels: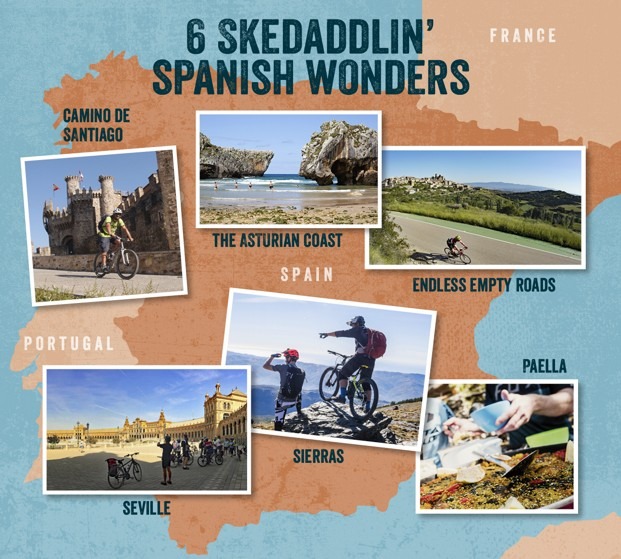 1. Camino de Santiago
The ultimate pilgrimage is renowned worldwide and offers an ancient journey packed full of timeless, cultural sites.
2. Sierras
Literally translated as 'mountains with jagged peaks', Spain's flat, dry plains are complimented by these dramatic, lofty playgrounds.
3. Endless empty roads
Being one of the largest countries in Europe means Spain is a destination with lots of space! Cyclists can expect some blissfully unspoilt riding.
4. Seville
Crowned Lonely Planet's number 1 city in their prestigious 'Best in Travel 2018' list, this thriving so-called 'city of bicycles' is a must see.
5. The Asturian Coast
This unspoilt stretch of coast in the North of Spain boasts a treasure trove of delights! Get ready for white sandy coves and theatrical rocky features.
6. Paella
A dish with ancient roots, paella is a fantastic community dish associated with fun and fiesta. It's also a great crowd pleaser for a group of hungry cyclists…
Eager to explore on two wheels? Take a look at our extensive range of cycling holidays in Spain by clicking here.