Hot off the press – Newcastle United St James' Park looks set  to be renamed the Stadium Saddle Skedaddle after  Sports Direct shock move last night.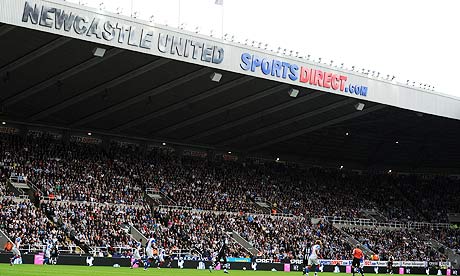 Newcastle Fan and Skedaddle Big Cheese Paul Snedker commented 'It's a great move for Skedaddle and the Toon', and was quick to add that '..Plans for a velodrome around the pitch are inevitable!'
Furthermore …
Andrew Straw … Skedaddle's long suffering Derby County fan was quick to add '…whilst it isn't the take over of Pride Park in Derby that I had strived for, I'm pleased for Skedaddle and for the fans of Newcastle United and it's great to see a local company involved with a local footballing giant!'
Both Mike Ashley  and Derek Llambias (surely a cross between a Llamaan and an Alpaca ?) of Newcastle United were unavailable for comment, though they were apparently spotted leaving the ground on new road bikes.
This above seems to negate claims in the national press that the sponsorship of the staduim would be hard to find – see The Guardian 11 11 2011