With our classic Sardinian Mountains guided road cycling trip revamped for 2018, we asked one of our local guides, Lieven Loots, about his favourite sections of the new route that you should get excited about right now!
The Coastal Road to Villasimius
23 km of perfect tarmac winding its way up and down through the highly panoramic coastal scenery in the southeast of Sardinia – because one can't come to Sardinia and not cycle at least a little bit along the coast!
Genna Silana Pass
One of Sardinia's most panoramic roads winding its way up from sea level to 1017m above sea level, through some truly amazing scenery dominated by soaring limestone cliffs and one of Europe's deepest canyons – Gola di Gorropu – only to arrive at sea level again 60 km later – all on near perfect tarmac and with very low traffic. A definition of a road cycling heaven!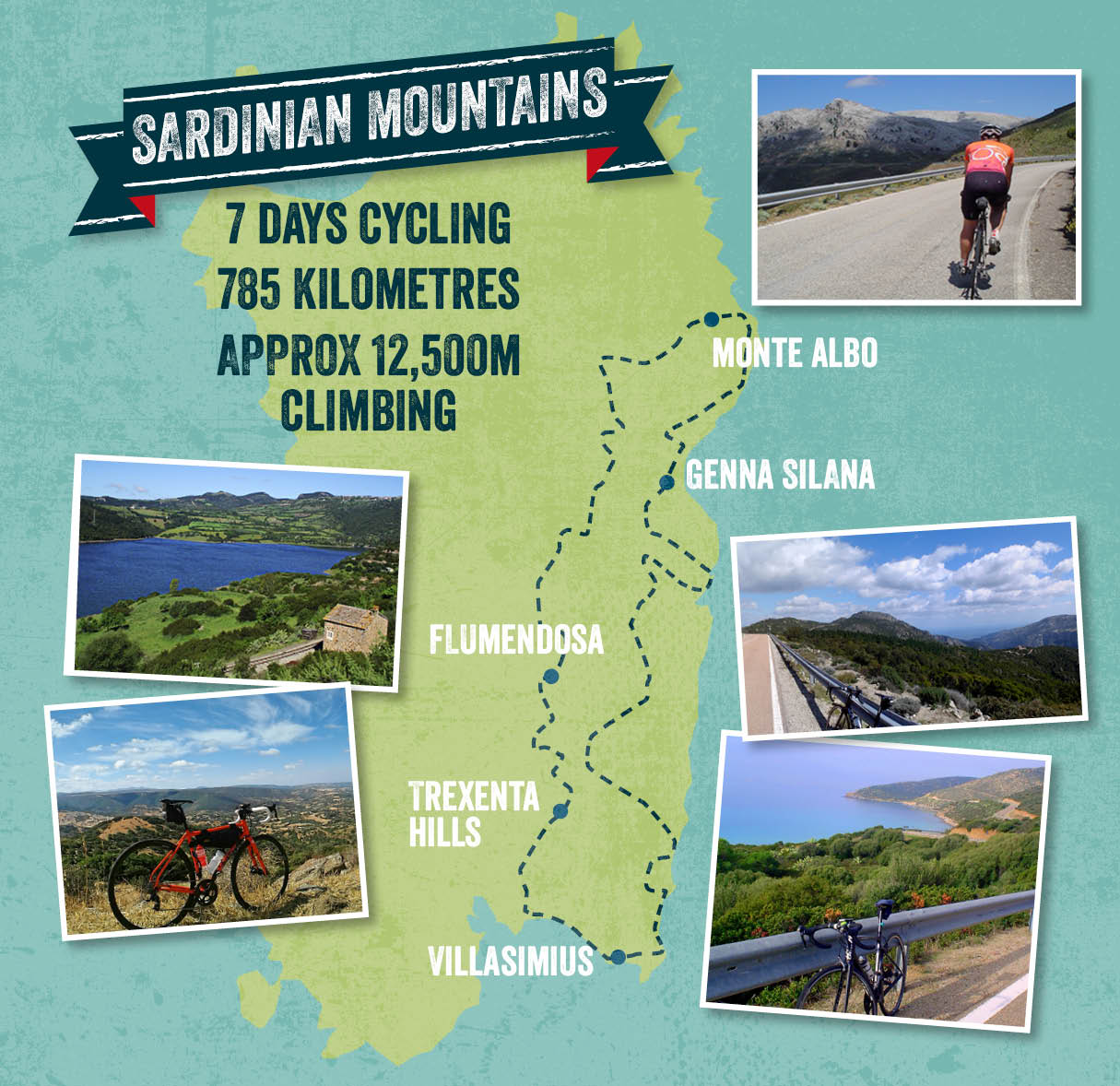 Climbing Monte Albo
A 13 km climb in two parts, the first seeing you slowly rise along the valley through thick mediterranean vegetation, the second taking you up to the top along barren limestone slopes. Sardinia's answer to the Dolomites or – dare we say so – Mont Ventoux!
The Descent to the Flumendosa Lake from Sadali
One of Sardinia's best descents which will take you on an exhilirating 15 km ride through a neverending series of sweeping bends – well off the beaten track and therefor virtually traffic free. With the added bonus of the view on the lake.
Riding the Trexenta Hills
A wonderful rolling road including one longer climb sneaking it's way through some real unspoilt Sardinian countryside – you'll be more likely to meet free roaming sheep and cows than cars along this 25 km stretch of cycling bliss. An ideal way to finish your cycling holiday in style.
Feeling inspired? Ready to take on the mountains of Sardinia? Our road cycling classic, Sardinian Mountains, is perfect for riders who prefer a few more miles under their belt each day and don't mind an uphill challenge!