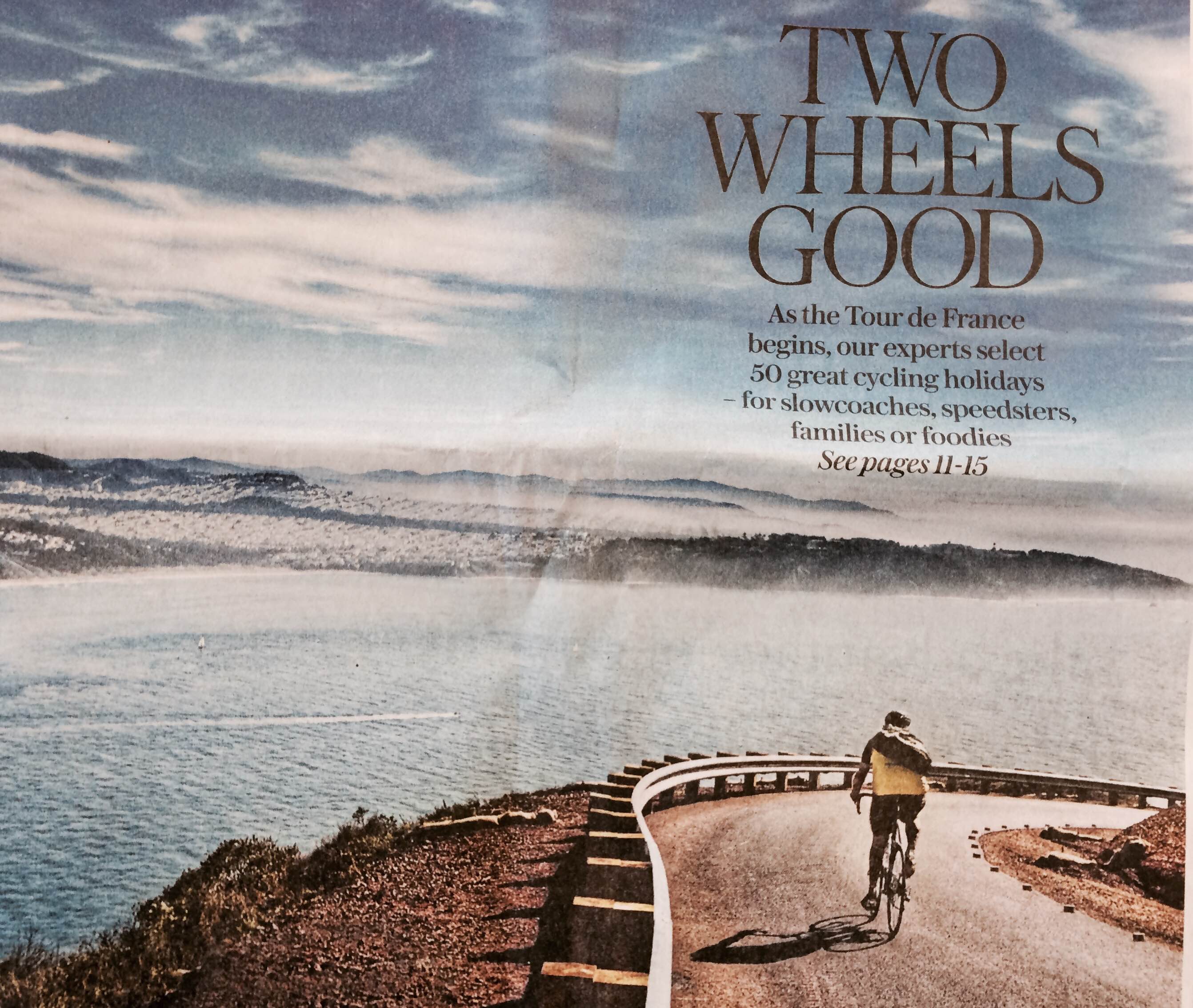 It's not every day you get a mention in one of the UK's best-loved newspapers and this weekend we were more than a little bit delirious (no, not too many Saturday beers…) to see not 1, but 8 trip features in the Telegraph's 50 Great Cycling Holidays. Read on to see their top Skedaddle picks…
1.  Coast and Castles, UK. Category: Take it easy.
Telegraph says…
'From Newcastle it follows the beautiful Northumberland coast past Lindisfarne and Bamburgh Castle to the border at Berwick-upon-Tweed, whence inland to Melrose and over the Moorfoot Hills to Edinburgh. Saddle Skedaddle will organise it on a self-guided basis or supported (with a back-up vehicle).  Do it yourself, and you can spread the 200 miles over more than four days.'  
2. Wine Country, Chile. Category: Take it easy.
Telegraph says…
'There are not many gentle cycling holiday options to South America, but this tour for New World wine enthusiasts consists of a manageable 20 miles a day on the Ruta del Vino through Central Chile's Colchagua Valley, between the coastal range and the foothills of the Andes – a stirring backdrop for now, and perhaps a challenge to be confronted another time.  Easy cycling, tastings and vineyard visits, overnights stays in colonial haciendas, on wine-producing estates and in the towns of Santa Cruz and San Fernando.  
3. St Malo to Nice, France. Category: Trips to make you fitter.
Telegraph says…
'France is the spiritual home of cycling and what better way to explore it than on your own Tour de France. This 1,000-mile journey takes you from the Channel to the sunny Mediterranean. You will ride alongside quiet riverbanks, through picturesque villages, vineyards and deep dramatic gorges. You'll pass Mont Ventoux, but climbing it is optional. Enjoy rolling through the beautiful French countryside and then experience its terroir on your plate and in your glass each evening.'
4. Emerald Mountains, Colombia. Category: Trips to make you fitter.
Telegraph says…
'Some of the world's greatest cycling climbers have originated from Colombia and when you see the amazing natural terrain they have to ride you will understand why. This tour takes in Alto de Letras. At 52 miles, it is supposedly the longest road climb in the world, reaching an altitude of 3,663 metres.  Road cycling, along with football, is Colombia's national sport and you will encounter riders out training throughout your trip.'
5. Hadrian's Cycleway, UK. Category: Trips for families
Telegraph says…
'Combine a ride through some of Britain's most spectacular countryside with a vivid ancient history lesson on a journey along the Hadrian's Cycleway. You will pass the forts of Chesters and Housesteads as you cycle from coast to coast along the outer fringe of the old Roman Empire.'
6. Volcanoes and Valleys, Costa Rica. Category: Trips for families.
Telegraph says…
'Another great choice for an exotic, adventurous family cycle – again best suited to older children. You will go from volcano craters with views of both Pacific and Atlantic Oceans, through national parks with a chance to spot capuchin monkey and tapir, and enjoy some white-water rafting in this beautiful, wildlife-rich part of Central America.'
7. Dolomites & Alps, Italy. Category: Trips chosen by Rapha founder.
Telegraph says…
'Featuring some of the most dramatic scenery in the world and also the home of some of the most epic battles of cycling history, the Dolomites are a must-do for serious road cyclists. If you've never ridden a bike through the high mountains of northern Italy, first hauling yourself up and over a passo (start with Valparola and make your way over Fedaia and Gardena for outstanding views) and then enjoying the sweet reward of a sweeping descent through the forest, you're missing a big section in your cycling palmares.'

8. Vineyards & Views, Italy. Category: Gourmet holidays for hungry cyclists.
Telegraph says…
'This trip will take you through some of the world's most beautiful vineyards, past crumbling castles, hilltop hamlets and dense woods. Staying at family-owned farms and hotels, you'll have the chance to imbibe the true Italian family spirit. Piedmont is renowned for truffles, Gianduia chocolates, cheese and fruit, so you will get to sample traditional dishes created from locally-grown produce.'
Feeling inspired? Check out the full Telegraph article online by clicking here.