Hear about our classic road trip, The Grand Tour from Regular Skedaddler Dean Beltrame. You might notice that our pint-sized pocket rocket  & Skedaddle resident road cycling guru, David "lil Dave" Hall, bangs on about the Grand Tour of the Med holiday at every given possibility. What is about that tour that always gets him going? Why is it that he's always so keen to get out there? Skedaddle addict Dean was asking the same questions and signed up to see what all the fuss was about.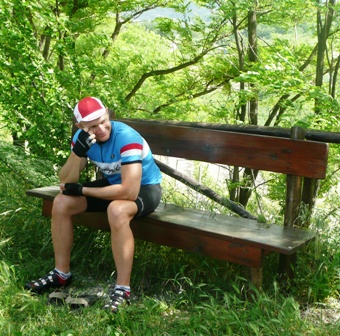 After my previous Skedaddle road cycling holidays in Morocco, the French Alps and Pyrenees and Corsica, I couldn't pass up the opportunity to do Skedaddle's Grand Tour.   The Grand Tour Itinerary takes you through 3 different regions in Italy, Corsica and the mountains behind Nice in France. It was a slightly longer tour than previous ones I had done but you needed everyday of it to take it all in.Arriving in Nice on the Thursday I met up with the group of 7 other riders and our 2 guides for the week, David and Anthony. David had explained to us prior to departure that tour was going to be taken in reverse on this occasion. It seems that some minor events, namely the Cannes Film Festival, the Monaco Grand Prix and the Giro D'Italia, were also scheduled during the same 2 weeks and logistically it would have been almost impossible to take the tour in the usual direction. It had meant that some minor adjustments to the route had been necesary and it was obvious that the Skedaddle team were as excited as we were to be trying something a little different.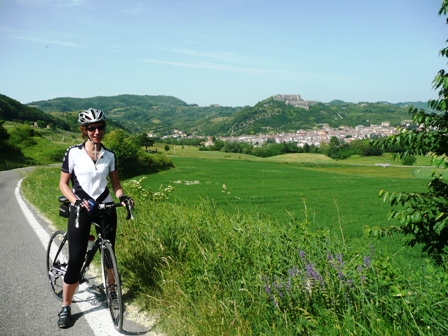 We transferred to Gavi in Italy in the 2 support vehicles and arrived after compulsory authentic Italian pizza along the way. With David and Anthony's help bikes were assembled Friday morning before we set out on a hand chosen route through the Italian countryside. With an impressive picnic lunch supplied on route we finished off the afternoon by transferring out to the infamous Cinque Terre on the Italian coastline.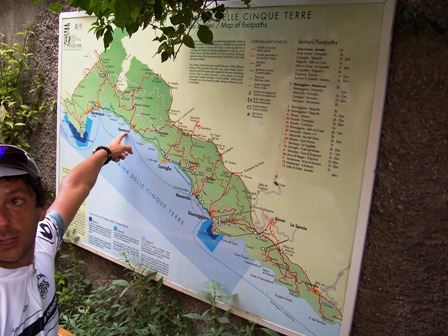 We stayed in the Eastern most of the 5 fishing villages, Riomaggiore which was buzzing with tourists. Easy to see why when you see the villages timeless architecture and the location at the base of the coastal cliff. As it turned out the Giro d'Italia had just finished a Time Trial stage the day before we arrived so we were reminded with all the signage on the roads that this really was a special place and where the pro's race.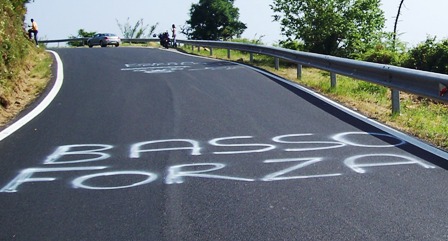 Our Saturday was given to us as optional to ride each of the remaining 4 villages or simply ride 1 or 2 and transfer back by train to Riomaggiore. Optional because cycling out of these villages was no small feat, with gradients reaching up to 22%!   But there is never any better way to motivate a group though than by telling them -¦no other group has ever managed to do all 5 villages¦ and the rest of the day was history with all 8 of us seeing each of those villages by bike.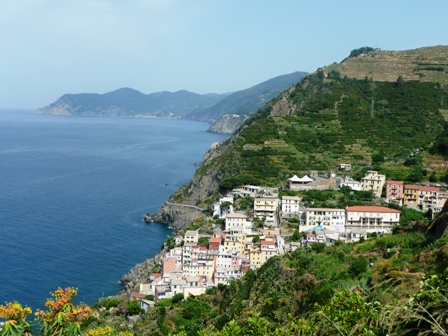 The return cycling journey along the coast brought us along the exact same route that the Giro D'Italia had taken a couple of days before and it was a real thrill to be cycling on roads bearing the freshly painted names of some of cyclings biggest heros. Some sore legs ensued on Sunday from a little too much enthusuiasm and err……. testosterone the day before but with another ride taking in the mountainous ridge behind the Cinque Terre everyone was keen and made short work of the ride. Sunday afternoon and we transferred out to Vinci in Tuscany dining in an Italian (of course!) Restaurant getting our carbs for the next days ride.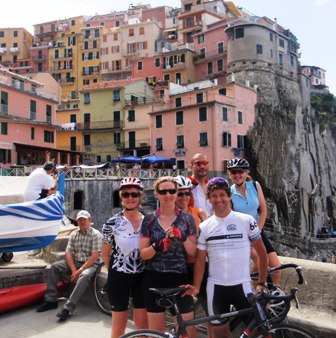 Ahh the rolling hills of Tuscany! Staying in Vinci, Ã  la Leonardi da Vinci, we rolled out on Monday morning to find ourselves in 40 degree temperatures. It was going to be a hot one alright but with plenty of fluids we set off keen to see the sights of Tuscany. This is a region where the pro cyclists live and we saw a few out doing loops with their team cars in pursuit. Even had the chance to catch up with a local Italian cyclist (walking with bike on shoulder) who was very grateful when we stopped to give him a tube and a pump, apparently other Italians wouldn't stop, just us foreigners! We covered a couple of loops in the area allowing us some elevation to see the expanse of vineyards and agriculture that makes this region so special. With some time to spare some of the group ventured off take in the Leonardi museum while the rest of us took in some cold beers before going out for a great dinner to local cuisine.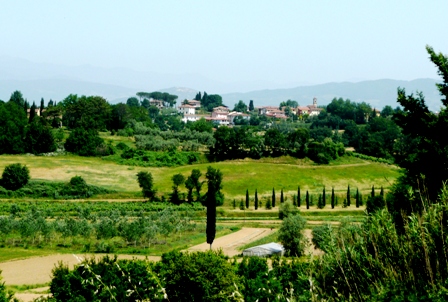 Tuesday and the temperatures remained high but the spirits of the group were equally high and we set out again to get another look at the area this time taking in a different circuit and being spoilt with a hot lunch along the way. But all good things had to come to an end and we transferred out to Casciana Terme at the end of the day. I have no idea how our guides found this little town close to Livorno (where our transfer to Corsica would depart from) but between the hotel, pool and the restaurant with wine cellar to die for this was a dream for anyone looking for a treat! After much wine and more food than you can imagine, (they just get bringing it out to us!), we rolled out of the restaurant and had ourselves some great genuine gelati's.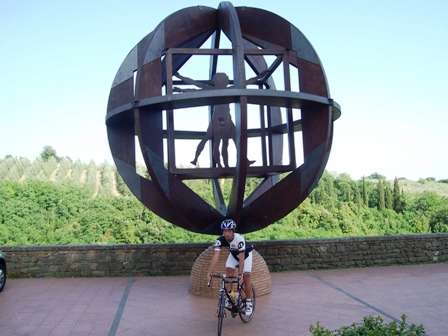 After the Wednesday morning ferry transfer we arrived in Bastia, Corsica and were soon out on the road and heading up over the top of the mountain ridge that separates Bastia to St Florent where we would stay for the night. Corsica is an extension of the Alps, where the Alps finish at Nice they start again on Corsica but with water surrounding Corsica you get the best of both worlds, mountains with ocean views, breathtaking. Thursday took us from St Florent inland through a dessert landscape before winding our way back to the coastal town of Calvi and straight to the restaurant strip on the local marina for a well deserved drink. Pietra (chestnut) beer is the local drink and well appreciated after a good days ride!   Friday morning we rode out from Calvi in a loop along the coastal ridge via an inland climb.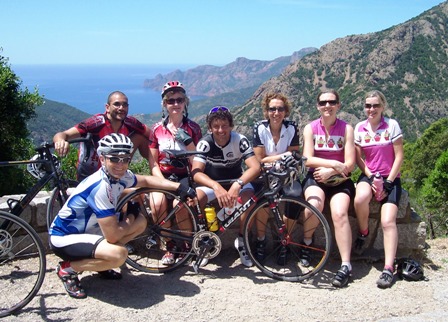 After a great picnic lunch overlooking the ocean (and some jumping in for quick swim) we set off again and headed back to Calvi via different route. David did his best to catch up with a couple of us who made a break for it after lunch (to be fair we broke away before the picnic kit had been loaded back into the support vehicle!) but he had to settle for the cold beer we had waiting for him at Calvi, much to our amusement. We had our last night at Calvi at a great beach restaurant on the other side of the bay, overlooking the port, marina and citadelle. The wine and food flowed well and we toasted goodbye to Corsica as we were to transfer out by ferry to Nice.
Saturday morning and we were up, packed and ready to go across to Nice.   We arrived fairly late in the afternoon and rode our bikes back to our hotel at Beaulieu sur Mer. We headed out for dinner as we needed our energy because Sundays ride was going to be 130km of mountains behind Nice. David explained that he doesn't usually take Grand Tour riders around this entire route but because of our previous impressive performance he thought we could take it! Just as it had been in the Cinque Terre, the thought that this party would be the first to complete the route was like dangling a carrot in front of a donkey and before long everyone was puffing themselves up and ready to go.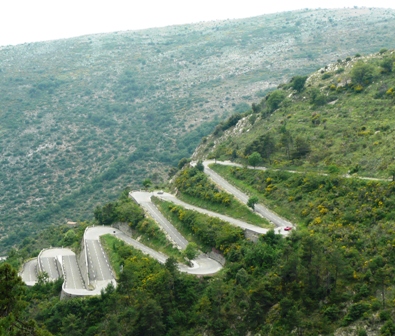 This final ride was the longest cycling day of our trip   but certainly one to remember as we climbed out of Nice via the Grand Corniche and up to La Turbie over the Col D'Eze. Later we took in further cols including some typical French switchbacks making an idyllic back drop to our picnic lunch high on the mountain.   From lunch we climbed a little higher and then dropped down through to the coast and traversed Monaco taking in the sights of the beaches this expensive strip of French Riviera. It was the right way to finish of the day and we celebrated well that night by heading out on the town. Certainly was a Grand Tour!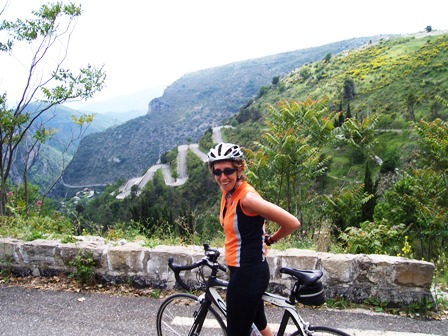 The Grand Tour – Grade 3/4 – £1890 + Flights
GTR13/01 : 15 June – 26 June
GTR13/02 : 22 August – 2 September