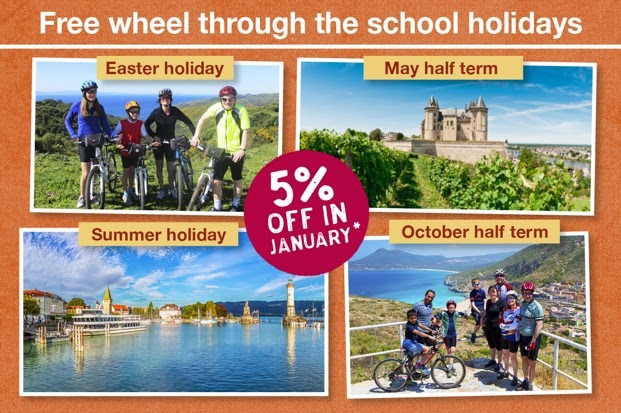 Join us for a fun holiday experience that the whole family can enjoy! Our January sale is the perfect excuse to put the wheels in motion for a Saddle Skedaddle cycling holiday this year, and a chance to make some great savings too. Here's a peek at what you can expect…
Perfect for: Easter holiday
Trip: Coastal Adventurer, Spain
We say: This corner of Spain has much to offer families, from unspoilt coastline to fun water activities! With our Spanish base located here too, you'll also enjoy un-paralleled support throughout your holiday.
Perfect for: May Half Term
Trip: Valley of Castles, France
We say: Former home of Kings and Queens, the Loire valley has many extraordinary castles – think Disneyland, but on a much larger scale, with history, class and the added bonus of bikes!
Perfect for: Summer holiday
Trip: Lake Constance, Germany, Austria, Switzerland
We say: If lazy picnics by the lake and the chance to swim outdoors sound like your ideal 'off the bike' activities in the summer, this is the journey for you.
Perfect for: October Half Term
Trip: Family Flavours, Sardinia
We say: Who said once the summer was over the cycling had to stop? October is one of the best times to visit the stunning Mediterranean island of Sardinia, where turquoise waters and white, sandy beaches await your wheels.