Here are a few words from Skedaddle's Kiwi in the office, Matt Cain. He looks after our mountain bike holidays in Europe, and he was lucky enough to visit the Picos on his first trip out of the office.
Some people might be aware that I'm not exactly from round these parts but from New Zealand and the Picos de Europa wasn't somewhere that featured on my European geography or my mountain biking radar until recently. So recently in fact that it wasn't until just after I started at Skedaddle and was asked to head out to the North of Spain to help guide a trip that I had no idea where it was.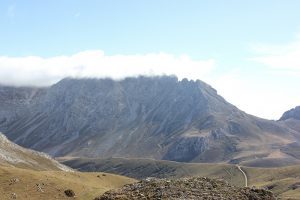 The 'Picos de Europa' are a range of mountains around 20 miles inland from the Northern coastline of Spain, so called because they were often the first sight of Europe for sailors returning from the Americas. It turns out that this little known corner of the continent is filled with untouched valleys and rugged limestone mountains accessed by a network of trails that have evolved over the years from the passage of farmers and traders.
In our line of work we do find ourselves in some pretty special places, but the Picos has jumped right up there with my all-time favourite riding destinations (many of which feature in our trip schedule). Lazy climbs lead you from villages nestled in the valley floors up through the forests and over high ridges where cows roam wild and mountain scenery forces you to linger in the sun. These are the kind of places where you feel as if no-one has ever ridden their bike before or will again. After scrumptious lunches, thrilling descents test your concentration and lead you down out of the mountains to a warm welcome at each night's accommodation.
Highlights are many and frequent, including sighting Rebeco (southern chamois) amongst the rocky mountain tops and refuelling tired bodies with tasty local produce including fantastic chorizo and wonderful cheeses. Just watch out for the locally produced cider, the pouring of which verges on a regional art-form.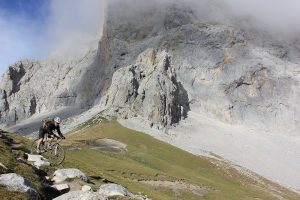 For many on the Trans Picos, myself included, the best memory is the challenging climb to the Refugio Caseton de Andara located high in the mountains. Those with any energy left in their legs have the chance to explore some the remarkable surroundings including the caves and stone shelters which used to be inhabited by a very hardy bunch of miners. After a cozy night in the refuge the early risers are rewarded with the sun rising over a sea of mist trapped in the valleys below and a glimpse of the many, many kilometres of descending ahead. A just reward for a night at high altitude!
Exploring the area by bike on either our centre-based Top Trails or place-to-place Trans Picos holidays is the perfect way to experience this area. You will be challenged, rewarded and re-invigorated in equal measures. At least I was!
You can see the best of Matt's photos from his trip if you click this link…