Earlier in May, Skedaddle's road cycling product manager David Hall ran a bespoke trip for a group of friends to the beautiful island of Corsica. Russ Cummings who was on the trip has given this fantastic account of each days event's from the trip.
I know it's fashionable to downplay the amount of training you do before a big event, but can I say up front that this year I trained hard, like really hard! I kept the wheels turning throughout the winter by riding with Zappi's CC most Saturdays, then stepped up with training weekends in Spain and Wales. Then again, Tour de Corse is one of two goals. The scary one after this is the Etape du Tour in July. Power is up, speed up and weight down. So much for the data – I'm about to find out what shape I'm in for real.
With only one low cost flight into Corsica each week, the trip was organised around the 06.10 Sunday flight from Gatwick. This realistically meant leaving home on the Saturday evening, so I picked up Rob Wood and drove via Benson to the Hilton Hotel. No sooner had my head hit the pillow, off went my 3.55am alarm! Lack of sleep may have been a contributory factor, but I had a sense of humour failure when Easyjet charged me £165 for excess baggage. Maybe Alice was right and I do have too many cycling jerseys! After a BLT sandwich and coffee I felt better and it was great to meet the rest of the gang as the team assembled at the departure gate. After the short flight we arrived Bastia and were united with Paul O, Phil and Isobel from Manchester and then transferred 30mins by coach to Hotel Pietracap.
We enjoyed a leisurely build of our bikes; the only casualty was Jon Tobin's chain ring which had been filed down through the bottom of his bike box! Skedaddle-David was flying in separately from Spain, so we strolled down the road for a fish lunch and local Pietra beer. It was raining heavily so we dawdled over coffee waiting for patch of blue sky.
Day 0 – Sunday 19th May – (The "Warm up")
16.2 miles (26.1 km) Ascent 1,263 ft. (385 m) Calories 725
Av speed 12.1 mph (19.4 km/hr.)
Max speed 22.9 mph (36.9 km/hr.) (wet!) Max 30sec power 370w
Max 20min power 220w
Av temperature 11.4 degrees
There was a loud crack of thunder as we assembled outside the hotel. At the last minute I grabbed rain jacket…. just in case – but hey, this was Corsica in May. We turned left out of the hotel and down to the coast, into Bastia then up D231 Route de Petrabugno and D31 to San-Martino-di-Lota; a gentle cat 3, 10km climb averaging 3.6% gradient. The rain by now was torrential, but not a problem on the way up; in fact it provided a nice cooling effect. However, coming over the crest, Imogen and I pushed on into a vicious headwind which then turned icy on the descent (my Garmin later reported 9 oC but we all saw hail!). These were now treacherous roads and wet brakes added to challenge, needing total concentration. We had a brief stop at the base – but 4 of the group were missing (Aussie Paul, DB and Michael Black, plus guide John). It was too cold to hang around so, led by Skedaddle-David and Tomás, the rest of us sped back to the hotel, grateful for the occasional uphill stretch to warm us back up. David took a call on his mobile and sped on ahead and organise towels from the hotel to greet us. Paul O looked as cold as we all felt – then again he had no rain jacket. The more worrying news though was that Aussie Paul had come to a halt half way down the descent struggling with hypothermia. "Mr Shivers" required a man hug from DB and Skedaddle-John to get his temperature under control and sought refuge in a car supplied by a kind French local and the Skedaddle rescue service kicked into action. A bit more eventful than planned for a "warm up"! Back at the hotel, I jumped in a hot bath and used the same water to give my clothes a rinse. Team kit was distributed and we all enjoyed a pizza then crashed out early to bed!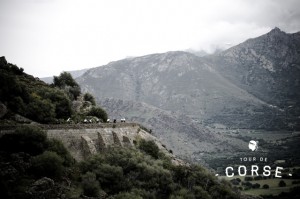 Day 1 – Bastia to St-Florent – Monday 20th May65.2 miles (104.9 km) Ascent 4,072 ft. (1,241 m) Calories 2,607Av speed 14.7 mph (23.7 km/hr.) Max speed 30.9 mph (49.8 km/hr.) Max 30sec power 373w
Max 20min power 202wAv temperature 20.1 degrees
After yesterday's thunderstorm, we were please to wake up to sunshine and blue skies! At 9.30 am, our immaculately dressed peloton in our white Tour de Corse jerseys and matching black bib-shorts, rolled out of Bastia. Coach Adam's advice for the first day was eat lots and go easy. I achieved the former, but predictably not the latter!! The relatively flat 34.3km coast road north from Bastia to Macinaggio was just too inviting – besides which, 6 months of training needed to be vented. Govind, Simon and I formed a slick team, just behind the lead group and averaged 29.0km/hr before coffee. Huge grins all round. The pace was crazy especially because we knew that we were in for a much tougher terrain for the rest of the day. Fuelled by enormous pain au raisin, we set off from the cafe with some trepidation for the 370m cat 2 climb through Ersa over the Col de la Serra. This time I did pace myself, holding around 180w, keeping Michael company, with DB and Aussie Paul not far behind. Text book stuff. Just over the crest, the Skedaddle team had set up one of their fabulous lunches overlooking the Mediterranean to the west. Suitably refreshed we set off again, knowing the profile for the afternoon was "dragon-tooth like" repeatedly climbing high over the cliffs then dropping down into beaches and coves. The road surface was poor in places but one particular descent happened to coincide with ribbon smooth Tarmac and delicious hairpins and I felt like Barry Sheen (apologies for the 1980's motorbike reference, maybe Wiggo – but he's not famous for his descending skills). Rob kept me company most of the way to the picturesque town of Nonza for a coffee stop 86km in. People on the beach below looked tiny from our elevated position. The final 19km blast through Muscat vineyards was still undulating but overall downhill (160m up but 280m down). DB set such a strong pace that I had to work hard to stay on his wheel, averaging 26.7km/hr. for the last 40mins – not bad for two blokes who only resumed cycling 3 years ago. The hotel bar was dry. Some cycled an extra 200m to the nearest supply of alcohol. Instead, I fell asleep in the bath!
Day 2 – St-Florent to Calvi – Tuesday 21st May
65.1 miles (104.8 km) Ascent 4,127 ft. (1,258 m) Calories 2,654
Av speed 13.4 mph (21.6 km/hr.) Max speed 34.6 mph (55.7 km/hr.) Max 30sec power 359w
Max 20min power 198w
Av temperature 17.7 degrees
EPIC! As Nigel said in the bar after today's ride "if there is cycling in heaven, it will be just like today". It was a game of two halves. The vast majority of today's 1,258m of ascent were in the first 55km and the remaining 50km was a blast – but more of that later. With barely 1km to warm up, the first climb of the day was a cat 3 up the D81 but DB and I took it easy, chatting to Tomás about his home in Bogota and the cycling in Colombia. When I said I'd enjoyed Costa Rica, he said that was like an executive summary of Colombia and everything was just as beautiful only bigger! The scenery was beautiful, but we lost all 360m of elevation, dropping down to sea level, before climbing back up again to 688m through the Desert des Agriates. The peloton was temporarily split by a swarm of bees!! Local beekeepers were relocating hives and blocked the road as the bees swarmed menacingly. After a bit of a standoff we ran the gauntlet and made it through safely. A new one for the Skedaddle risk register! Having started under clouds, I didn't bother with sun cream, but at the coffee stop in Novello I felt the heat of the sun. DB and I continued climbing at a steady pace, emerging from woodland to see the final 3km stretching out to the radio masts at the summit 'Ventoux-like' only not quite as steep (or high!). Once the group re-assembled, we enjoyed a short descent to lunch (beautiful views but slightly chilly, so sheltered around the van) then a lovely run to Belgodère for coffee in the town square. The scenic roads attracted sports cars and occasionally small groups of motorcyclists who congregated there too. Paul O enjoyed a flying descent equipped with the GoPro camera, skimming past me – I'm looking forward to seeing the video. As we left Belgodère a van temporarily blocked the road delaying DB and I. With hindsight this added to our fun, as we set off in pursuit, working as a team and over the next 25km overhauled Govind, then Aussie-Paul and latterly Chris and Keith. So by the end we had assembled a mini peloton. More impressively, we averaged 27km/hr. despite a marginal incline. After regrouping at the junction of the N197 and D71 we dropped 340m over the final 15km into Calvi, hitting a top speed of 55km/hr. and averaging 35km/hr. partly by hanging onto Scott's wheel. An exhilarating day, rounded off with a beer in the hotel bar. With the clothes washing done and bib-shorts hanging from the balcony to dry, we had a nice meal near the harbour in Calvi. A Tour de France climb is on the list for tomorrow, so alarm is set for 6.30am!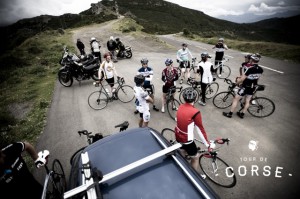 Day 3 – Calvi to Porto – Wednesday 22nd May (plus optional Tour de France climb)65.7 miles (105.8 km) Ascent 4,721 ft. (1,439 m) Calories 2,696Av speed 12.9 mph (20.7 km/hr.) Max speed 35.1 mph (56.5 km/hr.) Max 30sec power 381w
Max 20min power 223wAv temperature 21.9 degrees
If yesterday was epic, today was TOUGH! I didn't sleep well in anticipation of the early start, so when the alarm went off at 6.30am it was a struggle to get up. That said, once the window shutters opened to display a glorious sunrise and blue skies, my spirits should have been lifted. It felt too early to eat but I knew I needed fuel, so I tried to digest numerous sugar coated pastries. Skedaddle- David prepped our bikes and Aussie-Paul and I were rolling by 7.30am. The day's route consisted of a 'standard' 80km plus optional climb that will feature on this year's Tour de France. Not wanting to miss out, but knowing we would hold back the elite group, Paul and I agreed we'd give ourselves an hour's head start. The first 35km was along the D81B coast road which was undulating and provided stunning views to the cliffs and coast to the west. Unfortunately the road surface was shockingly bad. I struggled – maybe it was simply day-3 fatigue syndrome, but I had heavy legs, shaken up guts and the surface made it hard to transmit power to the road. As the road joined the D81, the Tarmac magically became ribbon-smooth and workmen were busy polishing the surface (TdeF route coincidence perhaps!) so as we turned left up the Col la Figarella I was finally able to get into a rhythm. On this climb from sea level to 440m, the pros will use this to mount their final attacks at the end of Stage 3, using the stretches of 11% gradient and occasionally 13% to throw off the sprinters. I kept the power between 200-220w all the way, notching up to 250w on the steep bits. I was really chuffed with my time of 52 mins, but no doubt on 1st July, Wiggo et al will make that look pedestrian! Rob the photographer arrived just afterwards, so we waited and cheered on the elite group, including Nigel, Paul O, Kelsey & Phil. Scott was a little further back, beset by mechanical issued (later diagnosed as a worn bottom bracket and loose under carriage!). Strava would later confirm my time over the last 3km of the climb was only 10% off that of Paul O's which I was secretly pleased with. After posing for photos, we flew back down and re-joined the main group for coffee back at sea level. Next was the main climb of the day up the Col de Palmarella to 408m and I had to gig deep to keep that 200w/90 cadence rhythm. At the top, I was completely spent – the photographs will not be flattering! I barely had enough energy to roll over the crest and down the 4km to lunch. In the afternoon what kept me going was Paul's suggestion that I take the helmet mounted GoPro camera. This took my mind off just how tired I was. After 106km I was glad to see the sign for Porto and our hotel. For fun, I kept the GoPro video rolling as I dived into the hotel swimming pool, but the microphone may have captured an expletive or two as I hit the ice cold water! It was great to see Gregg who had flown in late and we ate by the harbour as the sun set on a tough, tough day. It may not have been the longest day I've ridden, but the cumulative load and pace made it one of the most challenging for a while. I'm glad tomorrow is a rest day for the group and don't envy those opting for the 'extra' 140km excursion.
Day 4 – Porto to Piana – Thursday 23rd May (Rest day)
32.9 miles (52.9 km) Ascent 4,551 ft. (1,387 m) Calories 1,819
Av speed 9.7 mph (15.6 km/hr.) (rest day!) Max speed 32.3 mph (52.0 km/hr.)
Max 30sec power 380w
Max 20min power 205w
Av temperature 24.1 degrees
I enjoyed a light breakfast (i.e. not shovelling maximum calories for a change!) and we set off as a group to ride through The Calanches, an amazing UNESCO-protected site of weathered vivid orange and red rocks. This meant the group was mixed up and I enjoyed chatting to Nigel receiving tips ahead of my Etape ride. However this was 'no ride in the [national] park', as we quickly climbed the 500m to regroup by the Tête de Chien, a rock shaped like a dog – the stuff of legends! We then cycled through the rocks and completed the 12km into Piana. For some, they could relax and enjoy the rest day. Others had a massive challenge on their hands, which was a 140km loop deliberately planned to exhaust the fast guys (they know who they are and as Kelsey captured beautifully, "Nigel and Jon are like two dogs running around and tiring each other out"!). Aussie-Paul, Govind, Michael and I elected for an intermediate solution which was to pop down to Cargèse for lunch, an extra 40km round trip. Sounds like a good plan …… only this meant dropping those hard earned 500m to sea level and back up again. This cunning plan meant we actually climbed 1,387m (4,550ft). That's the equivalent of nipping up Ben Nevis for a picnic on our day off! Crazy!! We took it gently and the only part that was really hard was the 18% grade drop from Cargèse village to the marina, but the locally caught fish was worth it! On the way back, we retraced the D81 coast road which will be used on the Tour de France. I can't wait to see this on TV – but I suspect the pro riders will cover the ground a tad faster! To complete the holiday feel to the day, we stopped for an ice cream before checking into the Hôtel Les Roches Rouges, a rustic mansion with the most amazing views over the sea and sunset way below. There were lots of tired people at dinner, so the consensus was an early night ahead of the big climb tomorrow.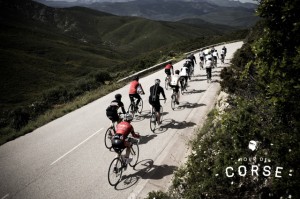 Day 5 – Piana to Corte – Friday 24th May
58.3 miles (93.9 km) Ascent 6,535 ft. (1,992m) Calories 2,653
Av speed 11.3 mph (18.2 km/hr.) Max speed 30.0 mph (48.3 km/hr.) Max 30sec power 315w
Max 20min power 208w.
Av temperature 12 degrees (min 3 degrees less wind chill of 25mph wind! Max 28 degrees)
Seven of us set of in our splendid black Tour de Corse kit as the advanced group (so called because we needed a head start, as opposed to being ahead in any cycling ability!). At 8.30am the air was chilly, so we layered up then enjoyed the descent through the Calanches, into Porto, then a right signposted Erisa and the Col de Vergio. Ahead of us was an unprecedented 32.9km, 1,457m, 3 hour 25 minute Hors catégorie ('HC') climb. That's an average of 4.4%, with plenty at 6-8%. Maybe not as steep as Mont Ventoux or the Col du Tourmalet but longer and higher than either of these more famous cycling scalps. [HC is a French term used in cycle races to designate a climb that is "beyond categorization", an incredibly tough climb]. We thought about trying to work together, as we climbed through the Spelunca Gorge but inevitably the group stretched apart as minute differences in pace took their toll. My strategy was to pace myself using my power meter. I knew I could just about sustain 180-200w so I created a game by segmenting the ride into 20 minute 'laps' on my Garmin and measuring my average 20 min power (190w, 188w, 183w, 186w, 191w, 191w, 194w). At the end of each 20 minute segment I'd also check my elevation and was typically 150m higher, implying a VAM of around 450 Vm/hr. [Mean ascent velocity (i.e. average ascent speed) is the English equivalent for the Italian term velocità ascensionale media, often shortened VAM. A TdeF GC would typically achieve a VAM of 1450-1650 Vm/h and would therefore scoot up this molehill in around 1 hour!] Whilst I was doing all this mental arithmetic, I found myself 3rd in our group a little behind Chris and Rob and just ahead of Aussie-Paul. After a brief coffee and pastry in Erisa (briefly overlapping with the faster group) we resumed and settled back into our same natural
order! Describing this 3+ hour endurance epic makes it sound dull – it's almost an out of body experience as your mind can wander as your legs grind away. As we climbed the air got distinctly colder and thinner, but the work rate meant I felt warm…. Until the summit, when I stopped and felt the icy blast of the 25mph wind at 3 oC evaporating my sweat. Luckily the van was on hand to jump into whilst extra layers of clothing were applied. We stood round just long enough to cheer everyone over, then began our chilly descent to lunch – only it was too cold for our usual picnic so we pressed on a full 21km further to the village Calacuccia and refuelled with spaghetti
bolognaise. The afternoon's treat was a descent though the Scala di Santa Regina (gorge) made all the more exciting as I was following Scott's deep section wheels and we were both buffeted by the viscous crosswinds. On arrival in Corte we found a terrace in the sun and Jon bought half a dozen large bottles of Pietra and in the absence of glasses, we decanted the beer and drank from our water bottles. That evening few of us ordered the local specialities, including leek fritters and wild boar stew – which was nice, but we envied those whose entrecôte steak arrived with chips!
Day 6 – Corte to Bastia – Saturday 25th May
74.0 miles (119.2 km) Ascent 4,580 ft. (1,396 m) Calories 2,716
Av speed 14.1 mph (22.7 km/hr.) Max speed 33.4 mph (53.76km/hr.) Max 30sec power 351w
Max 20min power 200w.
Av temperature 13 degrees
We woke up to the sound if rain on our final day, so we all layered up with leg warmers and rain jackets but were soon de-layering (new cycling verb) as we climbed 7.7km, 414m cat 2 stretch of the D39 to the village of Busticano. The average gradient of 5.4% doesn't tell the full story as it had a sting in the tail with the mid-teens gradient representing the steepest section of the week. I was pleased get up in one piece, but also with my time of 50mins and VAM of 500. As we began our descent, expertly led by Kelsey calling hazards including the occasional feral pig in the road, it started to rain – gently at first, then the heavens opened and we understood why the countryside was so lusciously green. Skedaddle-David made a tactical decision to circumvent a portion of the chestnut forests; diverting to the N193 main road (Tour de France Stage 2 albeit in the opposite direction!), but this meant we could get a train going and I enjoyed a 25 mph (40 km/hr). blast (with extra spray!) with Gregg and others under Nigel's expert tutelage, through to Ponte Leccia. There we found a wonderful cafe who welcomed this sodden group of cyclists and their picnic then supplied some industrial strength Grappa to warm our hearts (well, burn our throats anyway!). We turned off the main road and did a short, final climb to the hilltop village of Prunelli-di-Casacconi, then dropped down to sea level for the final procession into Bastia. Only we weren't quite done with the fun and games yet…. the pace at the front quickened as Nigel and Jon emulated in advance Mark Cavendish's sprint for the line on Stage 1 of the Tour. I stuck with them and for 3km averaged a staggering 27.0 mph (43.5 km/hr.), but when the peloton stepped it up above 31.0 mph (50 km/hr.) (on the flat!!) I lost touch – perhaps not surprisingly as there was no way I could sustain the 500w needed to match that attack! Mark Cavendish reportedly pushes out an amazing 1,600w+ on his spring finishes. Paul O gallantly dropped back to give me a hand and working together, we caught Rob and the three of us joined the lead group at the rallying point with our heads held high. After emptying my tank on the sprint 10km early (!) the last bit into Bastia by the side of the Reserve Naturelle de l'Etang de Biguglia was a bit of a haul, made worse by the strong headwind. It was so windy that tables were blown over and broken glass flew across the Marina bar curtailing our celebratory beer so we decamped to the hotel. As is now the tradition we went out for a celebratory dinner and thanked the Skedaddle staff, i.e. David, John, Imogen and Tomás. Everyone was presented with their cufflinks to be worn with pride for completing this momentous journey. We singled out Nigel for the lavish KoM mug and Gregg received the coveted lantern rouge jersey for being 3 days late! Muscat and Grappa flowed late into the evening as we watched Vincenzo Nibali win stage 20 of the Giro d'Italia in a blizzard on TV.
Another brilliant trip with a great group of friends.
Here's our Corsica dates for the rest of 2013…..
Beautiful Isle – 6 to 13 Oct & 18 to 25 May 2014 – Grade 3 – £1325 + Flights
Southern Secrets – 22 to 29 Sep & 1 to 8 June 2014 – Grade 3/4 – £1375 + Flights