Print This Page
Custom Made Tours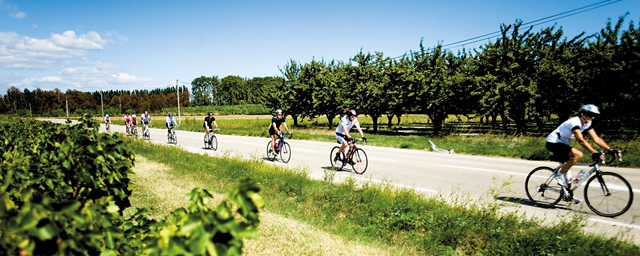 We can help you turn your dream cycling journey into reality and craft your perfect custom made / bepsoke tour. We've a vast knowledge and expertise in arranging these type of tours throughout the world. Just contact us and we'll soon have you Skedaddlin' somewhere amazing.
If you and your family or a group of friends or work colleagues would like to go on a special tailor made ride, or if you have special requirements, we can design a trip for you. If you are looking to combine cycling with other activities we can accommodate you. We are a flexible bunch and will be happy to design a tour tailor made just for you whatever your level of cycling experience.
Who is a bespoke cycling holiday for?
Groups of friends
Corporate organisations
Regular Skedaddlers who want something new and original
Those who can't fit in with the dates in the brochure
Those who want to customise an existing trip to make it harder or easier, longer or shorter.
People who have mad ideas for trips but don't know how to achieve them.
Those who have a set trip in mind but don't have the time, energy or expertise to organise
Regular Customer Russ Cummings explains why bespoke trips work for him:
Russ Cummings has been a Skedaddle customer since 2008 and is now in the process of planning his third bespoke trip. He explains the benefits of having a holiday customised to his group's needs and why he keeps coming back.
It all started with a group of six of us. We had done a charity event riding London to Paris and loved it. One night, over a few beers, when all best ideas are conceived, we started chatting about what would be our next big challenge and we decided to cycle across a country. We had a look at the Skedaddle brochure but there was nothing that exactly matched what we wanted to do so we phoned with our idea and they made it happen.
When we started planning, I was the weakest and therefore determined to plan a flat route. Unfortunately my two friends had other ideas and were showing me maps of the Alps and Pyrenees. The compromise was a flat ride with an iconic mountain at the end for the idiots to do!
The trip we came up with was St. Malo to Biarritz, around 500 miles with a trophy mountain, the Tourmalet, at the end of it. Since that first trip it has really snowballed. Six of us did the London to Paris ride and that swelled to 19 for our first bespoke trip. We loved that so much we finished the ride discussing the next one. We planned to pick up where we left off and head west, bagging the Ventoux as the trophy mountain. Twenty-six of us did that route this summer.
We soon got talking about 2013. As we have worked with Skedaddle more we have come to really trust their judgement, so this year it was over to David Hall, the Product Manager for road cycling at Skedaddle, to decide. He told us about Corsica hosting the Tour de France and described the riding there, so we are now planning for Corsica and we've already had more than 20 people sign up.
" With a wisdom which was to be demonstrated throughout the whole trip, the excellent team from Skedaddle led us out of town gently. "
Charles Swingland
The people at Skedaddle are fantastic, the crew are of a consistently high standard and the accommodation, travel arrangements and food is always spot on.
Their picnics are the absolute business! Skedaddle pay a huge amount of attention to the details. When we did St.Malo - Biarritz, one of the team drove the entire route three months beforehand and visited every hotel. They went out and physically checked every turn of the route.
I am so impressed by Skedaddle. When I retire I am going to work my way through the brochure and visit every continent that Skedaddle run trips to!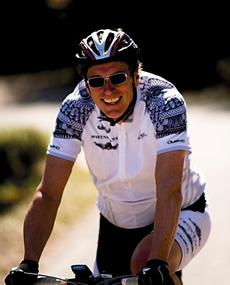 Charles Swingland has been part of Russ's group since the first Paris trip and has done both the previous bespoke rides with Skedaddle.
"After the Paris 500, and the Tourmalet 500, it was tough to find something to keep us on the increasingly mad trajectory.
We landed at Bergerac on a beautiful day, and hopped on the coach to Souillac. We had a fabulous meal and I drank too much wine. I think it was the nerves. The next day's ride was to be about 83 miles and we had to rebuild our bikes first so it was to be an early start. At breakfast I fuelled up on croissants thinking that they might somehow give me the endurance that I knew I lacked - or was it just greed? Hmmm.
At last, we were off. With a wisdom which was to be demonstrated throughout the whole trip, the excellent team from Skedaddle led us out of town gently. The greyhounds amongst the group (you know who you are) were wafting along as if drawn by invisible cords. I was panting and wobbling dangerously - like an overweight labrador at a dog racing track.
This part of France is stunningly beautiful. It's just breathtaking. And some of the things that make it so breathtaking are the hills. For an Englander these hills seem huge. That first day we had to climb two big ones. But strangely, the thing that sticks in my mind was arriving exhausted in the village of Maurs with legs like jelly and an attack of cramp as I swung my leg over the saddle to dismount.
Maurs is a typical village of southern France. Very quiet. But, as we slumped exhausted around the fountain in the village square, ladies came with plates and offered us cake and smiles. We filled our water bottles from the water of the fountain, cold and fresh from the mountain streams. They were just lovely people."